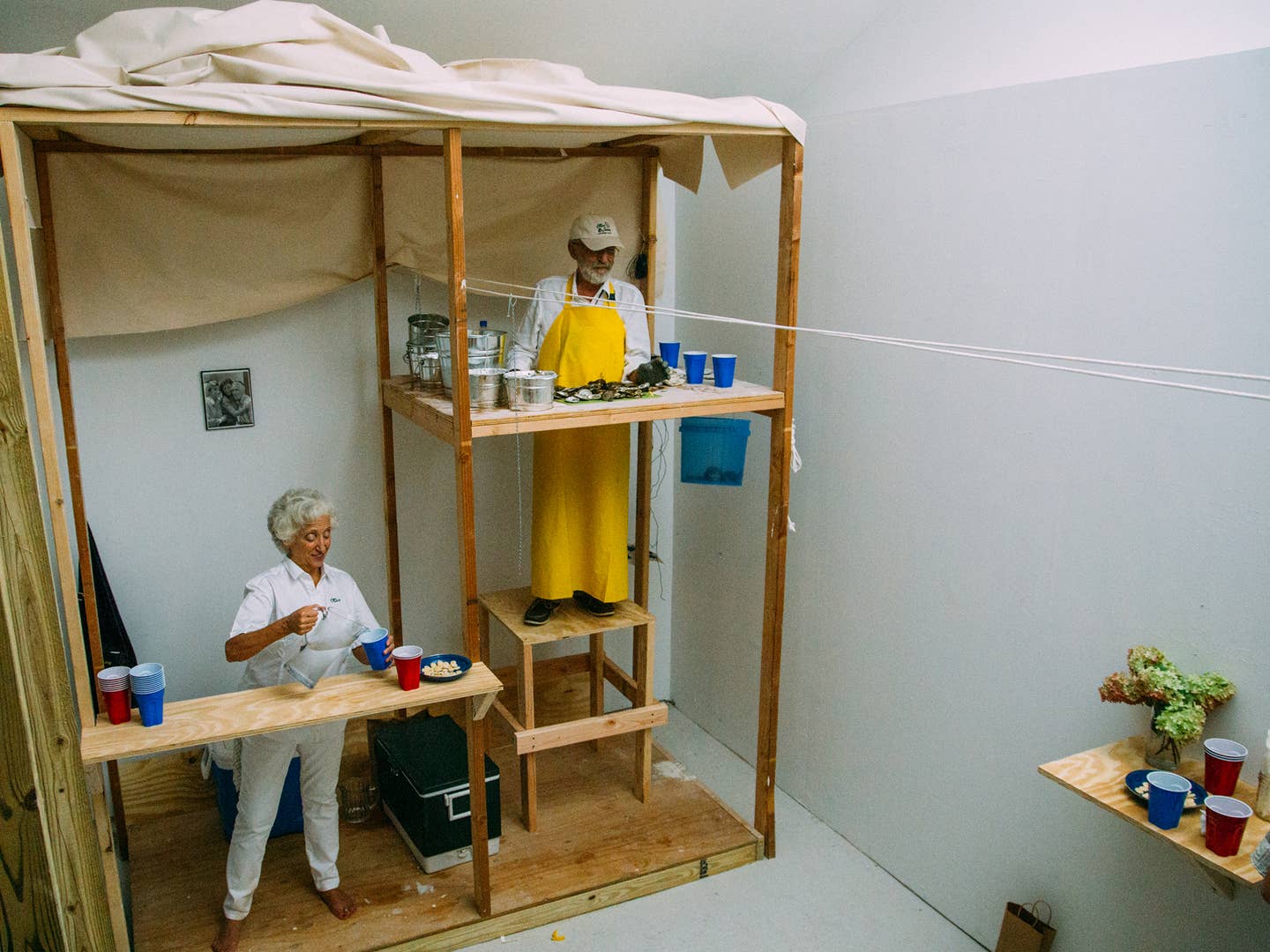 Culture
This Artist-Run Curatorial Project Asks What Lies Beneath Our Impulses to Eat
"Eat/ing Your Heart Out" showcases works that examines every facet of consumption—from the nourishing and bonding to the alienating and depleting
Picture-perfect plates are not the kind of food art you'll find at CRUSH Curatorial's latest "Eat/ing Your Heart Out" exhibit, which debuted last month at the project's Amagansett, Long Island space.
In fact, Brooklyn-based curator Molly Surno doesn't consider her show to be a food show at all, but rather an "exploration on the act of eating: how, why, how much, and what drives our impulse to eat."
The gallery, which doubles as CRUSH founder Karen Hesse Flatow's studio, is housed, fittingly, in a refurbished potato barn from the 1940's. On the night of the exhibit's opening last month, the space was filled with works that transcended era, medium, and origin—united only by an ethos of examining, and challenging, the idea that eating is a purely comforting act. Prints from famed cartoonist R. Crumb's cookbook Eat It were displayed beside the likes of Surno's own vagina cake, which brought to life the parallels of lust and hunger.
"The exhibit shows the sometimes nourishing, sometimes depleting relationship to consumption, which can be alienating, bonding, sexual, traumatizing, satisfying, and disgusting," explains Surno. "I think these power dynamics implicit in eating become the interesting umbilical cord through the show. From person to political."
The use of sexual motifs was evident in a standout video installation by artist lana Harris-Babou entitled Cooking with the Erotic, in which she and her mother play on the trope of a cooking show using "alternative recipes" that incorporate jarring, sometimes grotesque imagery and sounds, along with inedible ingredients like paint. Harris-Babou says the piece was initially inspired by an excerpt from Audre Lorde's "Uses of the Erotic: Erotic as Power," which taps into the idea of eroticism as a means of owning one's labor and one's body—enjoying the sensuousness of experience.
"I wanted to explore the types of labor we consider privileged," explains Harris-Babou. "Why do we think of the woman cooking a casserole as cotidian or everyday but we consider de Kooning's creation to be an act of genius?"
In doing so, Harris-Babou expands the realm of the "kitchen" featured in her video to be not only such, but also an artists' studio complete with blue paint and a soundstage—part of the soundtrack includes a slowed-down segment of the Nicki Minaj song "Truffle Butter."
"Eroticism is experience that's excess to usefulness—perhaps that's why it's pathologized or made deviant, because it doesn't have a clear role," she continues. "In traditional cooking shows, the host inhabits a really cohesive world and coherent identity—like when Nigella Lawson slips in a little tidbit about her kids or whatever—so by revealing failure, I'm showing the fissures in identity we all have."
SAVEUR's own associate art director Allie Wist also participated in the show with her climate-change–themed Recipe for Potable Water, a mixed media installation offering a method for desalinating water, accompanied by a video projection.
"My piece shows how our individual consumption is intimately related to a much larger scale than just the eater, or the dinner table–it reveals the global impact and scope of how we cook and consume," says Wist. "The simple act of desalinating ocean water—the need for desalinated water—to me felt like one of the most impactful ways to articulate how climate change may impact how we eat, drink, and cook."
In the spirit of creating interactive, real-time experiences centered on collective eating, Surno and Flatow put on a range of satellite events and supplementary dinners including one that Wist organized at Almond restaurant in Bridgehampton highlighting foods that could be harvested as sea levels rise—as a way to explore the future of eating. Other events included a talk on foraging by artist Scott Bluedorn and a workshop on sustainable cocktail infusions using coffee grinds, carrot tops, citrus peels by Kari Morris of Morris Kitchen.
For Flatow, "Eat/ing Your Heart Out" is the first of many exhibits that will explore food, and eating, as a motif.
"We will continue to sponsor food events and dinners that bring diverse voices together," says Flatow. "We believe that what is needed in our increasingly digital age are both low touch and high touch experiences of which food is one."