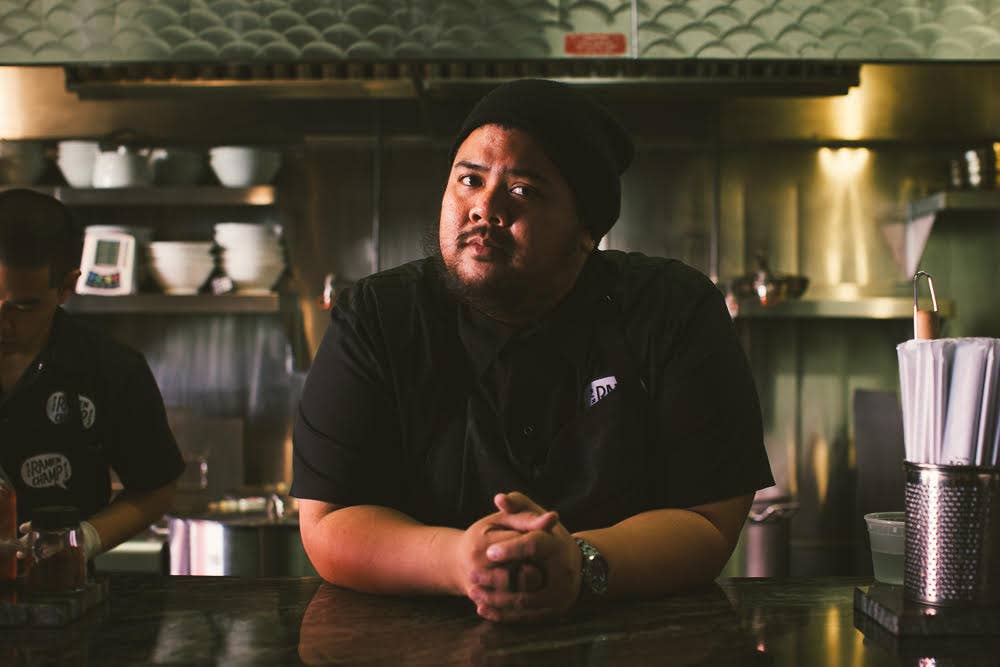 Culture
The Tenth Degree: Alvin Cailan
The founder of EggSlut wants eggs to be the last thing he ever eats
You thought the egg sandwich you made the other Saturday was the best ever? Meet Alvin Cailan, the founder of EggSlut. Some call it a restaurant, others an egg-focused revolution. What started as a roving food truck in L.A. has grown to include a 20-seat brick-and-mortar dining bar in Grand Central Market that serves sublime, cloud-like puffs of sandwich all day long. (In a jar, though, is where you'll find his signature Slut, or the "definition of an EggSlut in one bite," he says: Luscious egg yolk mixed with buttery potato purée—the flavors and texture are an egg lover's dream.) An Oregon Culinary Institute graduate, he worked at Portland's Ten01 and Castagna before cracking open the breakfast scene with things like his marbleized-egg technique, a gentle mixing just short of a scramble. Cailan took a few moments away from cracking shells to sit down for a few superlatives.
What is your favorite sandwich?
The bacon-egg-and-cheese. I used to make them at home as a kid; I would always be in charge of my own breakfast in the mornings, and those were the things I learned to cook first. When I moved to Los Angeles I realized there weren't any good breakfast sandwich spots. So I created EggSlut.
Your house is on fire and you can only save one thing. What is it and why?
My box of memories, of course. It's full of awards and knickknacks from the past—significant, tangible things that I hoard from milestones in my life, like old menus I've collected from restaurants I used to work for. I look back at the dishes I would prepare and remember how hard it was to get to where I am.
What is your greatest fear?
Not being able to cook for any kind of reason—sickness, prison, or maybe even losing the ability to taste.
What will we find you eating at 1 a.m. in your kitchen?
I usually have leftover cooked rice I can turn into silog, which is Filipino fried rice with garlic and eggs. I make it all the time, especially when I'm drunk at 1 a.m.
What's your favorite cookbook and why?
Currently I've been learning more about my Filipino culture. I've been reading Nora Daza's A Culinary Life. It has amazing recipes with the history attached for traditional Filipino dishes. Growing up in L.A., I really didn't pay attention to my parents and their culture, so now I'm learning it through food.
What is the most overrated ingredient? Underrated?
Overrated: Avocado. It's ridiculous how much avocados are on menus. Underrated: Anchovies; they get such a bad rap … but they make everything delicious! I've been making dressings with them, spreading them on crostini, and topping them on scrambled eggs. I've even mashed them up and mixed a little with my burger patties. The umami factor is endless.
What's the first thing you learned to cook?
An egg. My dad taught me how to flip one when I was tall enough to use the stove.
You can have any superpower. What is it and why?
To be able to teleport. I hate traffic, I hate driving, and I need to be at multiple places all the time so it would be perfect if I could just—poof!—show up out of nowhere and not rely on transportation.
What is the best advice you've ever gotten?
To focus. Chef Michael Hanaghan, who ran Ten01 in Portland, really pushed me to concentrate and focus. I mean the dude literally has "focus" tattooed on his forearm. Letting outside noise or thoughts affect your concentration is a big no-no. Focus on things and the outcome will always be perfect.
What's the last meal you want to eat before you die?
Spam, eggs, and fried rice. It's my go-to comfort meal and I only eat it for special occasions.