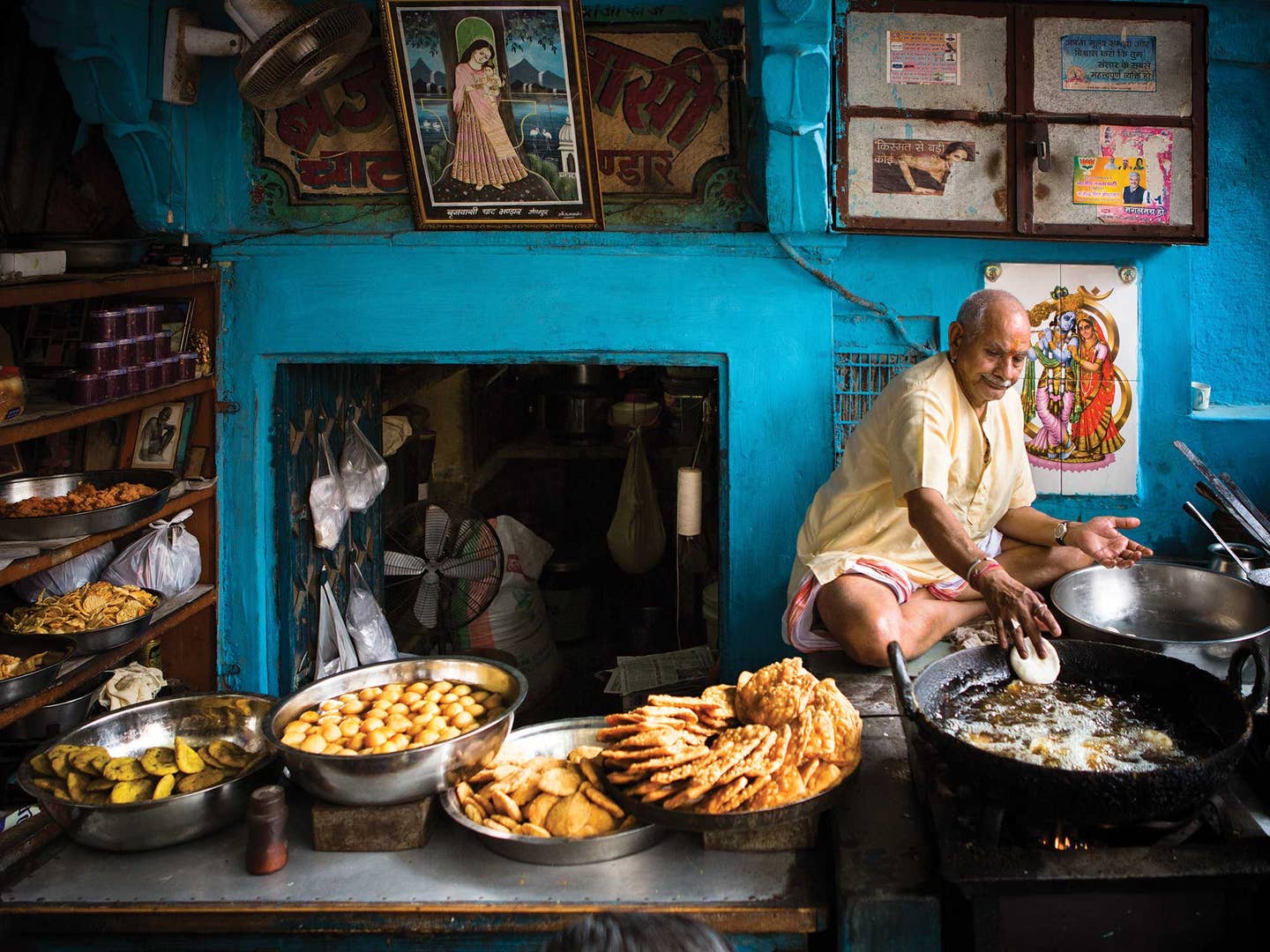 Culture
8 Keepers of the World's Food Traditions, From Iceland to India
Far Afield author Shane Mitchell and photographer James Fisher dish on the incredible people they've encountered in a research project that's taken them across the globe
It started in the Top End, Australia, almost a decade ago, when a pair of elderly Aboriginal sisters took photographer James Fisher and me to their Dreaming Place to forage for wild honey. They called it sugarbag. After a dusty drive on the Great Northern Highway, we trudged along a dry riverbed into a sandstone mountain range that rose up from nowhere on a horizon of spectacular sameness, in a desolate part of the Outback a million miles from anywhere. This far-northern region of Australia also happens to be home to the oldest living culture in the world, dating back 50,000 years. And two of the Kija people were our escorts.
As we entered a canyon, rock walls narrowed on either side, until the glaring sun gave way to ocher gloom. Despite our best efforts, however, we didn't find any honey that day. Real foragers, unlike chefs who only hunt for the camera, sometimes return home empty-handed.
This experience gave us something far more valuable—the inspiration for Far Afield, which celebrates keepers of the flame, so to speak, of traditions in communities where keeping the food chain vital remains a daily chore. Over the ensuing years, we hunted for sheep with Icelandic herders at the Arctic Circle, sat around campfires with Uruguayan gauchos, shared afternoon tea with Sudanese refugees, and waded streams with taro farmers in a remote valley on the Big Island of Hawaii. Anyone who could give us a taste of his or her place in the world. Here are some of the people we met on the way.
Shane: My aunt Yoshi is Japanese. I still own the hina doll she gave me as a child. With every visit, I fall deeper in love with all aspects of this culture. Kamo-wake-ikazuchi-Jinja is the oldest Shinto shrine in Kyoto; it's a favorite of rice farmers, who pray for gokoku hojo, a bountiful harvest. For the past 2,000 years, priests present food to the hungry deity every morning. During the ceremony, I was offered a sip of omiki sake and five grains of raw rice.
James: Daydreaming during a serene offering ceremony at the Shinto temple in Kyoto. It was early in the morning, and I remember wishing they had coffee in that urn.
Shane: The Mohammed family welcomed me to their home in a fishing village north of Mombasa. One of the daughters, Sauda, slaughtered a chicken to prepare kuku wa rojo (chicken in curry sauce), a Swahili recipe that has become a favorite of mine as well.
James: The camera sometimes allows you to enter secret worlds, and this beautiful, simple, earthen floor kitchen in the village of Kippangani on the island of Lamu was one I'll never forget. As the women laughed and chatted, preparing food together on woven mats in their technicolor shawls, it felt like an inner sanctum of feminine wisdom. I tried to not to disturb the energy lest I be sent outside with the other boys to ride donkeys and wait for dinner.
Shane: In the encampment known as The Jungle, on the outskirts of Calais, Sudanese refugees shared meals in informal kitchens cobbled together with donations from charitable organizations. Even with so little to spare, they invited me to trade stories over steaming cups of coffee and tea. It taught me true hospitality.
James: For Christmas last year, a group of my friends decided to collect donations of produce and drive over to Calais from London to create a pop-up kitchen in the 'Jungle' refugee camp. We cooked traditional dishes in collaboration with resident cooks, and each night our kitchen came to life with dancing, singing, and celebrations.
Shane: I met Hamada in the Jungle last year. Since then, he's moved on and thankfully found asylum elsewhere. He advised me on the Sudanese recipes in the book, including a rich ground lamb-and-yogurt stew thickened with peanut butter.
Shane: Know those pre-teen girls obsessed with horses? That wasn't me. Maybe it's why one threw me off its back in Iceland, where even the youngest riders participate in the annual sheep roundup, known as the leitir. This tradition has been practiced since the island was settled by Vikings in the Middle Ages.
James: Three days on horseback, trying to hold the camera steady out in the Icelandic weather, squelching and stumbling along the surreal mossy terrain of the high slopes. Three nights bunking down in a converted animal shelter with a crowd of snoring Vikings. This photo was taken close to the final descent of the leitir as dozens of different shepherding groups converged with thousands of sheep in tow. The reunion brought with it elated feelings of triumph and comradeship, as well as a serious Brennivin hangover.
Shane: A friend introduced me to his cousin, Jayson Mock Chew, who farms taro in Waipi'o Valley on the island of Hawai'i. He spends each day in a lo'i, or pond, carefully tending his plants. Jayson and his wife Alberta like pies, so I always stop at the market in town for a house gift before driving down the steep palisade into their farm.
James: Waipi'o Valley had amazing light at dusk, the twilight brought with it a sense of peace and also of a timeless, ancestral power. Watching Jayson Mock Chew harvesting the taro corms that had been brought across the South Pacific by outrigger canoe many generations before, I sensed briefly what it means to belong to an ancient tradition and have the roots of your culture in the mud between your toes.
Shane: It's easy for me lose track of time in a city like Jodhpur. I can stand on any street corner in the old quarter and watch for hours as cooks fry snacks, dealers trade spices, beggars hope for stray coins, or barbers shave customers.
James: Rajasthan engulfed my senses from every angle, a kaleidoscope of food, and chai stalls, makeshift kitchens and sweet shops. Each one seemed to be a unique work of art and shrine to the gods. Crowds gathered everywhere, deep in earnest conversation as their tasty treats were prepared in front of them.
Shane: It was a sweltering summer day when this asado took place at Francis Mallmann's estancia in rural Uruguay. I could barely stand near the hot coals as this gaucho tended the spit-roasted lambs for a dinner party under the stars. Drinking chilled albariño from Bodega Garzón kept me from boiling over.
James: Mario was the quintessential gaucho. He made me want to trade my iPhone and passport for some silver spurs and an armadillo-handled blade. By day, if he wasn't in the saddle, he was sweating over the flames of the asado. At night he could be found dancing in his gaucho boots with any and every available female partner in Garzon's makeshift nightclub.