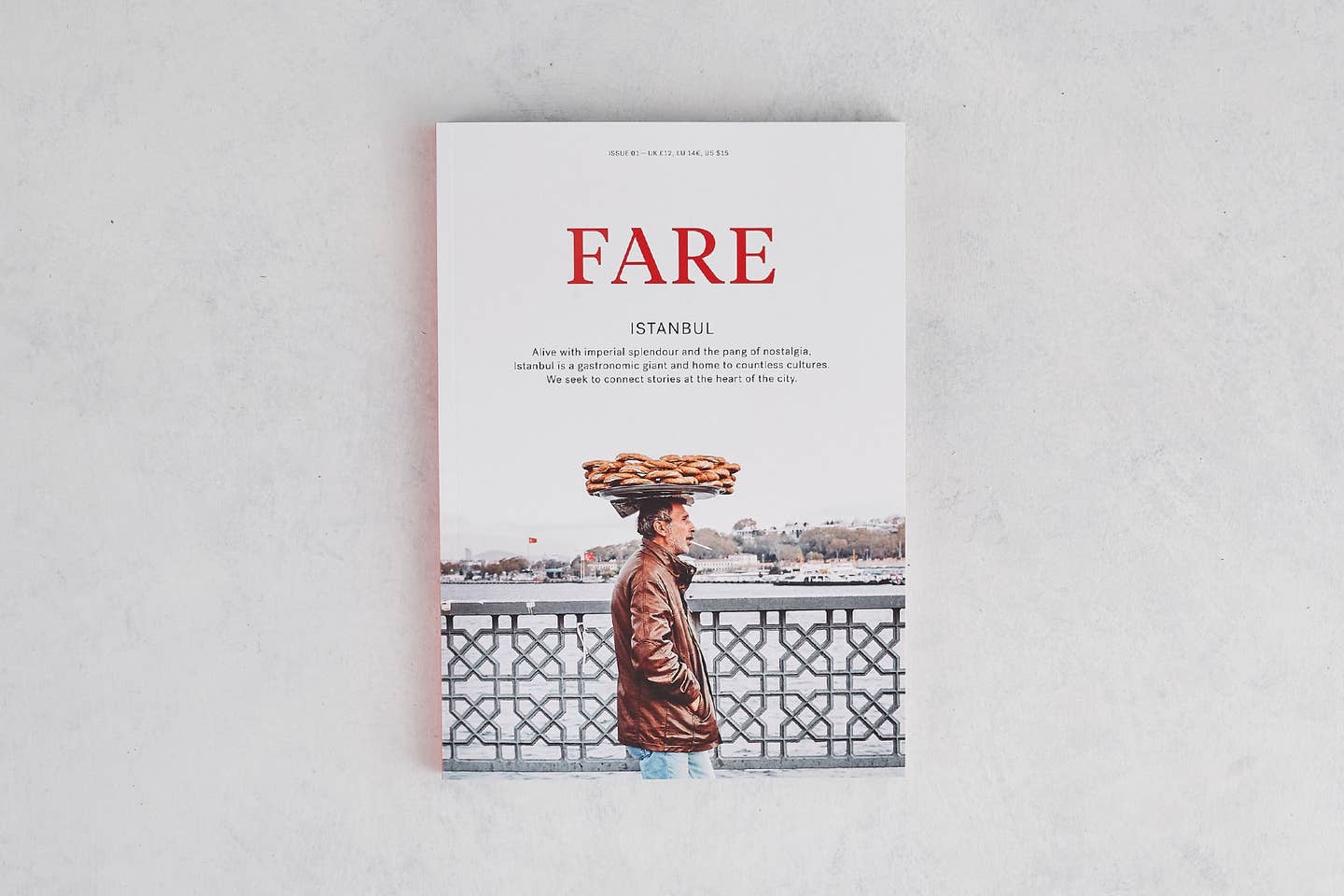 Culture
Go Read This Travel Magazine That Focuses on One City for an Entire Issue
Fare is a new publication that's unapologetically nerdy
Fare is for nerds. Its founder, Ben Mervis, readily admits this; he says that's why it was important for him to include a glossary in the travel magazine, and it has informed the directions he might want to take in the future, noting that the "nerdy, cool factor" is what Fare brings to the coffee table.
Each issue examines the kaleidoscopic culture of single city through original reporting, essays, and interviews. First up: Istanbul.
Mervis is originally from Philadelphia, but after completing research in medieval history in Scotland and England, he found himself at Noma in Copenhagen, working there with René Redzepi. Redzepi ended up being a primary source of inspiration and support for Mervis as he chased his magazine dream. He now works with Chef's Table as a researcher, doing pre-planning and assisting the directors and production team.
Part of this nerdiness comes from Mervis' desire to create a magazine meant to be read, not just looked at. They dive deep into every facet of life in Istanbul, the subject of the first issue, tackling everything from gentrification to history, but always coming back to food. This is clear even from a small excerpt of one of the magazine's pieces, "The Language of the Kitchen:"
Below, I talk with Mervis about how the magazine came into being and the challenges of creating an entire magazine in Istanbul.
So what is Fare? What's the goal?
It's definitely a convergence of my personal and professional interests. I studied history and loved to travel, and a lot of people do. I think most people would express at least some level of interest in travel, but I always knew I was a little weirder. I didn't like going to a museum just because I was supposed to, I wanted to immerse myself in where I was going. It often ended up being the same kind of stuff as the city I lived in, but I wanted to get into the role of living in that city, going to cafes and restaurants and walking the streets. It's difficult not to see the world through food. I don't think that analogy goes too far; you can explain many things through food that you might not expect.
Where did the idea come from?
I was a pretty avid magazine collector, and a lot of the movement of niche pretty coffee table magazines were very much about pictures and the design, but you feel like they don't really want you to read it, or that the reading of it is just an afterthought. We wanted a beautiful publication that also was meant to be read, with stories and essays and interviews. And I wanted to talk to meaningful elements of culture and not just trends. It should be just as relevant in 2 to 3 years as it is now.
So how did you decide to structure the magazine? It starts with a crash course; if you've never been to Istanbul before, we basically boiled it down a few themes, like the fact that it's geographically unique, it spans 2 continents, that it's really shaped by the Bosphorous and its surrounding waters, it has been an imperial capital three or four times. These are things that recur throughout the magazine. People might not pick up on it, but pieces take place in similar areas. For instance, one interview takes place in one of the trendy neighborhoods, Karaköy. It's an interview with fantastic multi-instrumentalists and they talk about how the neighborhood really changed through commercialization and gentrification. Then there's another piece in the same neighborhood that's about an Armenian couple that run a traditional eatery. It's about their connection to their neighborhood, and that takes place before that musician was there. It's a perspective that gradually zooms out.
We've included a glossary that covers the basic things. If you don't know what the region Anatolia is, that's in there, and then it goes into the specialty dishes of Istanbul and of Turkey. There are also phrases, local phenomena, particulars of the city—anything that we felt needed a definition. I think having a glossary is really important because it cements that fact. You're there for a reason, and it has practical purposes.
Can you talk a little more about the specific contributors to this issue? And can you tell me about some of the stories? What do they cover, and what are some of the places involved?
The contributors are almost entirely locals. We brought one photographer to Istanbul, but we really tried to make it so that most of the contributors are locals. If they're not Turkish then they live in Istanbul.
We also included Mehmet Gürs' Mikla Restaurant, which is number 51 on the World's 50 Best Restaurants. We also did another piece at a small traditional eatery called Mutfak Dili, and the author of that is an expat who has lived in Turkey for 25 years and is always writing about Istanbul, Andrew Finkel.
Then there's a Turkish actress named Serra Yilmaz, and her grandmother was a member of an Ottoman harem. So it's a pretty well-rounded range of pieces.
Did you have ideas of what you wanted to include in the magazine when you first founded it, or did all the ideas come from contributors?
It worked in both ways. I had ideas of things that I really wanted to be in there, and things that I heard about when I got to Istanbul and I'd think, "This needs to be in the magazine." My very favorite piece is an example of that. It's about a guy who makes tea in the Grand Bazaar. It's not innovative tea, it's not incredible tea, it's not done in traditional way, it's just through boiling tap water and tea leaves, but it's in this little cubbyhole in the Grand Bazaar in this little space, and that's what's so fascinating. On the wall he has about 20 telephones wired directly to 20 different stores around the market. They phone him up and he doesn't even say anything, he just registers their order then hangs up phone, makes the tea, then the attendant takes it off down these winding streets. There's something so perfect about a story like that.
Why do Istanbul in this issue? Was it a challenge considering the current political climate?
I chose Istanbul after the coup attempt and before things got worse again. I definitely knew there was trouble in the past, but things had started to get better. I chose it and did research and then things started to get worse, and I was never going to cancel the trips, I was never going to change the city, but it did become difficult.
In between bombings, I had journalists living in Istanbul who dropped out. They would call me and say, "I was supposed to do this piece, but I have to leave," but other people stayed. To be completely honest, it was a big task to put together a volume on Istanbul that's not very dark. There is a level of darkness and worry, and maybe anxiety, but I also tried to put in beautiful elements and timeless things that speak to the qualities of Istanbul that persist through centuries and millennia that are fantastic in a way that doesn't forget what's going on now. When people told me they had a very difficult time writing about the city in a way that was not sad, I said, "Just talk about it neutrally. Describe elements of culture instead of your opinions on the way things are going."
Was it hard to balance that with the food?
We did it delicately. We wrote about Syrian migrants to Istanbul, specifically in one region of Istanbul where an organization called Small Projects Istanbul is operated, in a traditional Syrian neighborhood where the organization is helping out 250 beneficiaries. We spoke to a woman who had left Syria. We learned her story, and that played into a community element. It ranges from a food magazine to speaking more to the culture and society of the city, but in my head those are the same. I don't feel the need to put distinction between, "now we're talking about food, now we're talking about people." Every piece in the magazine talks about the food for at least a sentence. It's a part of all of our lives.
Where does it go from here? What's up next for Fare?
I think that the great part of producing something like this is that it becomes real. Before, it was in my head and then it becomes real and you see how people enjoy it. We find out what the elements that people really like are, and how you expand on that. The quirkiness, nerdy, cool factor—that's our niche, nerdy cool travelers, how can we really expand on that and do stories that are more that direction. I like doing cities that have really great histories. It doesn't matter if it's an old or young city, it doesn't matter if it's fantastic or crap food. It would be boring if at every issue you say, how great is the food here? So great! How great is the history? It's ancient and beautiful and the food is fantastic!