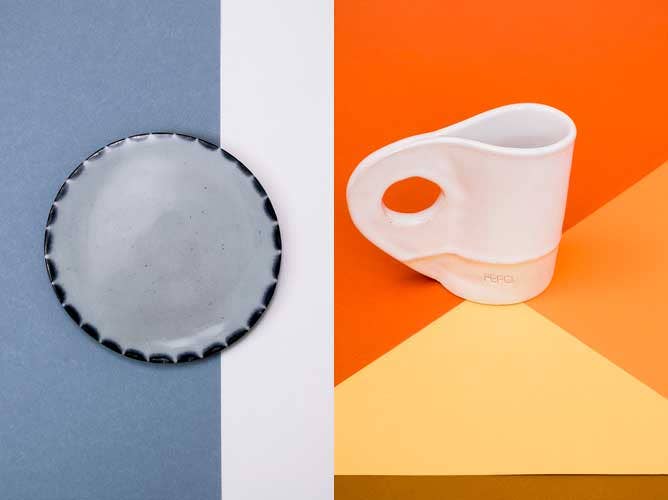 Culture
The Bread-Baking Chef Turned Potter Behind Some of New York's Most In-Demand Dishes
Fernando Aciar, the man behind Fefo Studio pottery, explains why shaping a clay serving bowl is a lot like baking a loaf of bread
"Making bread and making pottery come from the same place," says Fernando Aciar, the bread-baker and chef-turned-potter who launched Fefo Studio last year. Both demand strength and dexterity, the power to turn a lump of raw material into something beautiful.
That insight has helped propel his works to be some of the most in-demand pieces of dishware for some of New York's most celebrated chefs, such as Jeremiah Stone and Fabian Von Hauske of Contra and Wildair, and David Chang at his new Momofuku Nishi. They're drawn to Aciar's clean, geometric color-block aesthetic and the versatile backdrop his plates offer their food. Fefo Studio wares, available both on his website and at Aciar's upcoming show at Seaport Studios, take neutral tones but are full of texture. Aciar doesn't shy away from the handmade nature of his pieces, or from inspiration by mundane objects like plastic cups and light bulbs.
The food-friendly nature of Aciar's work is no surprise given his deep roots in the culinary world. Growing up in Jachal and Rodeo—Argentinian wine country near Mendoza—Aciar's food education began at home, making brick oven empanadas, bread, charcuterie, and dulce de leche with his mother. Seven years cooking with South American superchef Francis Mallmann (during which he met longtime friend chef Ignacio Mattos of Estela, who recently commissioned Aciar to make vases for his elegant new Italian resturant Café Altro Paradiso in Soho), and stints at Berkeley's Chez Panisse and Girona's Celler de Can Roca, confirmed Aciar's love of food, but also pushed him to carve out his own path as a business owner.
So in 2011, he opened the Latin-influenced O Café in the West Village, which drew love from locals as well as actors and food world insiders for South American snacks like pao de quejo and Brazilian brigadeiro truffles. And in 2014, he opened FeelFood, a forward-thinking organic fast-casual-style restaurant. But when FeelFood closed last year, Aciar stepped away from the kitchen and turned toward wheelwork as a form of therapy. "Pottery made me carve out time for myself, for discovery and contemplation."
It was at O Café that Fefo Studio was "discovered." French fashion production ace Alex De Batek stopped by on a coffee break and was so impressed by Aciar's early work that he immediately commissioned hundreds of pieces as part of an installation for the house of Coach's New York Fashion Week Fall 2015 presentation.
Aciar's current work takes influences from a range of sources. Blotches of black on one of his designs suggest the ink-drenched wrist of an inspired poet. A set of white cups with yellow interiors shine in the light, like fresh farm eggs. A pale blue set with navy trim recalls the wabi sabi of an antique Japanese indigo: beautiful because of (not in spite of) its imperfections.
Contemporarily with New York Design Week, from May 18th through May 26th, Aciar's work will be shown publicly at Seaport Studios in New York in a show alongside sugar artist Margaret Braun and designer Christiane Büssgen, whose creations also explore the connections between the edible and the ornate.
The dishes are as appropriate in a gallery as in a restaurant or your kitchen table. They act as a reminder: To eat with your eyes first.