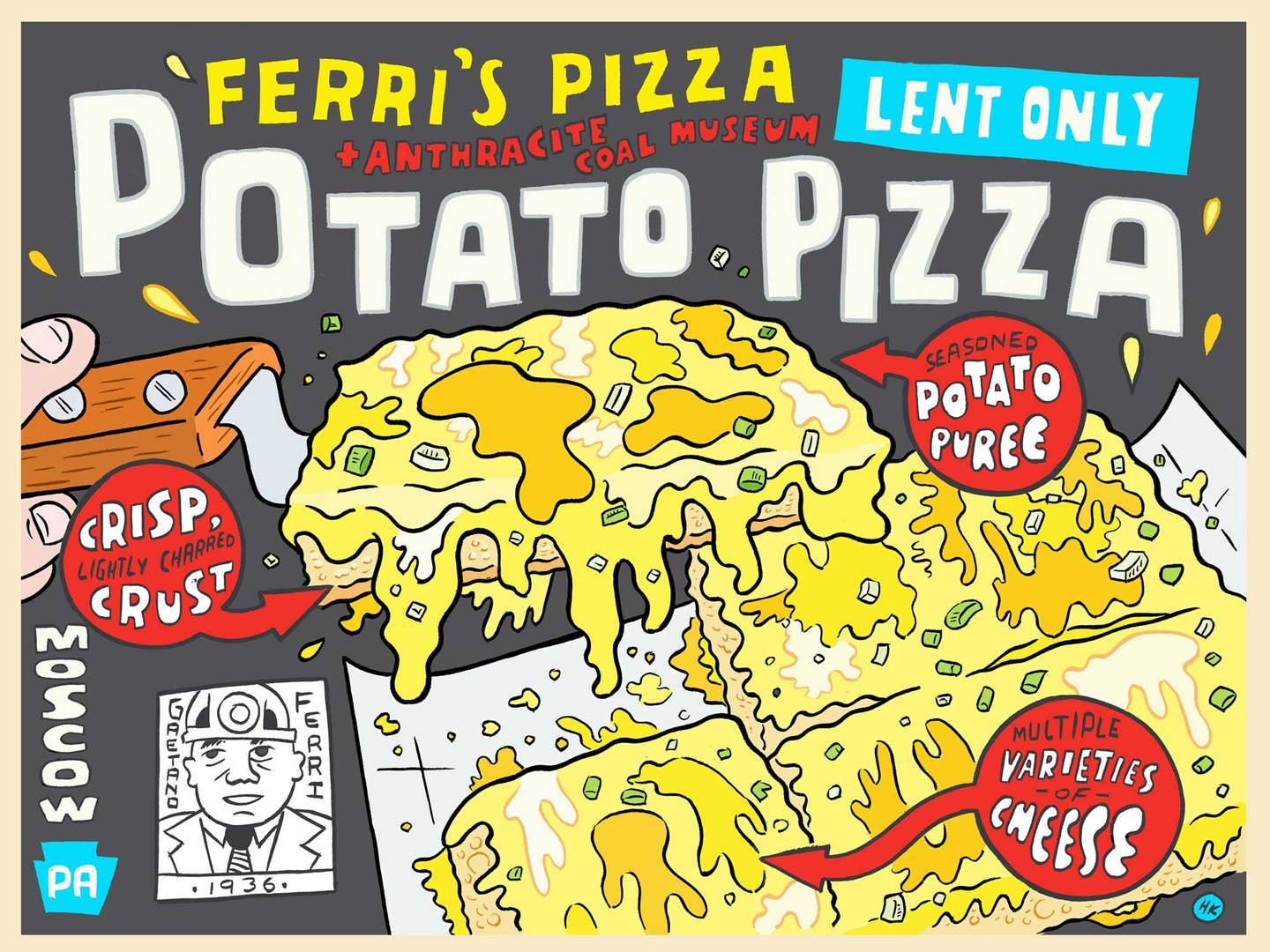 Travel
You Need to Join the Cult of Pennsylvania's Potato Pizza
For a little known but booming regional food culture, the craziest time of year is about to begin: gloriously cheesy pierogi pizza is returning to 80-year-old Ferri's Pizza, just in time for Lent
Welcome to Hawk's Illustrated America, a monthly series following illustrator Hawk Krall's journeys through the back roads of the U.S. in search of our country's most obscure and delicious regional specialties.
The cult of Ferri's Pizza has members everywhere. "People come from Shamokin, Towanda, Athens, Philly, Reading, New York, and New Jersey," say owners Billy and Janice Ferri. "Potato pizza has even been shipped by a customer to his brother in Kodiak Island, Alaska." The Pennsylvania restaurant and coal mining museum has a giant map on one wall where people stick a pin to show where they came from. Many cluster around Pennsylvania and the Northeast, but the pins dot all over.
And yes—potato pizza. You can only get it during Lent. It's one of the best pizzas I've ever eaten. And it's the core of Ferri's cult following.
"I only go to Ferri's during Lent," my buddy Shawn told me. Every year he does a three-hour drive from Jersey to pick up five or ten boxes of potato pizza. "It's an interesting spot in the middle of nowhere. A coal mining museum, a women's gift shop, and great food all in one place."
For those that don't know much about northeastern Pennsylvania culture (NEPA, in local parlance), a dish called "pierogi pizza" sounds like gimmicky stoner food. Despite Shawn's years of insistence, I'd never paid it much attention. But last year I happened to be driving through NEPA in early spring and received what must have been the tenth email from Shawn telling me to go. So I went.
The potato pizza turns this year on March 1st. Don't wait like I did.
Ferri's is in the tiny borough of Moscow, close to Scranton and 20 miles from the town of Old Forge, the self-proclaimed pizza capital of the world and epicenter of NEPA's obscure but robust pizza culture. This area's standard pizza style is thick, square pies sold by the "tray" (pie) or the "cut" (slice), and almost every pizzeria out here does their own version of potato pizza, a.k.a. pierogi pizza, a.k.a. "pagash." It's generally attributed to the region's Polish and Italian Catholic populations, who settled there to work the coal industry, as a meatless dish to eat during Lent.
But Bill and Janice Ferri tell a different story. Their potato pizza legend starts with an old Irish neighbor who arrived at the doorstep of their Archbald location 27 years ago, with a pot of mashed potatoes and a request for pizza. They agreed, and made it for her regularly before other customers caught on and asked for the same. The Ferris adjusted the recipe over the years and so, they claim, potato pizza was born.
"Here's what we know," they go on. "We invented potato pizza. We had a big story air on NewsWatch 16 on WNEP TV a few years back, and the popularity of this pizza skyrocketed! After that, everyone started making it!"
You can decide for yourself who to believe. The point is the pizza's incredible.
The rich potato topping eats more like a ravioli farce fortified with butter, egg yolks, and maybe sour cream. At least three types of onion are layered in and scattered over the cheese and and potato mix, with chives and scallions on top.
This pizza has no sauce, but it's mounded so high with mashed potato and glistening cheese you can barely see the crust. Genteel Roman potato and rosemary pie this is not; each thick "cut" tips the scales at over a pound. Yet the crust remains magically cracker-crisp, golden brown, and slightly charred—a sure sign of serious technique behind this starchy, cheesy madness.
Ferri's Pizza began in 1936 in nearby Old Forge, opened by Italian immigrants Francesco and Gaetano Ferri, the current owners' grandparents. Gaetano worked the coal mines during the day and made pizza at night. They weren't the first to make pizza in Old Forge, but are credited as the first to offer take-out boxes, borrowed from a nearby dress-maker, until they moved to actual pizza boxes just 15 years ago. Back in the 50s and 60s, Ferri's was a mini NEPA empire, boasting locations from Dunmore to Scranton. But the current Moscow shop—run by Billy and Janice for the last 20 years—is the last one standing.
Another piece of the Ferri's puzzle is the coal mining connection. Before you even get to the pizza counter you pass through makeshift anthracite coal museum, Historical mining paraphernalia covers the walls. Hip cocktail lounges would kill for this collection of weathered old signs, photos, and legit mining machinery, but these artifacts are rescued from abandoned coal mines that Billy explores in his free time.
"We grew up in the small coal mining town of Old Forge and both of our grandfathers worked in the mines," Janice explains. "Billy is the first generation in his family not to be a coal miner and just to have the pizza business." "I was sick of the jar of peppers and the boot of Italy," Billy adds.
Even if you're not particularly fascinated by coal history, it's done in a fun way that truly adds to the eccentric charm of the place. They also play coal mining videos on multiple televisions in the dining room, although the Ferris' daughter Sabrina, who also works in the shop, got bored of the coal videos and started putting on classic 80s movies.
Ferri's is worth a trip for more than just potato pizza; their pepperoni, which is boosted by clumps of ground pepperoni scattered among the crisp slices, is a genius trick for a mindblowing pizza all its own. They're also known for specialties like hot wing (a NEPA standard), and monthly specials like Reuben- and Thanksgiving-themed trays.
But nothing beats the potato. The Ferris explain that for 40 days and nights of Lent, they go through a literal ton of potatoes; there's an endless cycle of peeling, soaking, cooking, and mashing them around the clock. One customer special-orders 20 unbaked trays of it so he can freeze it for the rest of the year. After tasting the Ferris' work, I can see why.
Hawk Krall is an artist, illustrator, and former line cook with a lifelong obsession for unique regional cuisine, whose work can be seen in magazines, newspapers, galleries, and restaurants all over the world. He focuses on editorial illustration, streetscapes, and pop-art style food paintings.