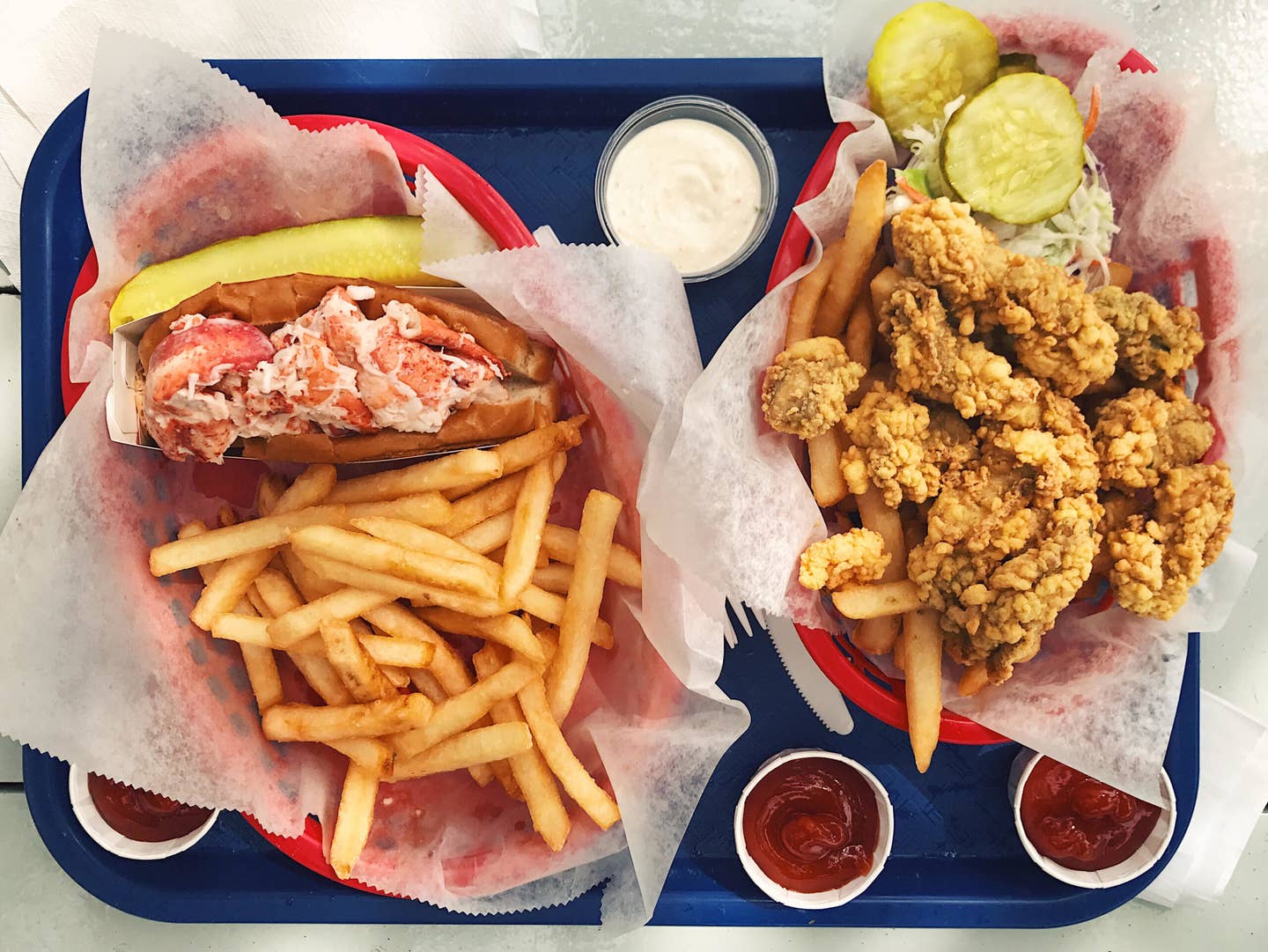 Travel
Where SAVEUR Editors Traveled in August 2017
From Newfoundland to the US Virgin Islands, here are our August food and travel field notes
In August, we savor the last moments of summer by going out and exploring. Whether that's going halfway around the world or getting to know our own backyard a little better, we try to make the most of the fleeting sunny season. This month, SAVEUR editors ate their way through New England, the US Virgin Islands, and Newfoundland. Here are the best bites.
Every August, my boyfriend's family spends two weeks at a big house on Lake Winnipesaukee, and all of the cousins take turns cooking. This year, Ian and I were first, and we prepared a giant feast of pasta cooked with bacon and sungold tomatoes and sweet peppers and fresh summer corn, with a big peach-cherry crumble for dessert. All 18 of us were comfortably satisfied. By the end of the long weekend, I was sad to leave them all behind, but I had to get back to the office. Ian drove me to the airport in Boston, but on the way down, we took a detour off the interstate to hop across the border into Kittery, Maine. Ian's aunt had recommended Bob's Clam Hut, and we were not disappointed. We got a lobster roll, some fried oysters, and two orders of fries, and were back on the road to Boston in a half an hour, though I was glad to have had one last view of the sea. — Alex Testere, associate editor
The western U.S. was hit with a blistering heat wave, and Hurricane Harvey slammed the Gulf Coast, but New York City fared well this month, weatherwise. The temperature only broke the 90-degree mark once. So being stuck here this summer hasn't been a bad thing. Chili may not come to mind in August, but football season is around the corner, and I had black bear loin from British Columbia in my freezer, a gift from Colin Kearns, the editor-in-chief at Field & Stream (where I work in addition to SAVEUR). And F&S had just the recipe to tempt me: a dark, earthy bear chili made with wild blueberries and black beans. A big mugful of black and blue chili with a dollop of sour cream brought the forest to my table. I'd wager that it would be delicious made with beef or venison, if you don't happen to have a supply of bear meat. — Donna Ng, copy chief
The afternoon everyone traveled south to catch a glimpse of the total eclipse, I found myself far north catching a glimpse of a pretty incredible post-dinner sunset in the quaint village of Twillingate, Newfoundland, famous for its icebergs, charming locals, and fresh fish. I was on a week-long roadtrip exploring the island's recent discovery of craft beer (they're quite a few years behind the rest of North America) and eating as much fish as I could in between.
A local woman, Crystal, and I were walking along the beach in quite substantial winds, but it was too beautiful not to have dinner outside. The tide rose higher than anticipated, we hugged the edge of rock in an attempt to not get soaked by the incoming waves, and once we successfully crossed the narrow passage, found a lovely patch of beach where the fire was started. Dinner consisted of smoked mackerel, fried cod tongues, and a hearty cod soup with carrots and potatoes. All favorite family dishes Crystal ate growing up in the neighborhood. As the sun set, we grabbed some of Split Rock Brewing's new IPA, a brewery that opened just the night prior, and hiked up the nearby hill to take in the view. — Michelle Heimerman, photo editor
Come nice weather, a certain tea friend of mine gets antsy and starts spending more and more of his time at his cabin in the woods of Connecticut. If all this sounds a little vague, it's because I've been sworn to secrecy on revealing the friend's name or exact location. Tea people are weird like that. But when you get there—hours after leaving home, then riding a Jeep up the mile of woodlands path, crashing through streams—it's paradise. A cabin overlooking a little pond, tall trees stretching over picturesque bluffs, lush moss on the ground so you can walk barefoot forever, and little gathering nooks scattered everywhere you look.
Here we are at one at hour 3 of drinking in the sun. The tea is good. The view is better. The company is a bunch of friendly weirdos. Keep your beach days; I'm home. — Max Falkowitz, executive digital editor
When my family plans a vacation, I always choose the beach. This year, we visited the US Virgin Islands (Saint John and Saint Thomas) to relax, unwind, and soak up some sun. After a hike through the gorgeous Reef Bay Island, we re-fueled at Ocean Grill inside the Mongoose Junction shopping-and-dining complex, which also houses the standout taproom for St. John Brewers.
The highlight? Cocktails at The Longboard, an open-air gastropub with goes-down-easy frozen drinks and a strong selection of rum-forward classics (mai tais, Hemingway daiquiris). — Dan Q. Dao, deputy digital editor