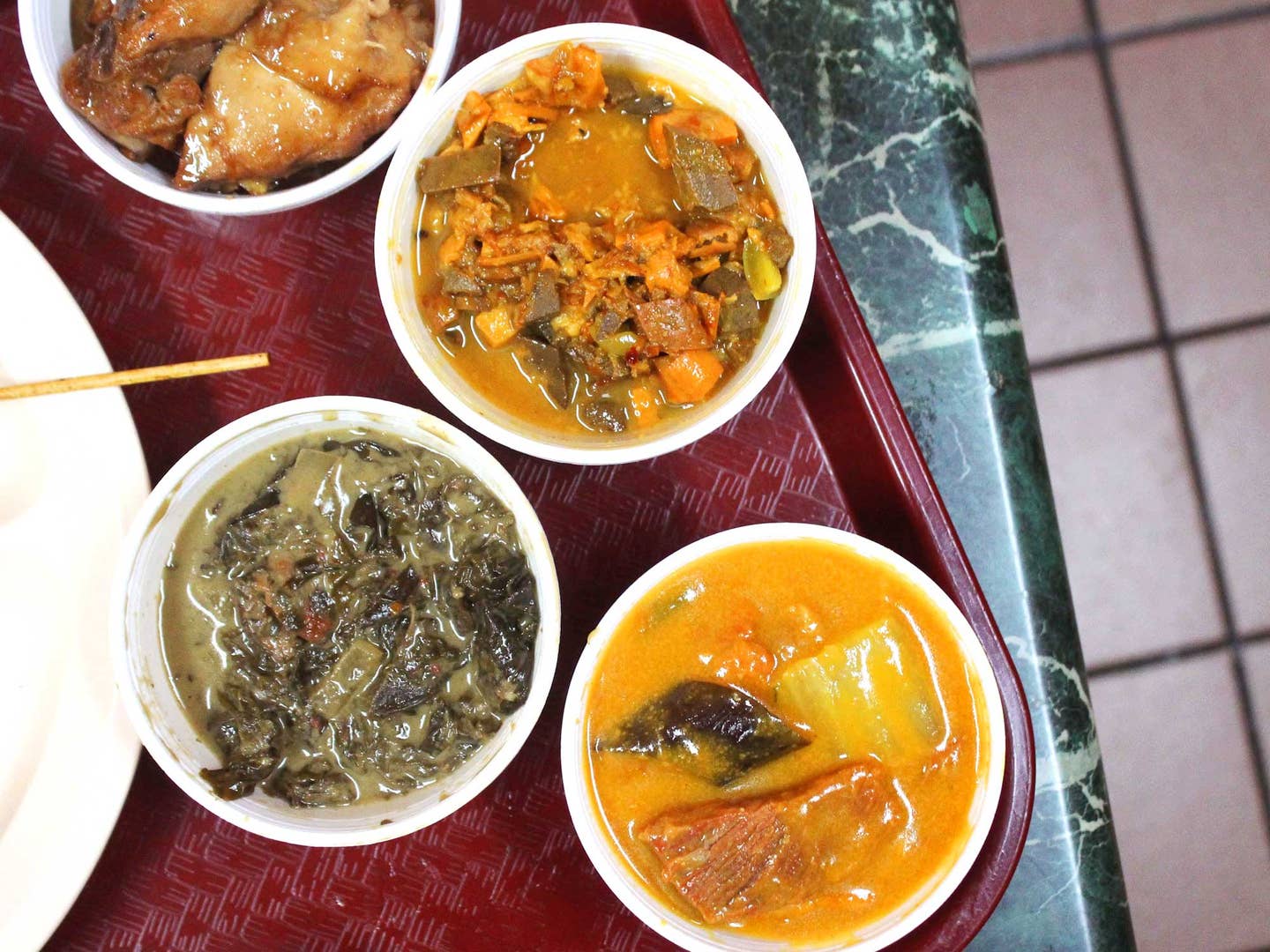 Travel
How a New Generation of Chefs is Making LA Fall in Love With Filipino Food
Los Angeles County is home to the greatest population of Filipinos outside the Philippines, but their cuisine still struggles to win over the mainstreaming dining public. Now, a growing community of ambitious young cooks is starting to change Angelenos' minds about adobo and kare-kare
To Filipinos born and raised in the Philippines, Alvin Cailan is an Amboy: an American-born Filipino. Amboy is also the name of the lunch project he operates out of Unit 120 in Los Angeles from 11 a.m. to 3 p.m. His menu there is a mix of Filipino cuisine and Southern California style, including a celebration of LA's backyard grill culture that parallels the grilled meats found throughout the Filipino canon.
Most people know about Cailan from Eggslut, his enormously popular counter in Downtown's Grand Central Market where you'll find one of the city's best, and most obsessed-over, breakfast sandwiches. This January he opened Unit 120 in Chinatown's Far East Plaza, not just to expand his repertoire beyond egg sandwiches, but to show LA just how much Filipino cooking has to offer.
At this point, arguing that Filipino cuisine is going to be the Next Big Thing in American food is hardly new. But in Los Angeles, a powerful wave is cresting, and the argument deserves a fresh perspective. There a quickly growing community of second-generation Filipinos cooks are taking a refined, even studious approach to their heritage. In the county with the largest population of Filipinos outside the Philippines, chefs like Cailan are making unprecedented headway in a decades-long push to make Filipino food as attractive to the American mainstream as Chinese or Thai.
Four years prior to Amboy's debut, the Concordia family opened The Park's Finest, a community-driven barbecue spot at the end of West Temple Street in Historic FIlipinotown. At Warren Almeda's Belly & Snout and Eric de la Cruz's Oi Asian Fusion, diners are swooning over classic Filipino dishes sold at inexepensive prices and executed for a modern crowd. And if you're looking for Filipino desserts, you won't find any better than those made by Isa Fabro (and served at Amboy).
So how are they doing it? That's a question Cailan addressed in June last year at Next Day Better, a discussion and event series about diaspora communities. But the first spark came at Coachella two months prior, when Cailan first met fellow Filipino chef Charles Olalia and began a discussion about Filipino food in an entirely new way. At Next Day Better, Cailan spoke to a crowd of 300 people. "Because my restaurant Eggslut had made it to the mainstream," he says, "people wanted to know how I got there."
Cailan was born to Filipino parents in Pico Rivera, a predominantly Latino neighborhood 15 minutes from Downtown Los Angeles. His second-generation sensibilities, academic background (he graduated from the Oregon Culinary Institute in Portland), and commitment to the culinary arts put him in a position to consider the role Filipino food plays in the North American landscape. And he's not doing it alone.
"Alvin wants to help everyone out in the most honest way," Olalia says on a Monday evening, surrounded by people snapping open cans of beer while cooks fry chicken in the kitchen. It's industry night at Unit 120.
"Six months ago Charles and I decided to invite chefs we didn't know to get together and ask them to bring food," Cailan says, the excitement in his voice enough to drown out the small speaker on the table playing Drake. The first meeting place before 120? Olalia's apartment. There, a roomful of chefs started talking about how to make the crispiest lechon skin and ways to promote sweet Filipino rice-based desserts by translating them into something with mainstream appeal. "It started amongst the Filipino community," Cailan says. "But the awareness has grown to everyone in the industry."
A large part of the initiative has to do with the growing number of Filipino chefs in Los Angeles. "Every major Los Angeles restaurant has a Filipino chef working in it," Cailan says. Most don't serve Filipino food, but the presence of Filipino chefs in their kitchens is encouraging. "It shows we can cook and run successful restaurants," Cailan says. And it's a great start. "But if our community doesn't support us," Cailan wonders, "then what's the point? Unless my mom, uncles, cousins, nieces and nephews support us, there's no way we can cross over."
At Amboy, Cailan leaves the core of Filipino food intact. But he shifts the final product for the community at large he's cooking for. "Instead of using heavy pork fat as the base," Cailan says, "I'm using vegetarian shiitake mushroom dashi." For other traditional Filipino stews—kaldereta, kare-kare, and monggo—he swaps out meat for legumes to appeal to the area's vegetable-oriented diet. "Southern California food is vegetable heavy," he says. So he roasts vegetables, sears and glazes them with an adobo sauce, and then adds lashes of soy, vinegar, and garlic—classic flavors of the Filipino pantry. Traditional? Not really. But "if you eat it all together," Cailan tells me, "you're eating Filipino food."
Filipinos began arriving in Los Angeles at the turn of the 20th century after the signing of the Pensionado Act of 1903, which allowed Filipino students to study in the United States. 20 years later, as the population grew, restaurants opened to feed them, particularly in LA's Little Tokyo, where the community eventually established what's become known as Little Manila there. The Depression and, later, the Tydings-McDuffie Act, restricted Filipino migration, which would not pick up again until after WWII. Decades later, in 2002, the city of Los Angeles designated the area that makes up the southwestern portion of Echo Park Historic Filipinotown, which is home to a number of Filipino restaurants and bakeries. They still serve a primarily Filipino dining community.
"For our parents," Cailan says, "Filipino food wasn't a focus, because it was more sustenance than craft." He's after what Chase Valencia calls a "second-generation response to the food." In addition to cooking lunch at Amboy, Cailan hosts Filipino-American brothers Chad and Chase Valencia's dinner pop-up LASA Friday through Sunday.
"Our parents' main concern was assimilation," Valencia adds, and seconds Cailan's point: "They never thought about Filipino food other than as a means to provide for their families." Valencia, 31, tells me that he and young people like him have opportunities their parents never did—the result of the herculean work of his parents' generation. "We're able to move more freely with our decisions and the careers we choose," he says.
That's why, for Charles Olalia, when he's cooking, "the element of home always has to be there." Olalia is the chef/owner of RiceBar in Downtown LA, where he serves Filipino rice bowls out of a 275-square-foot space. "For me," Olalia says, "my social responsibility is to take the food we've been enjoying our whole lives and give it to everyone consistently with a level of attention and care."
RiceBar offers $7 to $10 bowls made from heirloom grains imported from the Philippines. The low price point "brings the city together," Olalia says. "We get all types of people coming to us." The low pricing is only one means of drawing in non-Filipinos; central location is another. But low prices don't mean low effort. "It's about properly cooking proteins and vegetables," Olalia says, "and serving things at the right temperature." You get it perfectly when you taste his pork longganisa. Bright yellow pickled vegetables shine against green scallions and the deep reddish-pink hue of the most flavor-packed and juicy sausage I have ever eaten.
The attention to detail is Olalia's response to the casual Filipino steam table restaurants run by the older generation over on West Temple Street, the main artery in Historic Filipinotown. Filipino restaurants there like Nanay Gloria's and Bahay Kubo serve dozens of classic Filipino dishes, like dinuguan, laing, sisig, pinakbet, and various forms of adobo. "What they're doing is the most efficient way to serve food," Olalia says, "and I always give them respect for that." But Olalia's micro-managing—even closing the restaurant during low-traffic hours to keep things as fresh as possible—reflects his industry chops and, ultimately, care for the level of detail that upscale restaurants can achieve more easily than volume-focused restaurants.
At RiceBar, Olalia makes everything from scratch. That longganisa—a sweet, smoky, spicy Filipino pork sausage that Olalia grinds using his uncle's recipe—gently cooks in stock all morning in the tiny open kitchen in front of guests. "I wanted to keep a sense of the restaurant experience there," he says, "and curiosity. I want people to ask questions."
Olalia admits RiceBar may not be the most revenue-driven model. It's difficult to scale up this attention to detail. But it's also an investment in Filipino food education. "Eight months in, non-Filipino people are coming in and asking for dishes by name," Olalia says, "and they are pronouncing things right."
Cailan is seeing similar results. "Because people Instagram," he says. "People talk about it. The food is delicious. We take our time and strike a combination of price point and sourcing ingredients." He's hopeful that special sauce of approachability without compromise will give Filipino cuisine the momentum not just to build great restaurants, but work its way into public discussion.
He doesn't see any of this work as cutting ties from the old generation. Quite the opposite: keeping a sense of family and community is everything.
Cailan recalls going to his dad's friend's house as a kid. "Their camaraderie and closeness, and generosity and willingness to help each other, was just amazing." As Cailan becomes a leader in the industry, he sees parallels to his father, who's an established figure in the Catholic community and who teaches bible studies and preaches regularly at church. "When I was giving that speech," he tells me about the Next Day Better talk he gave in June, "in the middle of it I realized, wow, I just became my dad."