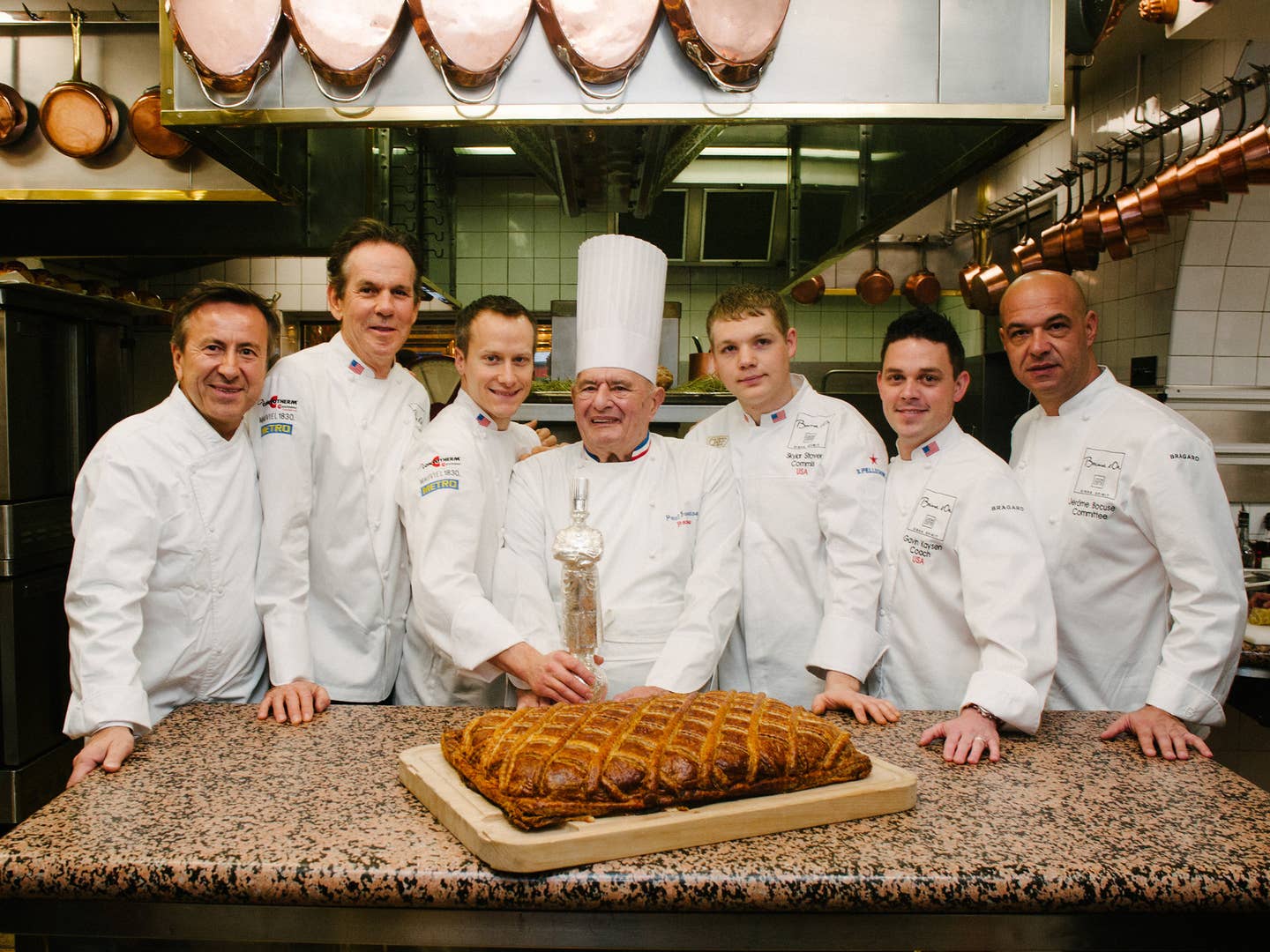 Culture
On the Hunt for the Next American Bocuse d'Or Chef
Chef Philip Tessier starts his search for the next great chef for the 2017 Bocuse d'Or, the food world's Olympics
When chef Philip Tessier went to Lyon, France to attend the 2013 Bocuse d'Or, the world's premiere cooking competition, most of the food he saw didn't appeal to him.
He certainly respected the competing chefs, but he didn't like what he perceived to be a preference for presentation and ingenuity over taste and comfort. "When you're in a competition, you tend to lose focus on the flavor of the food and what food is all about—nurturing, hospitality, and memories," Tessier says.
So when he was selected to represent the United States and face off against 23 other chefs in the 2015 competition, Tessier had one main goal: to make the judges want to try his dish because it looked like it would taste good.
He and his assistant trained under Thomas Keller, the chef and proprietor of the renowned French Laundry in Yountville, California, and the president of Bocuse d'Or Team USA; this January, Tessier achieved his goal. He won the competition's silver medal, and for the first time, America was on a podium that France and Scandinavian countries had dominated since the start of the contest in 1987.
"Winning the silver statue at the 2015 Bocuse d'Or was a historic milestone for our country in the same way that our culinary history has continued to progress and evolve throughout the past 35 to 40 years into something that is now recognized around the world," Keller says.
And this month, Tessier will begin his search for the chef to fill his (admittedly tall) hat in the 2017 competition.
A large part of the competition's scoring is based on how well a team depicts their country's food, which proved to be a challenge for Tessier—the United States, a country whose national cuisine is an amalgam of international influences, is hard to represent in just a few dishes. But he relied on his training at the French Laundry and his familiarity with Napa cuisine, and figured that as an American, his food was inherently American. With barrel-oak-roasted guinea hen and brioche-crusted trout, Tessier found success; and now he needs the next chef (and his or her comis, or assistant), who will start training at the start of next year before entering intensive training in August 2016, to do the same.
It's not easy to find someone to meet all the qualifications, though; to compete, "you have to have solid, high-quality restaurant experiences, working for some of the best chefs," he says. Tessier started cooking at Virginia's Williamsburg Inn before eventually going to Le Bernardin and Per Se in New York City, and then Bouchon and the French Laundry—some of the best restaurants in America. But Bocuse d'Or competitors need to be more than qualified: they must be willing to accept a full year of all-consuming training with support from Ment'Or BKB, a nonprofit foundation led by Daniel Boulud, Keller, and Jérôme Bocuse, son of the competition's namesake, French chef Paul Bocuse.
Tessier knows that to commit the time, energy, and resources to training is intense. But the preparation is anything but tedious. He calls the process a "choreographed approach, like working in a restaurant": competitors are constantly creating new dishes and refining what they are doing. A chef could create over 100 recipes during the year leading up to the competition, as Tessier did, and end up using just three of them in the competition.
With more recognition after this year's win, Tessier hopes that Americans back home will begin to take notice of the Bocuse d'Or, which will only validate potential chefs' decisions to consider the competition. Kids in France grow up watching the event on TV with their parents; out of the 2,500 people in the stadium, around 500 of them are from Japan; and in airports in Scandinavia, photographs of Bocuse d'Or-winning chefs hang on the walls next to the country's leaders and celebrities.
"When I talk to people about the competition, I always get the same comments, one being, 'it's is so exciting to hear your story,' and then, 'why don't I know about this?'" Tessier says. "This is everything America is about—competition, celebrity chefs, patriotism, the world stage.'" The Bocuse d'Or had always been a competition that Americans haven't taken seriously—and before this year, the competition didn't take the United States seriously, either. Tessier knows that will change, now that the country has proven itself deserving of a prize.
"When we were there, we got these glances like, 'why are you guys here? You've tried so many times,'" Tessier says. "But now when we go back and we have our America jackets on, people are going to look at us differently—they're going to have expectations."