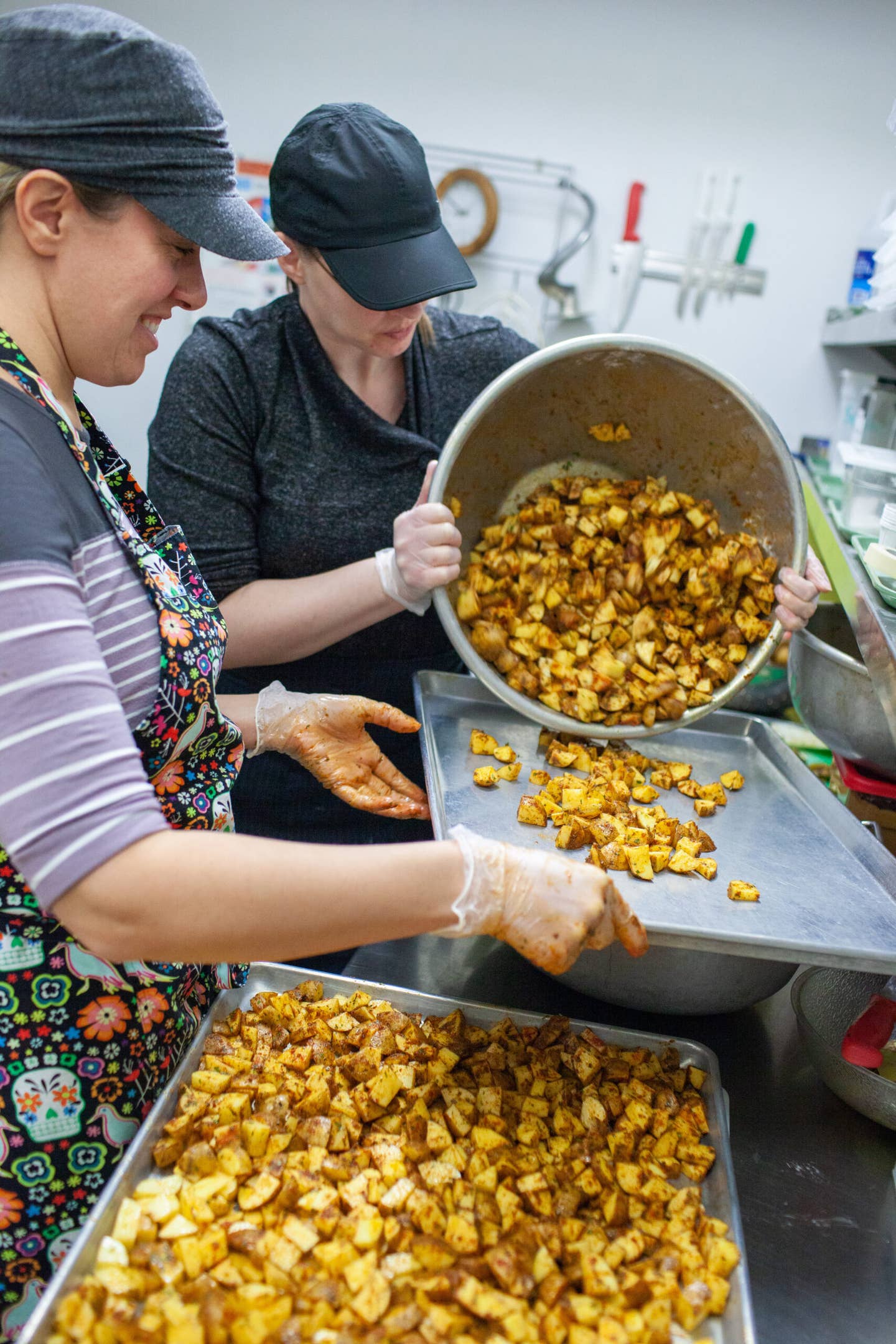 Culture
How a Farm-to-Cafeteria Lunch Program is Surviving the Pandemic
Like everything else, what it means to be a "Lunch Lady" has changed this past year. Here's what that means for one school in upstate New York.
Food is more than what's on the plate. This is Equal Portions, a series by editor-at-large Shane Mitchell, investigating bigger issues and activism in the food world, and how a few good eggs are working to make it better for everyone.
---
"We're not going to take away the chocolate chip cookie," says Jocelyn Lopez, frowning slightly. "We talked about trying to put our time into doing something else, but then decided, 'No, they need something normal that they're used to having,' because so much else has changed."
A few minutes past the noon bell on a school day in late March, the 41-year-old cook seems fatigued at the end of her shift. She's still wearing her citrus-patterned apron splashed with pizza sauce while sitting in an empty classroom across the hall from the cafeteria where she works at Keene Central School (KCS). A mural of the surrounding Adirondack High Peaks dominates one wall of the space that would usually be packed with children happily munching fresh salads, teriyaki chicken, or the monthly special treat, molten cheese-topped sloppy Joe "dunkers," a student favorite made with grass-fed beef.
When the pandemic arrived last March in this remote township in northern New York State, it radically transformed how the kitchen staff prepared meals for the 162 students, grades K through 12, in their care. Like most other public schools in the country, KCS shifted to hybrid scheduling, a chaotic combination of in-person and virtual classes. The cafeteria is too small for social distancing; only the kindergarteners—all seven of them–eat there these days. The rest of the students receive portioned servings to take back to their classrooms, or a bag of ready-to-heat meals to bring home for remote-learning days. In the kitchen, where staff normally works elbow-to-elbow in close quarters, dodging around prep stations, commercial sheet pan racks, and a prized bread slicer, cooks work in shifts. This all takes a lot of pivoting, and a lot more packaging. No wonder Lopez looks frazzled.
Lunch ladies have been serving hot meals to American schoolchildren since the 1850s. The first school lunch programs were initiated by volunteer aid societies, such as the Women's Educational and Industrial Union, in major cities including New York, Philadelphia, and Boston. In more rural school systems, children were encouraged to carry simple "pint jar meals" that could be heated in a bucket atop their classroom's wood stove. By 1914, students in experimental programs could purchase three-cent lunch tickets for fixed menus—pea soup and bread, "meat gravy" with mashed potatoes—or spend a penny on a la carte items like a baked sweet potato, hot cocoa, and stewed prunes.
Nearly a century later, according to a 2010 study on workforce demographics, school cafeteria workers remain largely female (93 percent); most are part-time employees, who are likely to be married with teenage children. The U.S. Bureau of Labor Statistics reports that approximately 120,000 people are currently employed as cafeteria workers in elementary and secondary schools, at an average hourly wage of $12.97. In addition to scrubbing pots, unpacking deliveries, hauling trash, sanitizing work surfaces and tables, and making peanut butter and jelly sandwiches, cafeteria workers research and test recipes that can scale to feed hundreds and invent new uses for USDA-issued "entitlement" cheese and canned fruit cocktail.
In the case of the three KCS lunch ladies—Lopez and her coworkers Shannon Shambo and Jennifer Wright—they also bake muffins, cookies, and sandwich bread every morning. While the Keene cafeteria relies on some commodities (and funding) from the federal government, the school also participates in the National Farm to School Network, in collaboration with the Cornell Cooperative Extension for Essex County and the No Student Goes Hungry initiative, which work to improve access to local and fresh foods, and encourage "from-scratch" preparation.
The percentage of public schools at the vanguard of the scratch cooking movement remains modest compared to a nationwide majority long-reliant on processed frozen ingredients and corporate fast food contracts for hot meal services. Sometimes, it takes a visionary to shift the institutionalized model. The Edible Schoolyard Project, founded by Alice Waters in 1995, was a foundational healthy eating initiative. Food service director Julie Holbrook, who began her career as a cafeteria manager in 2007 and now oversees KCS and six other Adirondack school districts, is certainly a believer. At a national food service director conference in Boston six years ago, Holbrook met only one other person among 5,000 attendees practicing from-scratch cooking in their schools. She initially signed the school up for a CSA farmshare and picked up the produce herself on Saturdays so her staff would have access to fresh ingredients, but that proved too labor-intensive to scale. After several years, when she expanded the program to other schools, Holbrook connected with local farmer-to-consumer distribution networks, including the Hub on the Hill. Depending on the time of year, the KCS kitchen staff might work with salad greens, carrots, and onions from Wild Work Farm; yogurt from North Country Creamery; beef from Donahue's Livestock Farm; and garlic and rhubarb harvested from the school's own garden. Taped to a cinderblock wall in the cafeteria kitchen is a bumper sticker made by the American Farmland Trust that reads: "No Farms, No Food."
While the KCS kitchen staff was already accustomed to delivery interruptions and restricted access to seasonal ingredients—on par for a cold northern climate and a rural region that lacks major infrastructure—the school's menu-planning system became more unpredictable (and less varied) as COVID-19 obstructed the supply chain. Because of heightened health and sanitation protocols, students are no longer permitted to help themselves to snacks or the salad bar, so Lopez and her co-workers have scaled back on affected items. Ice cream is gone. Individually packaged string cheese and Goldfish crackers are now staples for "Bagged Lunch Wednesdays." Containers of milk are frozen and sent home in student backpacks. The cooks still make corn chowder and tomato soup from scratch, which are now served in paper cups with plastic lids to prevent spills as children carry trays back to their classrooms.
"We're so used to giving the kids choices. We've cut back on a lot, but we still want to have at least two vegetables and two fruits available. We still need to feel good about what we're doing."
Lopez prepares dishes that can be warmed up easily—chicken fajitas, pizza, pulled pork, or black bean chili—acknowledging the special urgency to provide for those students who have shifted to remote learning and have little time to break for a meal.
"Some things just don't work," she says. "If we have a lot of extra pancakes, that's not the best thing to send home."
Childhood hunger rates are exponentially higher since the crisis began, particularly impacting Black, Hispanic, and Indigenous households, and that figure will most likely climb during the summer months. For now, cafeteria workers are making do. The USDA has made it possible for public schools to provide free meals for all students, even those who didn't previously qualify. At KCS, portions are noticeably bigger because there's no going back through the line for seconds, vital for the older kids who normally need more calories than the younger ones.
Cooking from scratch cuts waste and is more economical than purchasing highly processed foods; the savings allow food service directors like Holbrook to invest more of her budget in a highly skilled staff. On a macro level, taking care of the frontline workers who take care of our schoolchildren seems intuitive. Until a pandemic forces major budget cuts. Rather than losing the lunch ladies, other belts were tightened. That means whole chickens from an organic farm have, for now, given way to frozen filets.
"Our budget has been up in the air, so we have a lot of government chicken right now," says Lopez. "And chickpeas."
"We got a huge surplus. And, you know, just to put chickpeas on a salad? The kids aren't going to eat them. So we created a gluten-free chickpea-oat bar that's pretty popular. When we get through COVID-19 and stuff goes back to normal, we're going to keep some of the new recipes."
Lopez looks forward to the day when her cafeteria will again fill up with loud chatter. "We're still feeding everybody. It's just a little bit different than in the past." She reties her apron, adjusts a mask, and heads back to the kitchen.