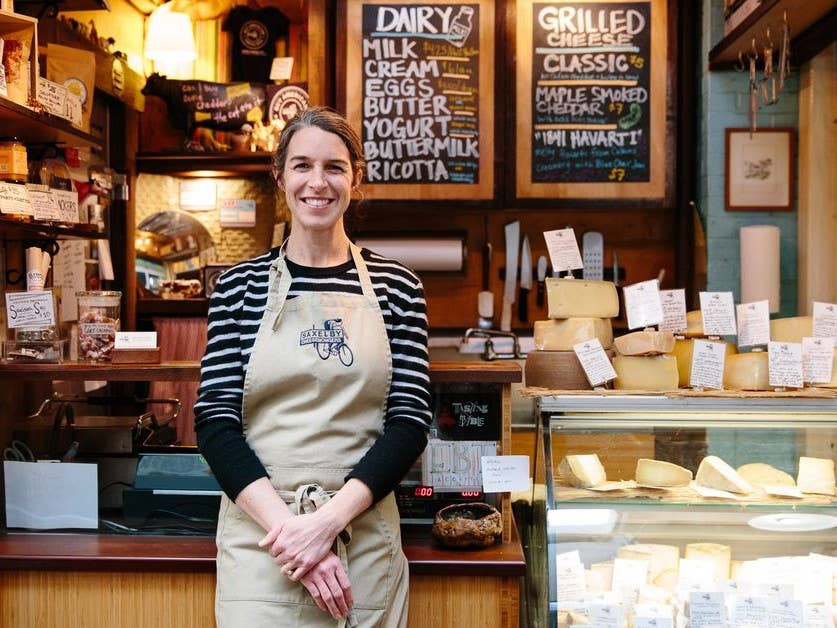 Culture
Remembering Anne Saxelby, American Cheese Revolutionary
Celebrating her cultured (and cultural) legacy.
We are so lucky to have known Anne Saxelby. The beloved cheesemonger and author, who founded the namesake Saxelby Cheesemongers, sadly passed away on October 9, 2021 at the young age of 40. As the food world continues to mourn this immense loss, we also come together to celebrate Anne's lasting impact on the way we eat.
Anne's personal passion for cheese developed in the early aughts. Though she'd moved from Chicago to New York City in 1999 to study art at New York University, she soon fell in love with cheesemaking during an apprenticeship at a Connecticut farm. After a year working at Murray's Cheese, she set out on her own, opening the inaugural, pint-sized location of Saxelby Cheesemongers in the Essex Market in 2006. A year later, she brought on her business partner and co-owner Benoit Breal, who now takes the helm of the company.
"In the early days, Anne used to wait for me on her bike at the corner of Clinton and Kane in Brooklyn every Saturday morning at 7 a.m. so that we could go to the Union Square Greenmarket to pick up cheese and yogurt from our friends at the Cato Corner and 3-Corner Field farms," Breal remembers fondly. "We would also make sure to buy flowers for the shop before we rode back to the Essex Market, with heavy tote bags dangling on each side of our shoulders. It was a balancing act."
The shop's opening coincided fortuitously with the rise of the mid-2000s craft food revolution, and it quickly earned a loyal following from both chefs and increasingly discerning consumers. There was a certain novelty to the ethos: at the time, Saxelby was New York City's first and only counter dedicated solely to American-made cheese, which Anne prized for its inherently freewheeling nature. "Because of their long history, European cheesemakers are bound by the cheesemaking style of their region. American cheese makers have more creative license," she told Bon Appétit in 2008.
In 2011, the NYC Small Business Services department named Saxelby Cheesemongers Manhattan's Small Business of the Year, and in 2017, Anne moved the counter to a larger location in Chelsea Market, where it remains today. The company eventually also opened a warehouse in Red Hook to meet growing demand from both the retail shop and the hundreds of restaurants the company supplied. By 2021, she was sourcing from and spotlighting farms and creameries everywhere from the Midwest to Upstate New York, including acclaimed producers like ​​Vermont's Jasper Hill Farm, Virginia's Meadow Creek Dairy, and Wisconsin's Uplands Cheese Company.
From the very beginning, Anne used her platform to advocate for pretty much everyone who crossed her path—lobbying the city for better conditions for Essex Market vendors, as well as championing the sustainable, family-owned dairy farms from which she sourced her cheeses. As Saxelby's reputation grew throughout the nation, Anne herself became a leading advocate for regenerative agriculture, combating misinformation about dairy production and misleading tropes about cheese being "unhealthy."
"She cared about people as much as she cared about cheese—actually, I think she may have cared about cheese because she cared about people," says writer and cheese educator Christine Clark. "I've heard countless extremely personal stories from the food industry and beyond of how inspiring and kind and fun she was. Shop owners, mongers, photographers, writers. The last time I've seen collective mourning like this was when Anthony Bourdain died."
In April, Saxelby Cheesemongers proudly celebrated 15 years in the game—a remarkable milestone particularly for a retail store in New York City. But Anne's influence extended far beyond the walls of the shop: she had hosted a longtime series on the Heritage Radio Network called "Cutting the Curd," and wrote an irreverent but authoritative guide to enjoying cheese, entitled The New Rules of Cheese. And this is not to mention the countless young cheesemongers and aspiring entrepreneurs she personally inspired, mentored, and befriended. Indeed, as dozens of tribute posts flood social media, there is a common theme: Anne was the type of person who always made you feel seen and valued, regardless of where you were coming from. 
My colleague Nicky Corpuz and I were fortunate to have known this kindness firsthand, working closely with Anne for a little over a year to build up Saxelby's online store. As COVID-19 shut down New York City, Anne had reacted quickly, looking for ways to amp up her already successful subscription business and keep sales at pre-pandemic levels. It was a chaotic, uncertain time for any small business owner, yet despite our lack of experience and the occasional setbacks, Anne always showed us patience, and tackled new concepts with enthusiasm and an open mind. For this, we're eternally grateful.
So in celebration of Anne's legacy, we spoke to some of the industry peers who knew her best, as well as others for whom she's left a lasting impact.
Ashley Morton, cheesemonger
"Anne Saxelby got me my first cheesemaking job. I had been working as an affineur in the caves of Murray's Cheese and wanted to learn more about my craft and become a cheesemaker. I was interested in working for Chapel Hill Creamery, a small but mighty farm in North Carolina. Anne called the owners on my behalf to put in a good word for me. I was so surprised that someone like her would even think of me like that, but Anne was very encouraging of all hungry minds wanting to work in cheese. I now live in France, and have spent the last few years traveling around Europe working as an affineur, maker, and monger. Anne is part of the reason I have been able to follow my dreams—she made me feel anything was possible with cheese. Anne would check in with me every now and then and I'm blessed to have encountered such a strong and supportive presence. She was truly a trailblazer and lit the way for the next generation of cheesemongers."
Carlos Yescas, raw cheese advocate
"I am originally from Mexico, and a lot of my work has been done in Latin America, but also with traditional and raw milk cheese producers around the world. In 2011, Anne invited me to Cutting the Curd as a guest to share my work and passion for cheese. Anne was one of the first people in the U.S. who recognized that cheese knowledge didn't belong just to people in Europe and the U.S., but that in fact there was a cheese world outside of these areas. I was elated to join her for the radio show, but really amazing is that she was so interested and wanted to learn more. More than a couple of months after the initial interview, she invited me again, but this time we had two Mexican cheesemakers speak about their work in Mexico. That was in 2012. It has been almost 10 years of those interviews. Now, I am a guest host of Cutting the Curd and I think I share a lot from Anne's original passion: to revalue what has been devalued so long. Just two weeks before her passing, we spoke on Zoom. She was working on a story for her blog on raw milk cheeses, to commemorate Raw Milk Cheese Appreciation Day. We talked long about what we both loved about raw milk cheese and I was happy to be in touch with her. During the pandemic, we sat on two panels together to discuss the industry in the U.S., and I always felt so good listening to her new ways of making sense of the cheese world.
Lilith Spencer, lifestyle editor at Jasper Hill Farm
During my junior year of college, I got a part time job in the cheese department at the local co-op. Our customer base strongly prioritized local and domestic cheeses over imports, so I got a crash-course in American artisan cheese. As I spent more and more time learning about the American artisan cheese revival, Anne's name kept popping up, and my admiration for her grew. By the time graduation rolled around, I had decided to fully commit myself to mongering. I hadn't even met her yet, but Anne's story was what really inspired me to move to New York and pursue my passion. In July of 2011, about a month after I landed in the city, that big New York Times article about Anne came out. My Dad emailed it to me and said something like, "saw this and thought of you, is this what you want to do?" and I thought to myself, yes, exactly! I want to be Anne Saxelby when I grow up. I didn't quite follow in her footsteps — I never did open my own cheese shop — but I did find myself working for one of the beloved artisan cheesemakers that Anne so fiercely championed. It's funny, I essentially moved to New York because I wanted to meet Anne Saxelby, but it wasn't until I started working at Jasper Hill and hanging out with her during her many visits to the farm nearly a decade later that I really got to know her. In the end, it sort of feels like she guided me toward where I needed to be after all.
Jessica Galen, cheesemonger
"Words can't describe the enormity of the loss of Anne Saxelby, an amazing human who had an immeasurable impact on the world of American cheese and this community. I'm opening a new cheese business in Dobbs Ferry, New York, and I had been speaking frequently with Anne about it over the past few months. I sought her counsel and guidance as I embarked on this new venture, and she was incredibly encouraging and supportive—I don't think I would have had the guts to dive in if she hadn't been there for me over these past few months. Her dedication to supporting farmers, American artisan cheesemakers, and the vast community of shops and restaurants that benefit from her efforts was deeply inspiring. And she did it all with unmatched generosity and kindness, with that beaming smile in all the pictures being shared."
Christine Clark, writer and cheese educator
"In 2006 at the age of 25, she founded Saxelby Cheesemongers with the vision of supporting the burgeoning American cheese scene. It's not that she didn't know and love European cheeses, because she did. But, European cheesemakers have established infrastructure, hefty government subsidies for making traditional cheeses, hearty breeding stock, and a consumer base already bought into the virtues of that kind of cheese. It's just part of the culture. Anne saw the incredible cheese being made here and chose to be an advocate for those scrappy makers, many of whom truly started from the ground up. There's world-class cheese being made here, and Anne wanted to bring it to people's tables. But, what impressed me just as much as all that was how she led with passion and open-heartedness, never with ego or rigidity. She treated everyone like an equal. She was generous with her time and her knowledge. Whether you were a CEO or a brand new cheesemonger, you felt valued around her."
Following an outpouring of well-wishes and inquiries, the Saxelby family is kindly suggesting donations to Slow Food USA's Anne Saxelby Legacy Fund, providing education and training opportunities to disadvantaged teenagers and young adults. According to the website, "Funds raised will allow youth to apprentice in sustainable systems and agriculture, domestically and abroad, the way Anne did. These opportunities can enable youth participants to return home and have the same impact on their communities that Anne had in hers."