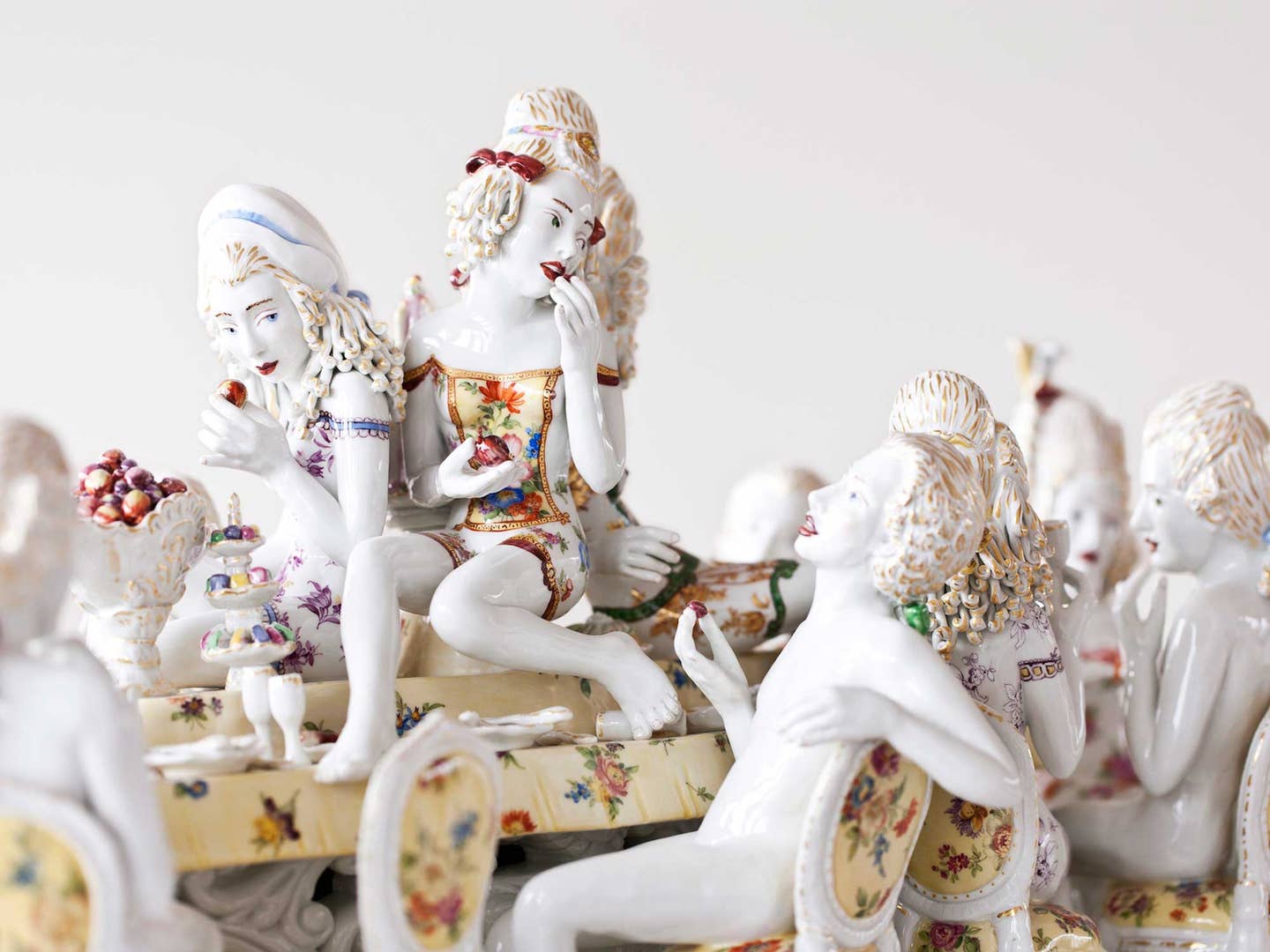 Culture
These Porcelain Sculptures Tease Lust and Seduction Through Culinary Excess
Artist Chris Antemann's erotic Forbidden Fruit gives new meaning to "food porn"
Food has symbolized temptation since the fateful day Adam accepted that apple in the Garden of Eden. Now, as Food & Wine reports, the theme of sinful food has inspired a delightfully subversive sculpture exhibit at New York City's Museum of Arts and Design.
The brainchild of renowned sculptor Chris Antemann, Forbidden Fruit takes after classic 18th-century porcelain figurines and decorative art. Produced during the artist's time at the renowned German porcelain and china manufactory MEISSEN, the ornate, 21-piece collection superimposes Antemann's distinctive style—and evocative commentary of modern morality—on Baroque styling.
As the museum explains, Forbidden Fruit invites viewers to explore narratives of "domesticity, social etiquette, and taboos," with different pieces depicting the glossy, scantily-clad figures in various states of flirtation, seduction, and consumption. Food, especially lavish, banquet-style feasts and decadent desserts are naturally the central imagery of the work. In Covet, we find three youths at table covered in miniature cakes and fruits—two are seated at the table and one is perched provocatively atop on all-fours—suggesting an impending ménage à trois.
Then there's Love Temple, a shrine to both lust and gluttony, with disrobed figures ogling each other across a dining table decked with trays of fruit and chalices full of wine. Sitting on the table among the food and drink are two women, each seductively clutching fruits as if to say "come hither" to their surrounding tablemates.
The detail of the tiny sculptures' inviting gazes is matched only by the life-like depictions of food: a chandelier bejeweled with porcelain lemons, a towering pot of pomegranates, and a platter of brightly-hued pastries with glistening frosting. It's a striking presentation, one that reminds the viewer that so many human desires can be reduced to their most basic form: hunger.
"Forbidden Fruit" will be on display at the Museum of Arts and Design until February 5, 2017.