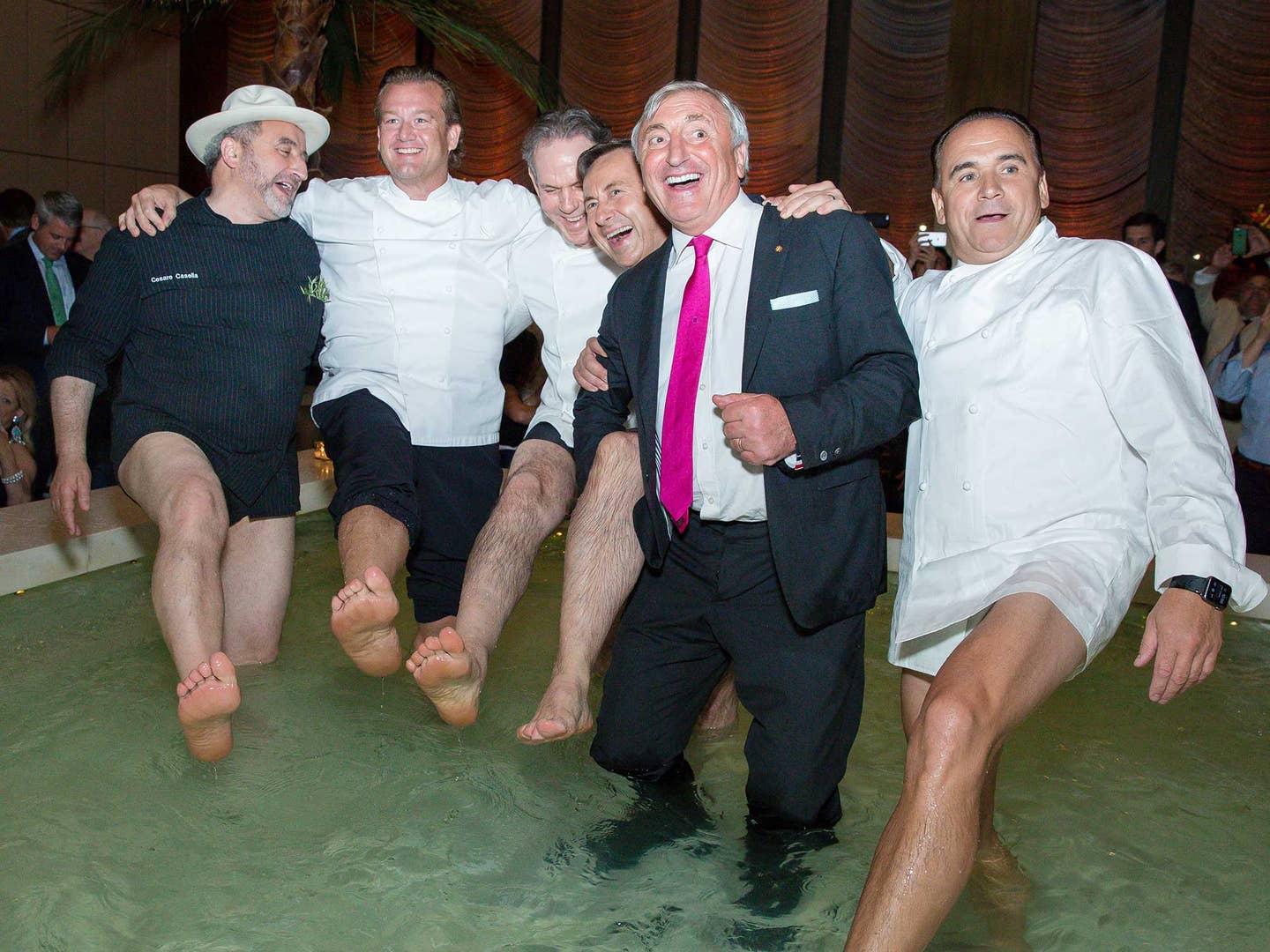 Culture
Bidding Farewell to the Four Seasons, the Hospitality Giant of New York
Four days before the 57-year-old restaurant closes, a cadre of all-star chefs and a seasoned veteran staff send the beloved icon out with a bang
"Okay, so how many days do we have left?"
Julian Niccolini, the infamous co-owner of the Four Seasons, was presiding over a pre-service meeting in the restaurant's Grill Room. It was late afternoon, so you could still look out onto East 52nd Street through the space's undulating chain curtains. "Four!" yelled out one of the managers. "After 57 years, we're closing for good," said Niccolini, before thanking the team for their dedication. "A lot of us grew up here," he told them.
This was the big farewell to the place the New York Times recently described as "probably the most important American restaurant of the 20th Century." Some of the country's most notable chefs, including Daniel Humm, Michael White, Thomas Keller, and Jean-Georges Vongerichten, were cooking a dinner to benefit Citymeals on Wheels. The vibe, at least at that moment, was a little funereal—the lights were dim, conversations were hushed, the floor was clear of tables, and Niccolini was flipping out over a wine delivery that was late. "You Can't Always Get What You Want" played over the speakers. You could hear Keller mention, as he visited each station preparing canapés for the evening, "This is sad, but also good, in a way."
Then Daniel Boulud arrived, bounding up the stairs and throwing on his chef's coat while kissing a bunch of cheeks. As the man who organized the dinner, he had every right to run the proceedings, even if everyone expects him to anyhow, always. "Voilà," he said, clapping his hands to gather all the chefs. They needed to run through the menu and take a group photo.
One would think that the iconic Pool Room of the Four Seasons would be the ideal setting for a photo of basically any kind—when he arrived, the photographer said he was "pumped" to be in the restaurant for the first time in his life—but something about his demeanor changed when it came time to get the 12 or so chefs and restaurateurs to sit still and look into his camera. "Where is Humm?" asked Boulud, noticing that the Eleven Madison Park chef had yet to arrive. "I believe he is opening another restaurant," said Drew Nieporent, who had somehow managed to get himself a spot in the very center of the class photo and could not silence the ringtone on his phone. From right in the lineup, Boulud called Humm and found out the chef was just leaving the NoMad on 28th Street. They'd have to take the photo without him. Guests were beginning to trickle into the Grill Room for the cocktail hour. Before the handlers had a chance to wrangle the chefs, Niccolini put on a pair of waders, grabbed Daniel's three-year-old son Julien, and carried him around the bubbling pool.
By that time, the Grill Room had brightened and filled with regulars. Martha Stewart moseyed through the crowd and found a quiet spot where she could take photos of a carpaccio and shiso leaf snack from the Frankies Spuntino restaurants. "I've been coming here since 1961," she told me. "Isn't that just horrible?" Stewart described herself as an egalitarian, eager to see what Niccolini and his partner, the Swiss and stoic Alex von Bidder, would do next, as well as what the new tenants, Major Food Group, were going to come up with in the soon-to-be-vacated space. One devotée recalled a particularly memorable birthday she had a decade ago. "Was I behaving?" Niccolini asked her. Barbara Tarmy, an investment banker, wore pearls and shared fond memories of crab omelets and tuna burgers at the bar. Her first visit was in 1978.
In the kitchen, a staff member sat behind a desk, counting checks from previous evenings. There were memos taped to the wall dating back to 2002, and a plaque that read, "We live in the era of smart phones and stupid people." The talk show host Charlie Rose preferred hanging out amongst the cooks, posing for photos with chefs and some VIP guests who had snuck in to say hello. He wore a suit and black Under Armour sneakers with a streak of red to them. At one point, he leaned against one of the passes and began devouring one of Humm's most famous dishes, a take on eggs benedict featuring caviar.
"Before I came [to the Four Seasons] in 1991," he said, "I asked Michael Korda [the former editor of Simon & Schuster], with my North Carolina kid's curiosity, what I should order. Michael said it wasn't about the food, but rather everything else: the experience, the diversity of people you see, the enthusiasm." He asked for a second round of eggs and wiped some caviar from his chin. Rose didn't do much business at the Four Seasons, like other power lunchers. He just liked eating there. And he regrets never having filmed an interview series in the space. "Could you imagine how nice that would have been?" he told me.
Towards the back of the kitchen, Ramón and Julio, two dishwashers from the Dominican Republic, said they liked their jobs and weren't worried about unemployment. "We made them sign with the union," they told me. "It will be fine." In another corner, Rafael Diaz, a 20-year veteran porter and the self-proclaimed poet of the Four Seasons, recited a few verses.
The dinner service was controlled, captivating lunacy. The heat lamps were stifling. Boulud and Keller took over: none of that "we will stand around here smiling and shaking hands and our sous chefs will handle it" business. Will Guidara, Humm's partner in EMP and the NoMad, actually bussed tables. "Chaud! chaud!" Boulud called out, making way so that he could bring to the pass a massive tray of Jean-Georges' classic tuna tartare with wasabi. The list of dietary aversions (well, this is the Four Seasons, so it's more accurate to use the term "preferences") made for a tremendous game of Tetris. "Miss Goldfarb only eats grilled fish and vegetables, so she's just told us that she wants some form of that for every single course," said one of the sous chefs to Keller. When they weren't focusing on their own dishes, marquee names worked with host line cooks in a vacant part of the kitchen to come up with substitutions.
Despite the fanfare, the Four Seasons front-of-house, much of it made up of servers who have been around for decades, communicated with the kitchen bluntly. The most ornery of them were their old selves around chefs whose interns and cooks tend to hang on every single one of their words. Every time, Keller would hear them out, watch them dart into the dining room, and just smile to himself before returning to the action. One of these delightful crotchety individuals was Italo Peressutti, who hails from Udine and has worked at the Four Seasons for forty-one years. He wears an American flag lapel pin and retains a thick Italian accent. "I actually worked with Julian when he was at the St. Regis, so it was even before this," he told me. "I like what they are doing in these last days, except letting the people swim in the pool. It's not my favorite thing, not so classy." Von Bidder, in his bespoke double-breasted navy pinstripe suit and pocket square, happened to be walking by. He gave Peressutti a suspicious but playful look.
One of the standout dishes of the night was Michael White's rabbit-stuffed epaulettes with summer truffle and Reblochon cheese. There were extras after the dishes went out, so Frank Falcinelli grabbed one and ate it with his hands. When he finished, he lifted the flat plate over his mouth and drank the sauce. "Chef Falcinelli, what did you think of the mouthfeel, texture, and general composition of the dish?" Keller joked.
Meanwhile, in the dining room, Martha Nichols' shimmering curtains had turned an almost scarlet color. A rotating cast of regulars went up to the podium at the top of the stairs to share remembrances. Each one was drunker than the last. "It looks like dinner made everyone very thirsty," said Niccolini, with a grin he seemed to maintain the entire evening. The meal was coming to a close and he offered up one last speech. "I don't know what the next people will do here, but I know that we gave it our heart," he said. Behind him, Boulud took a swig of tequila. "Allez," he said to Vongerichten, Cesare Casella, White, and Keller. He removed his pants, ran down the stairs, and jumped in the pool. The others had no choice but to follow. The chefs, together with Niccolini, joined arm-in-arm and splashed about the pool.
Looking out on the spectacle from the terrace, I asked Bob Grimes, Citymeals co-president and a staunch regular, if he considered this one of the Four Seasons' "big nights."
He flicked his hand at my shoulder. "Pfft. Maybe the biggest," he said.