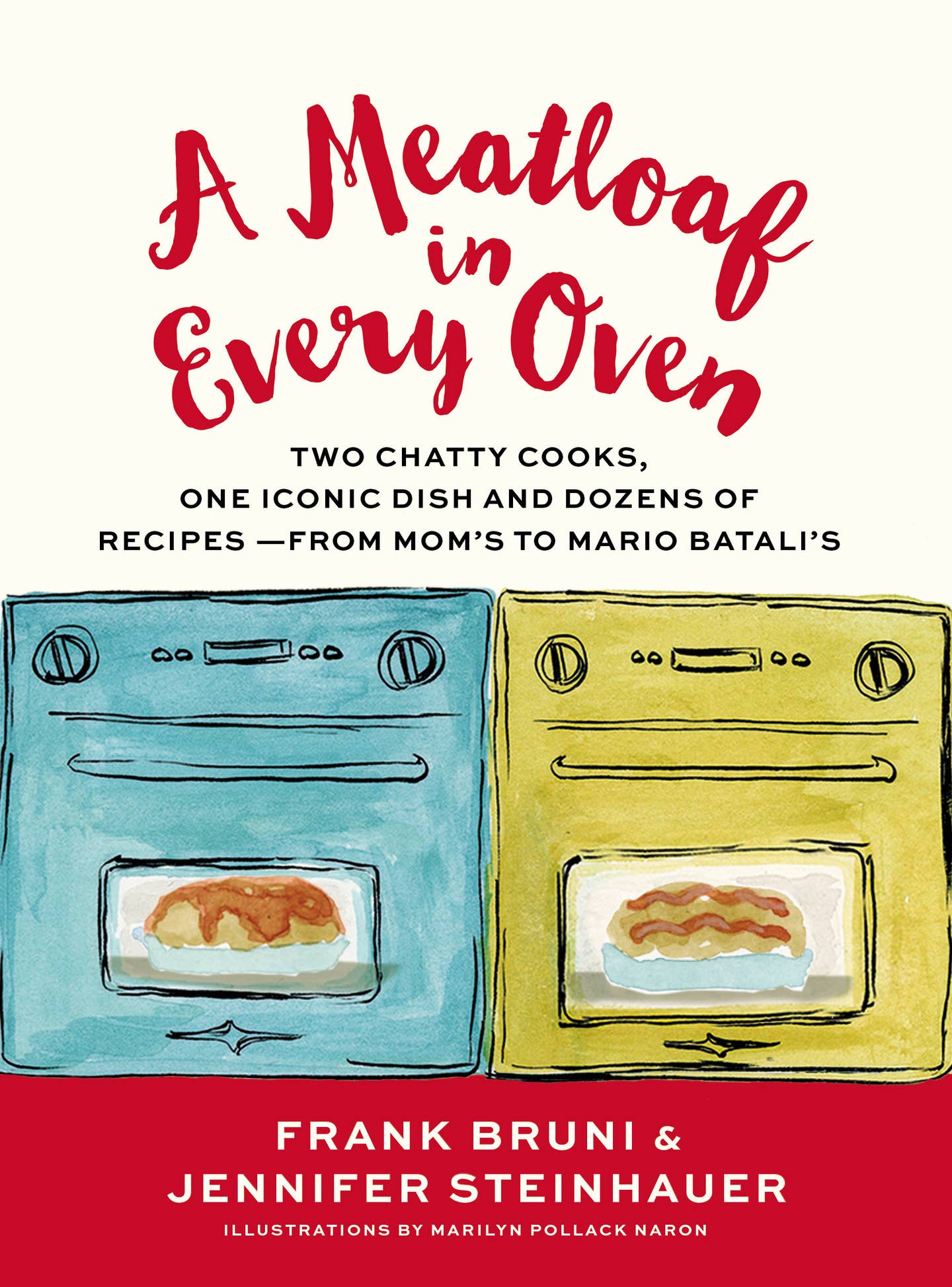 Culture
Frank Bruni and Jennifer Steinhauer Believe the Time for Meatloaf is Now
A new cookbook devoted entirely to meatloaf is here to make you rethink a classic and upend your preconceptions about comfort food
In times of trouble, we turn to comfort food—those dishes that, as New York Times journalists Frank Bruni and Jennifer Steinhauer write, are "not only an answer to hunger but also an existential balm, served without undue fuss." And in their opinion, it's meatloaf's turn.
"Over the last decade," Bruni mentions by email, "so many simple, iconic American comfort foods—fried chicken, burgers, hot dogs—have been lavished with attention from chefs and serious cooks. Meatloaf was being passed over. Meatloaf was due."
The two writers discovered their shared passion for meatloaf at the office, and chatted frequently about their ingredients and methods, swapping recipes and tips over instant messenger and the phone. "Frank and I always had long talks about meatloaf," says Steinhauer, "and realized one day that we had enough thoughts about them they could actually constitute a book."
They were curious about the internationally-inspired possibilities of what many think of as a quintessential American dish, and reached out to friends and lauded fine-dining chefs to source an array of recipes for what would become A Meatloaf in Every Oven, out from Grand Central today.
There were lessons learned along the way, and the two writers don't shy from metaphor. Meatloaf is like life: "You take what's precious," they say, "and stretch it as far as it'll go."
I asked both writers to share a little meatloaf wisdom.
What does a person's response to meatloaf say about them?
Jennifer Steinhauer: You are how you season.
Frank Bruni: You show me an anti-meatloaf person and I'll show you someone who never sleeps in anything but a gorgeous negligee or crisply pressed pajamas. You show me an anti-meatloaf person and I'll show you someone who doesn't get into a taxi before rubbing a disinfectant wipe across the seat. And I say that not in a you-must-eat-animals vein. We have fish loaves in the book. We have all-veggie loaves. My point is a person has to be open to the mashed, jumbled-together, free-for-all spontaneity of meatloaf.
The book includes recipes from Mario Batali, Mike Solomonov, Daniel Patterson, April Bloomfield, and more. How did you come upon so many people to contribute?
Frank Bruni: We found, quickly, that accomplished cooks were just waiting to come out of the meatloaf closet and proclaim to the world: yes, I have a loaf! And I am proud of it! And I stand here before you today with my loaf in hand—or, rather, in pan!
You present all these riffs—globally inspired, cheffy, homey, and even potato-chip filled. Is meatloaf the tabula rasa of ground meat dishes?
FB: Meatloaf is a prompt to wander. It's a call to your imagination. Part of what we wanted eaters and cooks to see is that beyond the requirement that you have a main ingredient, a few binders, and a loaf- (or muffin-) shaped result that is solidified marriage of protein and starch (and sometimes vegetable), meatloaf can be just about anything. It's a conceit and a texture, not an unyielding script.
JS: We found that many nations had their own version of meatloaf, like bobotie from South Africa. At the same time, there are very essential American meals, like a hamburger and chips, or a tuna melt Frito Pie, that can be translated into a loaf with the right protein and binder.
Did you eat only meatloaf during the making of this book?
JS: There were loafy weeks during which I seemed to make three in a row, with some lulls as I pondered side dishes. I had a meatloaf-tasting party and made eight loaves and left comment cards so guests could weigh in with ideas for improvement.
FB: I love meatloaf, but, no, no, no, I did not eat meatloaf every day. Maybe a meatloaf or two a week?
And how do you treat the leftovers?
JS: Meatloaf like so many dishes really does taste best on day two, often day three. Proper seasoning is key. I also like a loaf that can stand up to the fork right from the fridge. You should not have to use a lot of sauce or condiments. The seasoning should do the trick!
FB: The most important factor with a leftover-meatloaf sandwich is to make sure your condiments complement the meatloaf's flavor and don't compete with it.
What other essential meatloaf advice can you share? What surprises did you find along the way?
FB: Be careful with the amount of breadcrumbs and ponder breadcrumb substitutes if you want moist loaves. The starch element in a loaf can take many forms, and in our book does: white rice, farro, crushed crackers, crushed potato or tortilla chips. Biggest surprise? How many herbs and spices a loaf can absorb without becoming overbearing and chaotic.
JS: Please sauté your onions. Every time.