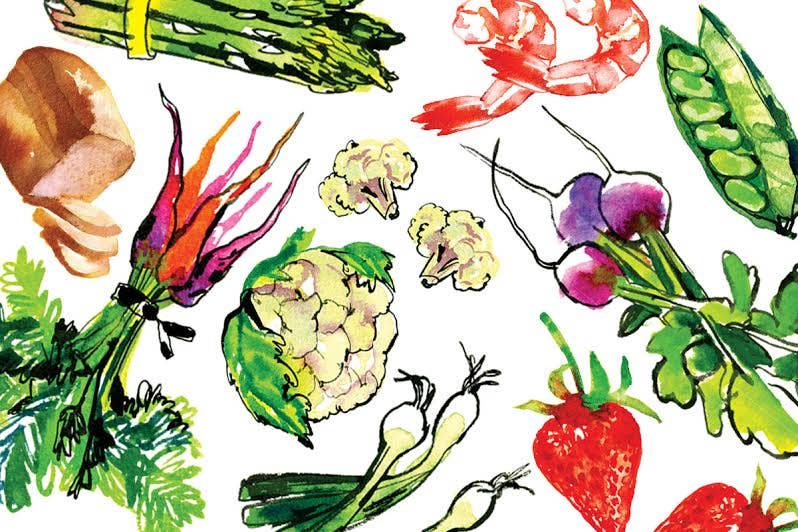 Culture
The French Cookbook That Launched Jason Atherton's Career
A love letter to the classic French dining scene
Though Dining in France by Christian Millau is one of Atherton's favorite cookbooks, most modern day gourmets might not have heard of it. Maybe because we haven't thought of France as the Mecca of fine dining since it was published in 1986. Maybe it's because it was released as a companion volume to the PBS series. Or maybe it's just because it's so thin, tall and humble tall that its hiding among today's fat and fancy cookbooks.
But before Atherton was preparing to open Kensington Street Social at the Old Clare Hotel in Sydney, before he was serving back to front squid at Pollen Street Social, and even before he was marked as Gordon Ramsay's protege, he was just a 16 year-old runaway in London who spend 13 of his limited pounds buying his first cookbook.
At a mere 175 pages, Dining in France transported Atherton a few hundred of kilometers away to the great dining rooms of France -- a world that seemed inaccessible to him at the time. He cooked along with Rogere Verge, Paul Bocuse, Georges Blac and Michel Guerard. Through it's detailed descriptions of service, custom and customers, he learned the great culinary history of the dining rooms in Moulin de Mougins, l'Auberge du Pont de Collonges and Restaurant Gorges Blanc.
"I never thought I would go to work for these people," Atherton says.
Its pages brim with showy, not simple recipes. Recipes calling for heavy cream sauces and lots of butter -- recipes meant for celebration and special occasion. Decadence in place of the everyday. Take for example Gerard Boyer's Grilled Turbot with oysters and caviar that calls for equal amounts champagne and creme fraiche with a healthy heaping of 1/2 cup butter. Or Alain Senderens's Roast Venison with Juniper Butter Sauce that starts with marinading the venison in a full bottle of hearty red wine. Or Paul, Jean-Pierre and Marc Baeberlin's Frog Legs smothered in mousseline (hollandaise sauce that's not rich enough by itself, so you add three cups of whipped cream to it).
But Atherton's favorite is lighter fare from the Haeberlin's brothers: Chicken Turbot Roasted with Garlic and Bacon. He cooked (and still cooks) the simple dish many times, serving the herbs and confit garlic alongside little cabbage parcels. He served the dish on a platter, just like the grand old French chefs did.
Apart from its bounty of recipes, the book tells a larger story: it documents a time when the classique and nouveau styles were head to head. The precision and grandeur of classic French dining was still celebrated by master chefs and rebelled against by the new generation, not something of opulent nostalgia as it is today.
Thin but mighty, the cookbook is now out of print. You can still find it at local libraries or on Amazon for just pennies plus shipping. And you can be sure that Atherton's original copy is still there on his shelf when he needs to feel inspired by that time: the dedication, formality and angst shown throughout Dining in France.