A French Farmer Is On Trial for Helping Migrants Cross the Border Into France
Cedric Herrou has provided food, shelter, and safe passage for several hundred people: "My job is feeding people"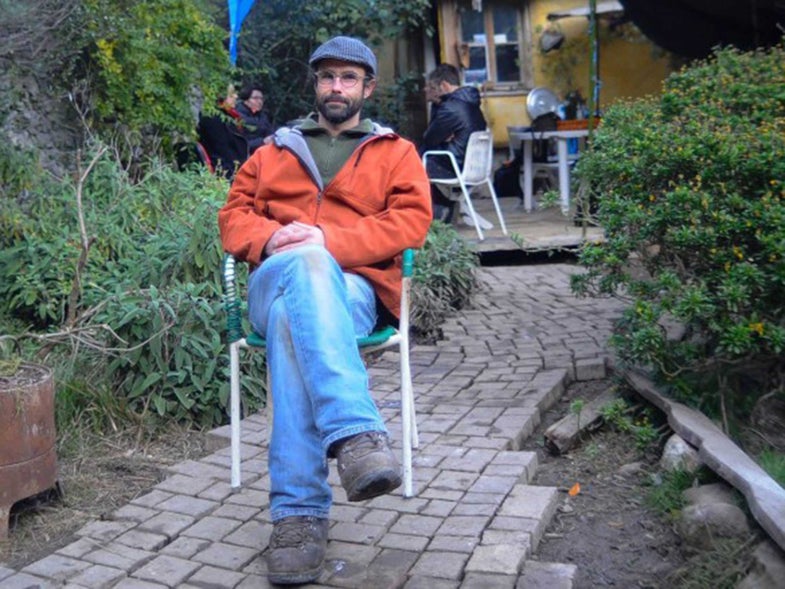 Cedric Herrou, a French olive and poultry farmer, is currently on trial in France for allegedly helping migrants cross the Italian border to France, reports CNN. The news outlet points out that this is a case that "has highlighted divisions over how migrants are treated in Europe," but also indicates that there are still people in Europe willing to help refugees regardless of their backgrounds.
Herrou lives in Breil-sur-Roya, which sits near the Italian town of Ventimiglia—fewer than six miles from the French border—and according to BFMTV, he has provided shelter for several hundred migrants. He has also helped many cross the border into France, as he outlined in a conversation with CNN in October. Some migrants wait in Ventimiglia's Red Cross camp to relocate, but others try their luck on the streets around the town, looking for a place to sleep or an opportunity to cross the border. Herrou told CNN that he has worked to help those who want to get to France.
"Sometimes at 2 a.m., 3 a.m., we go and pick up minors in Italy, minors who have called me, who are in Ventimiglia sleeping rough…I help the minors who don't have papers cross the border. It's not my job to ask people for their papers," Herrou said, also mentioning that he gave young refugees food and shelter before they continued on their way through France.
To Herrou, his work falls within a history of aiding refugees. "In the Roya valley, it's a tradition…If you look at the Second World War, we have a history of helping people, of welcoming them. We have a rebellious spirit."
Unfortunately, this rebellious spirit may cost Herrou five years in prison and a 30,000-euro fine. He will be prosecuted on charges that include "aiding the entry, stay and circulation of foreigners in an illegal situation" and the "illegal occupation of a private domain." CNN states that at the hearing, "the prosecution asked for an eight-month suspended prison sentence" but that the defense "asked for an acquittal." Herrou's defense lawyer told CNN that he's concerned about what this trial could mean for solidarity with refugees.
But Herrou isn't backing down. Herrou explained, "It's not up to me to make a distinction between black and white, people with or without papers. It's not my job. Farming is what I do, my job is feeding people and that's what I do."
[UPDATE] On Friday, February 10, the Washington Post reported that Herrou's trial resulted in a 3,000 euro fine and a suspended sentence, but the farmer still vows to continue helping migrants. "We will continue because it is necessary to continue," Herrou said after the trial. And in an interview with the Washington Post on Wednesday, he said, "There's much to criticize about it today, but France is a country with values that are beautiful — the rights of man, the protection of children, and the social welfare we have…All of which we are in the process of losing."
h/t CNN