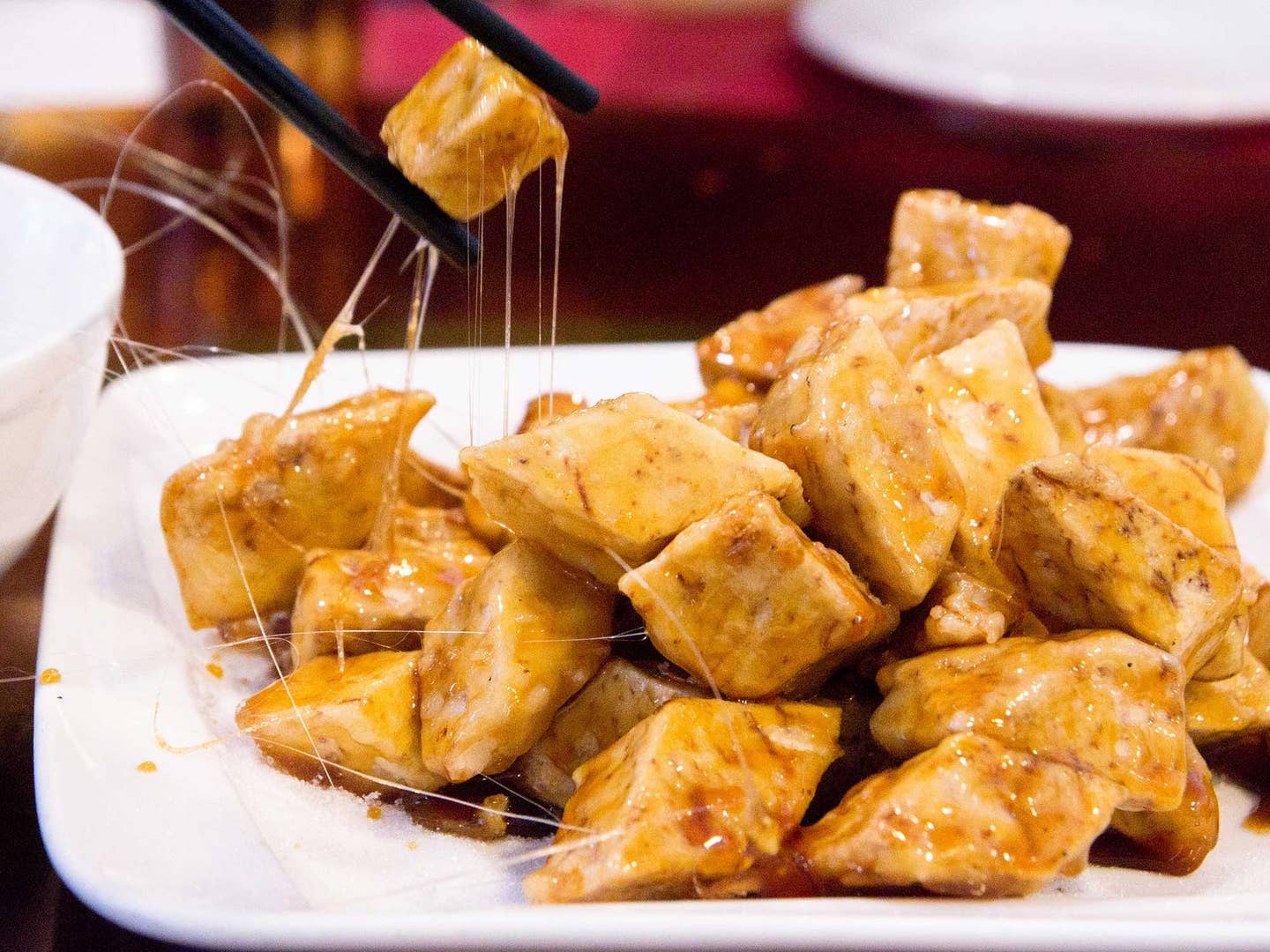 Travel
Make Your Own Caramel Candy at This Chinese Restaurant
At Fu Run in Flushing, NYC, the house specialty is a coating of molten sugar that you transform into dessert
Act fast: once it arrives at your table, the clock is ticking. Those little chunks of tender taro, glistening in the light beneath their coats of caramelized sugar, will start to stick together, and in just a few minutes, they'll solidify into a single immovable clump.
So grab a piece with your chopsticks, twirl it high into the air until the trail of molten sugar spins into delicate threads, and dunk it in the nearby bowl of ice water. Count to three. Do not skip this step. Then pull the taro out and pop it in your mouth. The caramel will have cooled into a crunchy candy shell, giving way to the sweet, nutty taste of taro underneath. Relish the way the caramel starts to melt in your mouth again, then go back for another. Hurry. The taro is cooling.
This is dessert at Fu Run, a northern Chinese restaurant in Flushing, Queens, New York City's most bustling Chinatown, where dinner includes a rack of lamb ribs buried in cumin and deep fried, as well as the hearty vegetable and pancake dishes classic to the region of Dongbei. The dessert also comes in options of apple or sweet potato, but taro's unique, almost floral flavor does best with the caramel, enough to make the dish an attraction that's drawn food bloggers and curious eaters from all over the city to try it.
In the video above, reporter Yulin Lou shows just how it's made. Go watch it, but if you can, try the dish for yourself. This is one you need to experience first-hand.
Fu Run
40-09 Prince Street, Flushing, NY 11354
(718) 321-1363