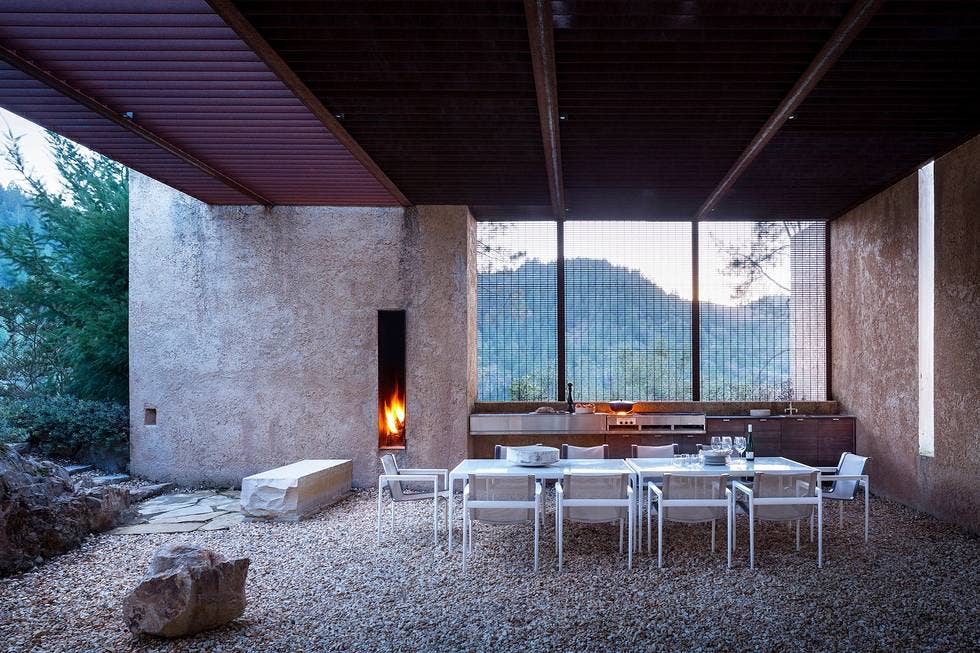 Culture
A Fully Functional, Fully Natural Outdoor Kitchen in Napa
How one California couple designed their ideal outdoor cooking space
The casual reputation of outdoor grilling season—full of burgers, hot dogs, a cooler filled with ice-cold beers, and little else—has always belied the real difficulty of bringing the great indoors out: uneven cooking methods, little access to running water, often-dirty fingers. These downfalls can be enough to keep even the most seasoned cooks inside a boiling kitchen on a beautiful night. Unless, of course, you're Tatwina and Richard Lee of Berkeley, who have built an outdoor, natural, and fully functional kitchen in their second home on a 50-acre ridge of the Diamond Mountains in Calistoga, CA.
Designed by their son Eliot Lee, a partner at New York's Steven Harris Architects, the kitchen is composed by natural methods, using as many local resources as possible. Outdoor cabinetry was made from dense, durable ipe wood, which Lee describes as a "poor man's teak." Kitchen walls are built from a combination of the rammed earth structure of the rest of the home and eighteen-inch-thick PISE (or Pneumatically Impacted Stabilized Earth, a newer mechanism by which a technician builds a wall with a high-pressure nozzle filled with cement, water, and dirt from nearby Trinity Canyon). Sturdy walls guarantee protection from high summer temperatures and strong valley winds, to ensure true functionality in the Lee's space both day and night. "When we retire and go to bed, we give our outdoor room back to the mountain," said Ms. Lee of the kitchen space.
The heat in Napa Valley can reach extreme highs in the summer months, and make al fresco meals almost unbearable. So the Lees often eat dinner "European style," at 9:30 or 10:00 p.m., if they're not entertaining guests or taking care of their grandson. For those nights when a late dinner is out of the question, they have the assistance of a second indoor cooking and eating room adjacent to the outdoor kitchen.
This secondary indoor/outdoor space expands the outdoor living and eating space for larger parties and combats pesky outdoor inconveniences like yellow jackets and horseflies. (Mosquitoes come around at dusk, but Lee uses a mist of geranium oil and water to keep them at bay). On particularly hot days when the Lees are hosting guests (like the preschool graduation party they threw for their grandson earlier this month), the couple will use their outdoor grill space as a bar set-up and the indoor kitchen's island as a buffet, offering blankets and other accoutrements to take advantage of the home's acreage and sweeping views of the mountains.
The home itself, which is a collection of four buildings, relishes in the play between earth and concrete, family and nature, and indoor and outdoor, kitchen not excluded. "The house works in a very Japanese manner," said Lee, "Screens help us to use the whole area as one very large kitchen. It's almost like the great room, and we never intended to have a great room."
Claire Carusillo is a writer in New York City. She pines for hot carbs and luxury.