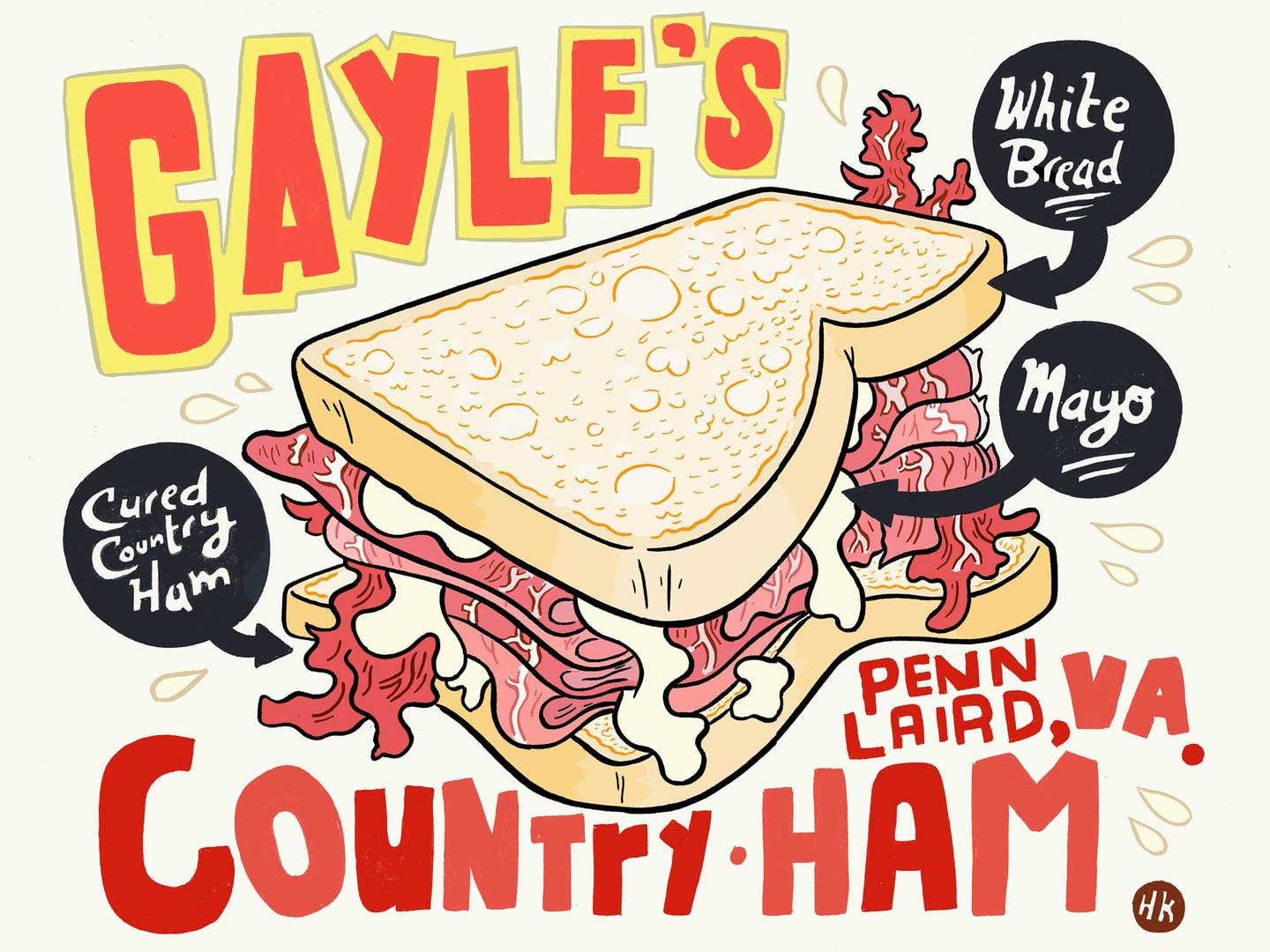 Travel
Virginia's Unsung Country Ham Shop Sells a Life-Changing Sandwich
Get your whole ham, liver pudding, and quarts of ham broth at Gayle's
Welcome to Hawk's Illustrated America, a monthly series following illustrator Hawk Krall's journeys through the back roads of the U.S. in search of our country's most obscure and delicious regional specialties.
Step into Gayle's Country Ham & Market in Virginia's Shenandoah Valley and take a whiff.
Maybe it's the full country hams hanging from hooks in the back room. Or the ham slabs, side meat, and various cured pig parts in every corner of the store. Or the cooler packed with 32-ounce styrofoam cups of country ham broth—packed like to-go milkshakes and sold for a buck each—that made the best sausage gravy of my life.
But you can tell, even with your eyes closed, that at 45-years-old and counting, Gayle's is a well-weathered palace of unrestrained porcine pleasure, one of America's great unsung meat destinations.
Gayle Cupp opened Gayle's in 1970, originally as a gas station that also offered country ham. In the '80s he got rid of the pumps and expanded the market to what it looks like today, one that sells not only excellent ham products but also obscure offal delicacies, such as pan haas (the Pennsylvania Dutch precursor to scrapple) and liver pudding from nearby meat processor Gore's.
Cupp passed away this year, so his sons Gayle Jr. and Chris, who've worked there most of their lives, are now in charge of everything from painting signs for groceries like "oysters by the pound" to de-boning the hams. Gayle's doesn't cure its own hams—a job best left to specialized ham houses like Wilkesboro, NC's Hobe's, which supplies excellent country hams to Gayle's, fragrant with a genuine fermented tang. But the small staff are experts in slicing paper-thin shavings of the superlative country ham, and boiling and de-boning hams to a perfect tenderness that's less salty than your average breakfast slab.
Some might call Gayle's just another old-time meat shop, but it's actually far more unique, seamlessly blending unpretentious country store goods and groceries with high quality hyperlocal products that you can't find anywhere else. In a more trendy town, Gayle's amazing meaty lineup would be a star attraction. Here in Penn Laird, there are no chefs knocking on the door for custom pig parts, but the store does enjoy a following of loyal customers that drive in a couple times a year from Florida, Wyoming, and Colorado to stock up. Gayle's also supplies country ham to a couple of local diners, and sends out buckets of ham broth to church bazaars and Veterans of Foreign War halls in the area.
Once you're loaded up on pig parts and fried pies, head on over to the small deli counter next to the register. Order a freshly made sandwich with that tender, perfectly sliced ham piled high on white bread, with lots of mayonnaise to offset the saltiness, for about $3. I devoured mine right in the parking lot for the finest and purest country ham experience I've ever had.
If you can't make it to Gayle's, Gayle's can make it to you. The store ships whole hams and other meat products anywhere in the country. You can check them out on Facebook, but your best route is to give them call them any day but Sunday.
Hawk Krall is an artist, illustrator, and former line cook with a lifelong obsession for unique regional cuisine, whose work can be seen in magazines, newspapers, galleries, and restaurants all over the world. He focuses on editorial illustration, streetscapes, and pop-art style food paintings.