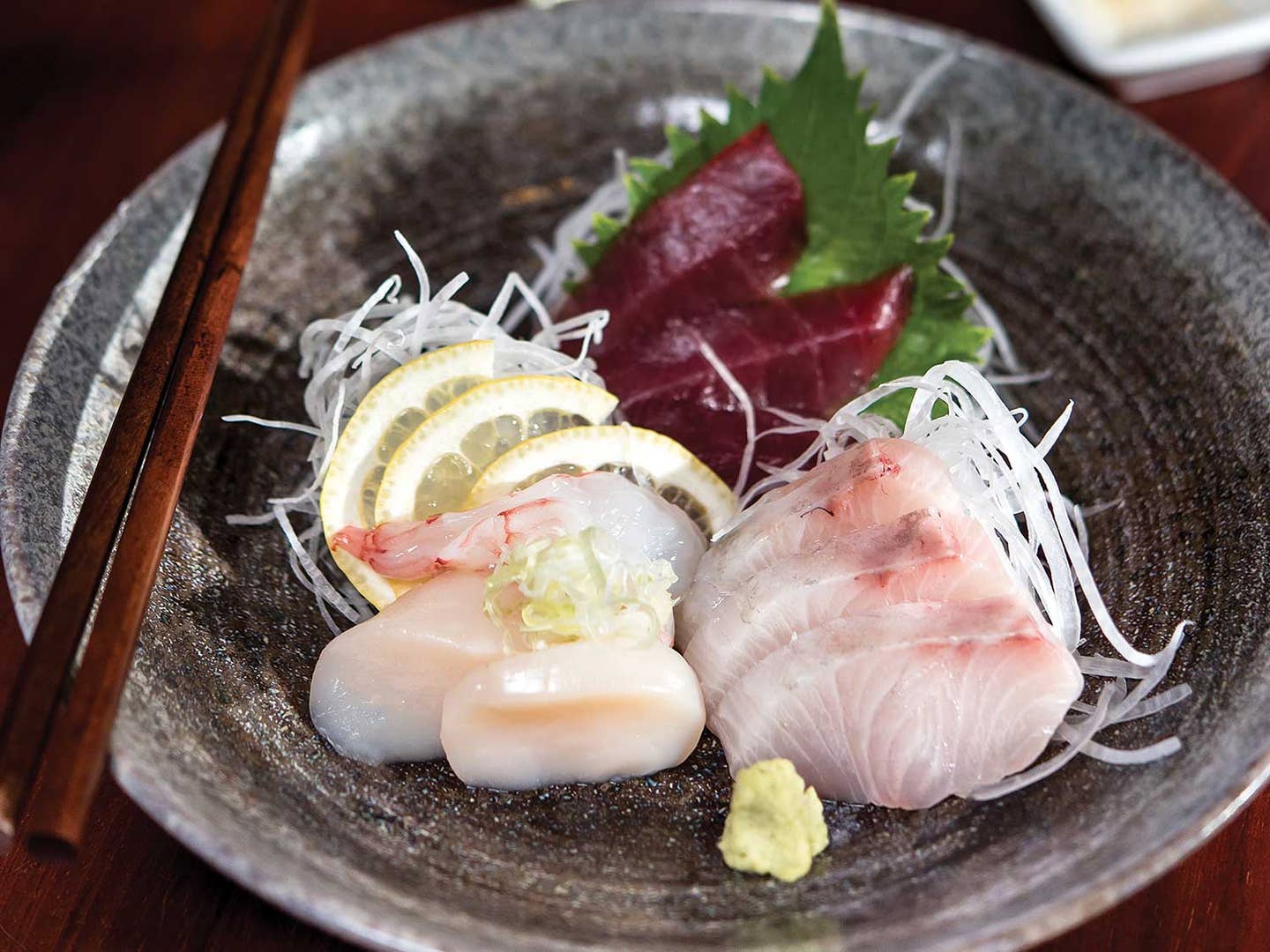 Culture
Gender Equality in the Sushi World is Still A Long Way Off
But these women are working to change it
Twelve years ago, following a short but eye-opening stint in prison, Mary Stallworth needed a new career. Floating around Detroit kitchens as a line cook between gambling binges wasn't going to cut it anymore. But because the restaurant business was all she knew, Stallworth worked to advance past the line. Half Japanese and half African-American, she found a unique niche as the liaison between the sushi bar and the rest of the kitchen at Chen Chow Brasserie in Birmingham, Michigan. She picked up skills, first making rolls for family meals, then training to help put out large orders. Just as she began to feel she had found her calling in the world of rice, fish, and seaweed, the sushi chef left. And the new hire—a big gun out of Japan—refused to have a woman at his sushi bar. "I had fought so hard to get out of the kitchen," Stallworth recalls, "but he wouldn't even look at me."
Kate Koo, chef and owner of the lauded Zilla Sake in Portland, Oregon, also suspected bias when, multiple times, she responded to ads for a sushi chef, only to arrive and be told that serving and hostessing positions were all that were available. Mariah Kmitta, of Seattle's Mashiko—one of the nation's few sushi restaurants committed to serving only sustainable seafood—had the wholehearted support of the restaurant's head sushi chef, Hajime Soto, but tells of customers who took one look at her and walked out the door. "People wanted an Asian male," she says.
In Japan, discrimination against female sushi chefs is, unfortunately, all but taken for granted. Trevor Corson, author of The Story of Sushi, notes that the most common myth in the country is that women's hands run too warm, heating the rice and harming the fish—it's the reason one 2003 Japanese book says outright that "sushi made by women is not as delicious." (In actual studies, women's hands have been shown to run cooler than men's.) At the most famous sushi-ya in the world today, Tokyo's Sukiyabashi Jiro, the proprietor's son, Yoshikazu Ono, was once quoted as saying that women don't work behind the bar because "women menstruate," and it causes "an imbalance in their taste."
In the U.S., it's unlikely that a chef would go on the record and admit to explicit bias like that. But many will not take on women as trainees, which is one of the few ways to learn the art. Like Stallworth, Kmitta, and Koo, few women set out to be sushi chefs, and the very few who do make it have largely fallen into it. Andy Matsuda, who opened the Sushi Chef Institute in Torrance, California, in 2002, points out that sushi discrimination is a problem not only for women: "Mexican- and black Americans have a harder time too," he says. But "the window is open wider for men" when it comes to employment for his graduates.
The restaurant industry on the whole has had problems with sexist discrimination and harassment, but the sushi bar puts the chef directly in front of the customer—an opening to be judged that doesn't exist for other chefs. Koo, who is of Korean heritage, and Stallworth, who feels her looks belie her African-American half, each say that appearing Japanese may have made customers more accepting. But they believe their gender has still made things more difficult. "I've had to work harder than my male counterparts," Koo says. Meanwhile, Soto, Kmitta's boss, once posted "An Open Letter to Bigot Diners" to his restaurant's blog, praising her work and lashing out at customers: "Should you refuse her fare based on her gender or race, you are an absolute fool."
Stallworth realized that one way to get more women into making sushi was to train them herself. She started a female-run Detroit sushi pop-up and catering business, Geisha Girls, last year. (The name is intentionally provocative: A geisha would never be a sushi chef, she says, but "they had to be skilled in all things—cooking, singing, and the art of hospitality.") She has eight women cooks lined up to participate in her mentorship program, and hopes to raise money through GoFundMe to train 25. Koo similarly wants to use her restaurant to train the next generation of women sushi chefs. "I've had a lot of luck in my career," Koo says, "but I also worked really hard." She wants to make it easier for the next generation to find success "without the criticism, pushback, or flat-out discrimination," but in the meantime, she sees hope in what she has achieved—and in some of the reactions. "I like that it's remarkable. It's something that I celebrate. Some people think it's cool when they come in and see two women, and we're turning out great sushi—it's unusual in a great way." As for everyone else, Kmitta says, the sushi speaks for itself. "We change minds one customer at a time."