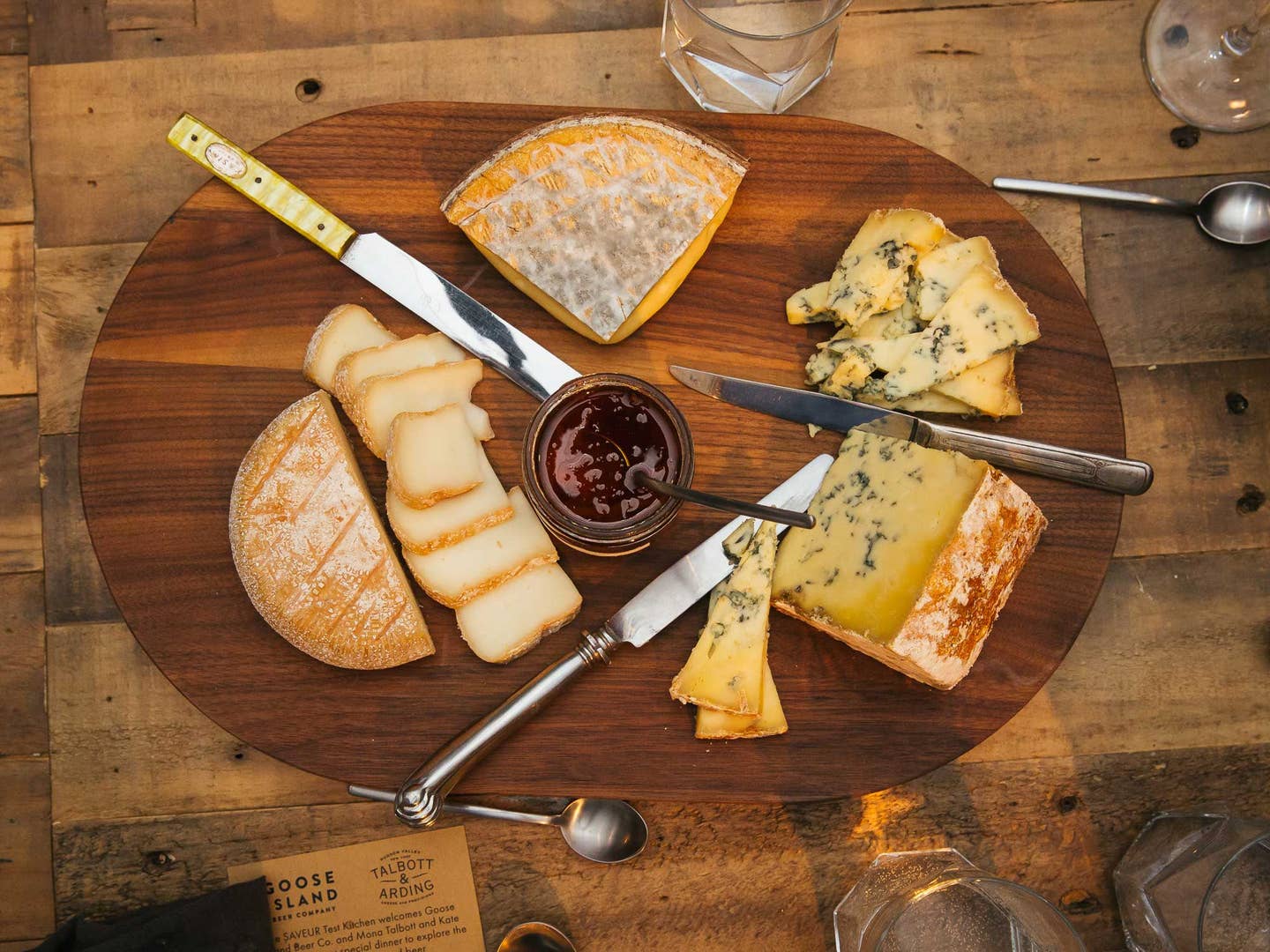 Culture
Goose Island Beer and Cheese Pair Up in the Saveur Test Kitchen
Chef Mona Talbott and cheesemonger Kate Arding take over the SAVEUR Test Kitchen to prepare dishes and cheese platters that pair with Goose Island beer.
Cheese and wine go together. That's a given fact. But what most haven't had the thought to try is pairing cheeses with beer. It may sound blasphemous at first read, but well-brewed ales are just as poised as vintage bottles to bring out the best in blues and bries. Goose Island, along with Chef Mona Talbott and cheesemonger Kate Arding (of Hudson, New York's Talbott and Arding) prepared a full-course dinner to give us, and 29 guests, the privilege to experience a beer and cheese tasting.
The night started with three appetizers prepared by the chef: some cheesemonger's focaccia mini-sandwiches with house-made head cheese and British beer mustard, crispy fresh cheese curds with malt vinegar and house-made dill pickles on the side, and sourdough charcoal crackers topped with Crown Finnish Cave's Naked Pruner and tomato relish. These small bites were also served with four different Goose Island brews for tasting.
For the main course, glasses were filled with Goose Island's signature Belgian style farmhouse ale, the Sofie. With its lightness and sweet notes, it paired perfectly with the filling, savory dishes sent out of the kitchen.
Talbott opened with a chicken bouillon soup with bitter greens, and cheese dumplings filled with Vermont Shepherd's Verano cheese. It was love at first bite. This dish immediately got the diners' attention, with many of the guests praising the fluffiness of the dumplings. Next was a cheese and onion pie made with Kirkham's Lancashire, along with a side salad of winter chicories and Golden Russet apple slices. And the last dish for the first part of the evening was a lamb shoulder, braised in the Goose Island Sofie, served with leeks, kale, and fried artichokes.
The main event, of course, was a full cheese course prepared by Arding. Four boards exited the kitchen, holding three different blocks of cheeses. There was Murray's Cavemaster Reserve Hollander, which was washed in Goose Island's Madame Rose. A soft and buttery Stilton by Colton Bassett, and a mild and delicate Rollright from King Stone Farm in the UK.
The cheeses were meant to go with Talbot & Arding's caraway rye and spelt crackers, and Alan Gray's Seville Orange Scotch marmalade. Goose Island's sweet and strong BCS Barleywine was poured into the guests' glasses for this beautifully delicious spread.
But of course, what's a full-course cheese meal without cheesecake for dessert? Talbott put together a rich, yet somehow light, cheesecake made with fresh cheese from Churchtown Dairy-a farm up in Hudson, New York, which produces what Arding calls, "probably the best milk she's ever had in her life." The cake also had some citrusy notes, and was served with poached rhubarb.