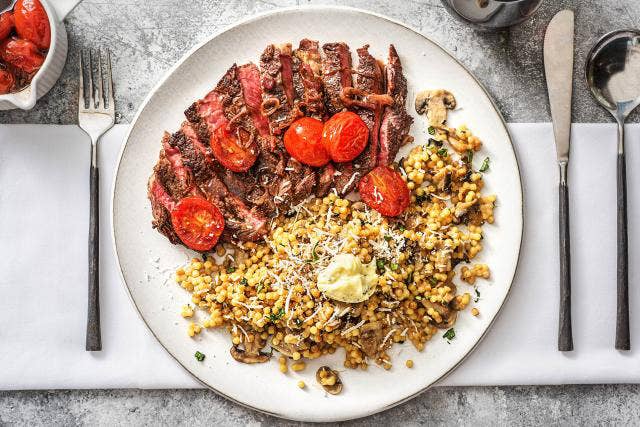 Culture
A Foodie's Guide to Getting the Most Out of a Meal Kit
Get a home cooked meal that can be prepared in 30 minutes or less
There's a debate among chefs: do meal kits hinder or encourage creativity in the kitchen? Because my husband is a chef, I care about the food I eat, including where it comes from and how it's prepared. I belong to a local organic co-op, and making home cooked meals together as a family is a huge part of our lives. That being said, all too often we overestimate how much energy we're going to have to cook when we do our weekend shopping. We end up with pricey produce rotting in the fridge while we order take out. We decided to put a meal kit to the real chef test, and chose America's #1 kit for our experiment: Hello Fresh. But would a family of chefs really get any use out of a meal kit? We're about to find out.
If you've been under a rock for a while and aren't familiar with meal kits, HelloFresh delivers pre-portioned ingredients and recipes for home cooked meals that can be prepared in 30 minutes or less. My husband and I chose the 2-night a week plan—and a few recipes that looked appealing, but wouldn't have to be our every night routine. While we expected HelloFresh to make our lives easier, we weren't expecting to actually have fun cooking and get a chance to experiment with cooking. Just a few weeks of Hello Fresh, and we are improvising, incorporating leftovers, and expanding our repertoire of recipes. Since we spend less time prepping, planning, and even shopping, we're able to spend more energy on what we love most: enjoying food.
Here are 4 ways all the home chefs among us can flex their cooking skills using HelloFresh a few nights a week, and save a lot of time and money in the process.
One of the most frustrating things about buying fresh herbs is how much of them get thrown away. Because HelloFresh sends you only the exact amount of herbs and spices you need to make each dish, they totally cut down on waste. But if you're a house with a fully packed spice rack like ours, there's plenty of room to make a dish your own by throwing in a dash of cumin here or there. In fact, because the meal is already prepared for you, most of the hard part is done, and we've found that when we don't have to think about cutting the right portion of meat or running out to buy an onion, we have more fun using our creative energy to experiment with balancing that squeeze of citrus with a little nutmeg on the lamb.
Learn To Cook Basics The Right Way
Ok, so if I'm being honest, I know what good food tastes like but don't always know how to sear a perfect salmon. I found the instructions incredibly helpful, and the recipe cards made it easy to follow with step-by-step instructions. Now I have confidence when cooking a piece of chicken or fish, knowing that even though my husband is a chef and definitely knows what's what, I can make dinners even he will love.
Making simple condiments, like sauces, dips, and herb butters, is an easy way to exercise your skills and jazz up meals on HelloFresh nights. One of our favorite sauces is zhoug, which tastes great with Middle Eastern or Mediterranean meals. Simply mix fresh chopped cilantro, jalapenos, and garlic, add a pinch of cumin, red pepper flakes, and a few tablespoons of olive oil, and drizzle to garnish each plate. This is the kind of thing we don't always have time to do when we're cooking without a meal kit, but on the days when everything else is done for us we can really expand our flavor palettes.
Expand Your Recipe Repertoire
Even the most highly regarded chefs aren't experts in everything, and while my husband may know his way around Central American cuisine, he didn't know much about what went into Korean Bibimbap until HelloFresh. And since I'm not as experienced as he is, I also found the exploration of Thai noodle dishes and Indian curries extremely helpful.
Don't pass on meal kits too soon; they're great for novices and home chefs of all calibers. Think about it like cooking school, only one that costs much less. Starting at just $6.99 per meal, with meals always under 30 minutes, you can have fun cooking without the planning or prep.