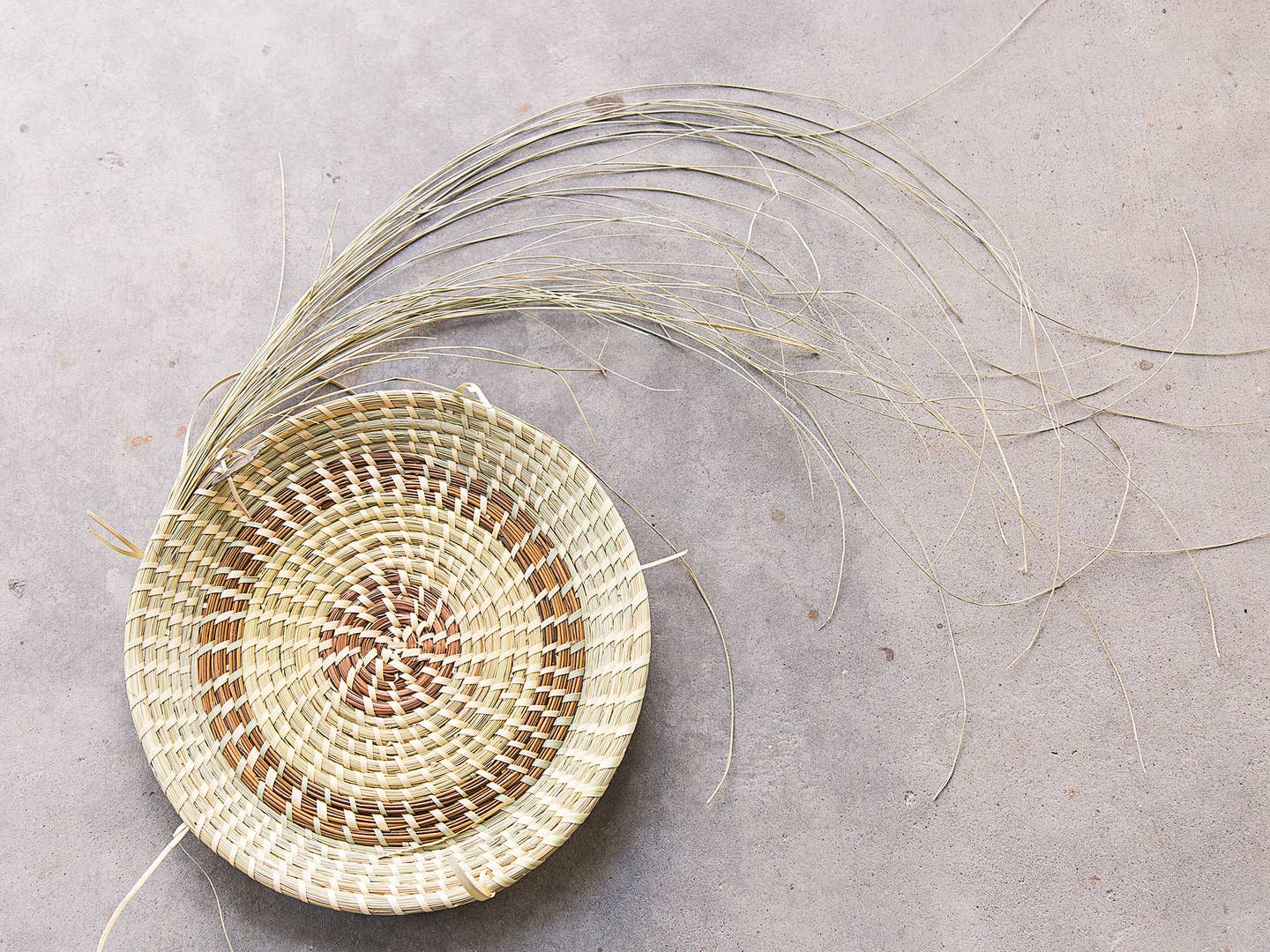 Culture
The Ancient Craft of Gullah Basket Weaving
In the Lowcountry of Charleston, the Gullah-Geechee people keep an African tradition alive
Marilyn Dingle was holding a beautiful wheel of dried grass the size of a Frisbee. She was hand-making a basket. It was incomplete, and blades of sweetgrass spun off one side and splayed up toward her face.
We were in Charleston, South Carolina, where the city's annual Wine and Food Festival was taking place, and one of the events brought a few attendees to Mount Pleasant Waterfront Park to experience and celebrate the Lowcountry's Gullah-Geechee traditions. The Gullah are descendants of enslaved Africans that predominantly settled on the barrier islands of South Carolina, and their unique language, culture, and cuisine have all had an immeasurable influence on the Lowcountry. The region's soul food is one aspect of Gullah culture's influence; Dingle's gorgeous baskets are another.
"This art came from Sierra Leone in West Africa," Dingle says of the craft she has spent 68 years mastering. Her baskets are on display at the Smithsonian, the Burke Museum in Seattle, and the College of Charleston's Avery Research Center and the McKissick Museum at the University of South Carolina.
"When I was a little girl," Dingle says, "my grandmother used to tell me that they brought my ancestors over to plant rice, because they didn't know how to plant rice here." Slaves farming rice in the Lowcountry fields of Charleston found the materials needed to make baskets, similar to those in West Africa. Those material—sweetgrass, bulrush, pine needles, and palmetto palm—are the same ones Dingle and other basket makers use today. When it comes to making them, Dingle says, "We just do a combination of how the basket talks to us."
Dingle is one of what she estimates to be between 250 and 300 weavers currently making baskets in and around Charleston. "Weaving is part of our heritage," she says.
The first sweetgrass baskets made were large fanner baskets, which were used to winnow rice, a process where rice is tossed in the air to allow wind to separate the chaff from the hull. "Baskets in the olden days were made to be used in the rice fields," Dingle says. "Through the years," though, she says, "we started making functional baskets to use in the home." This happened after the Civil War and emancipation, when former slaves began taking creative freedoms. Breadbaskets, hotplates, and lidded jars are examples of functional baskets still being made today.
There's a five-mile stretch of Highway 17 in Mount Pleasant called "Sweetgrass Basket Makers Highway." It was along the highway here that Dingle says Lottie Swinton sold the first sweetgrass basket in 1931, the year the highway was paved and two years after the first bridge opened, spanning the width of the Copper River and connecting Mount Pleasant to the Charleston peninsula. Dingle's grandmother told her the story about Swinton, how instead of taking the ferry ride to Charleston to sell her baskets, she sat in a chair along 17 in Mount Pleasant and sold them to cars that passed along the highway. "Low and behold," Dingle says, "the word spread, and all the ladies started coming out with their chairs and their baskets." An industry was born and a craft legitimized.
In 2010, with a growing interest in the Gullah Geechee Corridor, and the preservation and celebration of its customs, the Sweetgrass Pavilion was built to showcase Gullah baskets and the sweetgrass weaving tradition. The pavilion, open to the public and filled with Dingle's baskets, is a place to learn about the craft. Dingle has made baskets there since it opened. Weavers also often make trips north to Murrells Inlet and Myrtle Beach, and south to Kiawah Island—areas with high tourist traffic to which they can sell baskets and teach about the craft.
Though women do much of today's basket-making, the craft isn't solely their provenance. "When we were children, the boys and girls all had to learn," Dingle says. "You couldn't tell your parents no back then," something Dingle finds happens with more regularity nowadays. So there are fewer practitioners of the centuries-old craft today compared to when she was a child. "Back then," Dingle says, "we weren't so much about the 'now' gratification as the younger generation of today is. Many kids aren't willing to wait as long as it takes to make a basket."
That's not to say the craft is dying. Gullah-Geechee traditions are the foundation of Charleston's cultural landscape. They are there today and, like the baskets, will be there tomorrow and for future generations. Dingle's granddaughter Kim Youson, who is in her early twenties, often comes to Mount Pleasant to weave sweetgrass. She sat next to Dingle working on her own baskets, which were smaller, thinner, and more modern (differentiated by newer techniques like loops and French knots). "I like coming here on my days off and talking with my grandmother," she says. "It helps me get to know myself and the Gullah traditions."
Youson has a two-year-old son she's already teaching to make baskets. Dingle says, "We are trying to keep the tradition going." Three years ago, she passed the torch to her great granddaughter. This year, at the Taste of Gullah in May, she is planning to pass the torch down to her great grandson, who will make a promise to maintain the tradition. "He is seven years old," says Dingle.
Even though she's been doing it for close to 70 years, Dingle never knows how long she will work on a basket, how big it will turn out, or what shape it will take. "I'm working on it," she says of the Frisbee-sized work-in-progress she holds in her hands. An hour has passed, but sweetgrass still comes off the disc like a rooster's tail—"yet I don't know what I'm making."