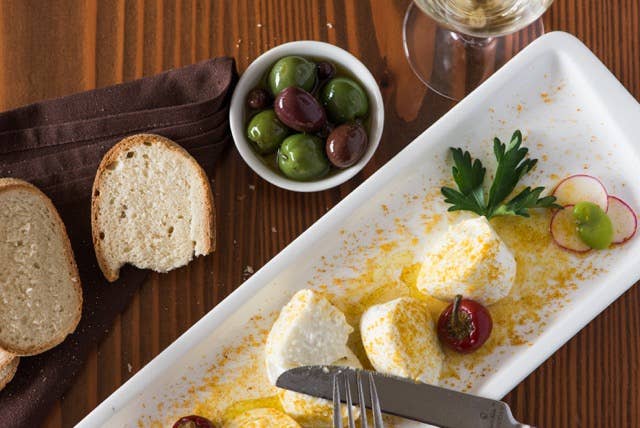 Culture
Has the Locally Made Movement Gone Too Far?
Why restaurants' "made-in-house" obsession may come at the expense of authenticity
In the last few years, the hands have risen. Behold the menu descriptors of many restaurants, particularly in the farm-fresh capital of San Francisco: Butter is hand-churned, mozzarella hand-stretched, fettuccine hand-cut, and charcuterie and anchovies hand-cured. Found: America's hands! The excitement is understandable after decades of machines expeditiously, emotionlessly, and unskillfully slicing, dicing, and blending.
Before I ate at San Francisco's enoteca and pizzeria La Nebbia in Noe Valley one Thursday evening, I too worshipped at the altar of the Bay Area's hands. A conversation with chef-owner Massimilisano Conti made me reconsider my stance. When Conti personally delivered a mozzarella antipasto with drizzles of dark green olive oil, I asked him, conversationally: Had he made the cheese himself?
The native Sardinian gestured dramatically, searching for words.
"Why make this here?" he exclaimed. With the emphasis on "why," the answer was clearly "no." Conti explained that the fist-sized, snow-white ball that lay before me was the product of centuries of tradition, whose origins in the swamps of the sunny Campania region are legendary. Making it in California, let alone in the house of La Nebbia, would be heresy. This was mozzarella di Bufala.
Along with that impossibly delicious buffalo mozzarella, Conti imports other cheeses, cured seafood and meats, and pastas. "When people come to an Italian restaurant, I want them to taste the terroir of places they haven't been. I want to open up the world of food," he explains.
That belief is so old it sounds new again. At some point within the last decade or two, the local-food mantra had rooted itself so inextricably into Californian food culture that, without realizing it, the city's dining community within area code 415 had become wary of foods made by international artisans. Just like the sign says: "No Outside Food Allowed."
Old World ingredients, coveted for a specific terroir and heritage, are under threat of replacement, according to Europe's largest agricultural organization, Coldiretti. One in four small producers of Parmigiano Reggiano in Emilia-Romagna have gone out of business since 2007. The culprit? Last year, more wheels of parmesan cheese were made outside of Italy than in the country. (Here in the U.S., companies can label their cheese "parmesan," but not Parmigiano-Reggiano). To preserve these historic (and delicious) foods, perhaps the New World hands that are making those Parmigiano-, Asiago-, and Gorgonzola-style cheeses should consider mastering cheese of their own, rather than imitating what Italy and its neighbors have perfected over centuries.
Across town, SPQR—a restaurant whose name is a Roman acronym—is sandwiched between fashionable shops in the chichi Lower Pac Heights neighborhood. Here, Chef Matthew Accarrino is known for hand-making pasta in-house and for sourcing ingredients locally whenever he can.
Accarrino and Conti share one basic, guiding principle: If you make it in-house, you should be sure that nothing better is made out there. Period. But they diverge when it comes to diners' expectations. Whereas Conti believes that Parmigiano Reggiano is always preferable to its American-made alternatives, Accarrino says people come to SPQR to taste Northern California's terroir. Why would visitors to the city want the taste of somewhere else?
That is the big question: What do you want, diner?
A further pivot toward local sourcing has an eerie "great experiment" vibe to it, where dining out begins to lack diversity. Nothing against La Quercia's prosciutto or speck—the American company's cured meats have won over many chefs—but it's the charcuterie di giorno up and down San Francisco's streets. Sometimes a gal gets a craving for a 20-month-aged Dok Dall'Ava prosciutto di San Daniele. Can we still get that here?
A restaurant general manager recently said to me, unabashedly, "We make everything in house to stay competitive in the Bay Area food culture. Otherwise, we wouldn't be taken seriously." The pizza that came to the table that night most definitely did not pass the Conti-Accarrino "best damn thing out there" test, even if the mozzarella was made on-site. I think it's time to hang a new sign: Outside Food Most Definitely Allowed.