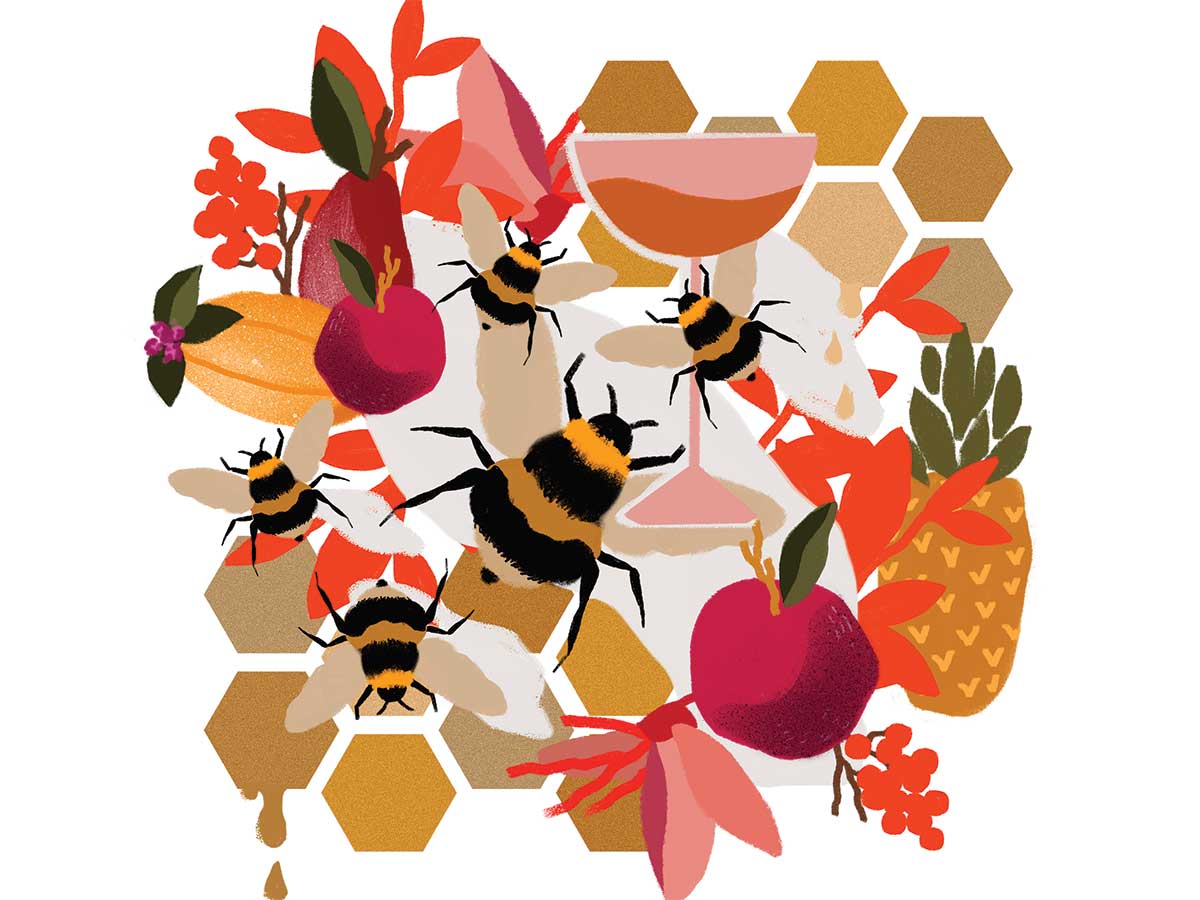 Culture
How One Hawaiian Meadery is Helping Save the Islands' Bees
Stephanie Krieger's meads are nothing like the dense, sweet honey wines made by ancient brewers
A soft, ambient groove drifts through the tasting room of Nani Moon Meadery on Kauai, as three travelers take their first sips of "Laka's Nectar," the most honey-forward blend in meadmaker Stephanie Krieger's collection. Mead is a fermented alcoholic beverage typically made from honey and yeast, but Nani Moon presses freshly harvested fruits like 'ōhi'a 'ai (mountain apple), liliko'i (passionfruit), and starfruit, and ferments the juices together with local honeys. Light, complex, and occasionally effervescent, hers are nothing like the dense, sweet honey wines consumed by ancient brewers. By the time the group has finished their glasses, mead has shaken its 7,000-year-old reputation to exhibit complexities as diverse as its modern makers.
Krieger was a marine scientist before she shifted to meadmaking, and is using her conservation-oriented training to help forge a new path for the industry, one committed to local sourcing and countering the global decline of bee populations. She concentrates on local fruits that don't sustain off-island transport well—all grown within 15 miles of the meadery—and her 40 beehives support the island's diverse agriculture. "With honey, you're tasting the land, tasting the flowers," Krieger adds, noting that the island honey—and in turn, the mead—will differ in taste season to season, even when sourced from the same field. Where many meadmakers boil honey to maintain consistency over the wild yeasts, Krieger insists on using her honey raw. Heating destroys honey's natural enzymes, she adds. She prefers to embrace nature's inconsistencies and keep her product "live."
Now, as more and more craft brewers are experimenting with honey fermentations, a new industry of meadmakers has emerged. Krieger finds herself as one of a growing number of women in a surging industry; today in the U.S., there are over 400 meaderies. But, as in the brewery circuit, mead has been historically a man's world.
"Customers often assume the owner is a man," Krieger says. "Or they'll ask to speak with the owner, and I have to say, 'I am the owner.'" Shattering stereotypes has become Krieger's business, as she continues to work on updating mead's reputation from its heavier, cloying Viking days. "There are people who say, 'Oh, I've had mead once, I don't like it,'" she says. But just as interest in mead waned post-Renaissance, as other alcoholic beverages became more nuanced and affordable, drinkers of other libations also became more exploratory. "People don't say 'I don't like beer or wine' after just one experience," says Krieger. "They know there's more out there to try." Happily, there's more mead to try now, too.