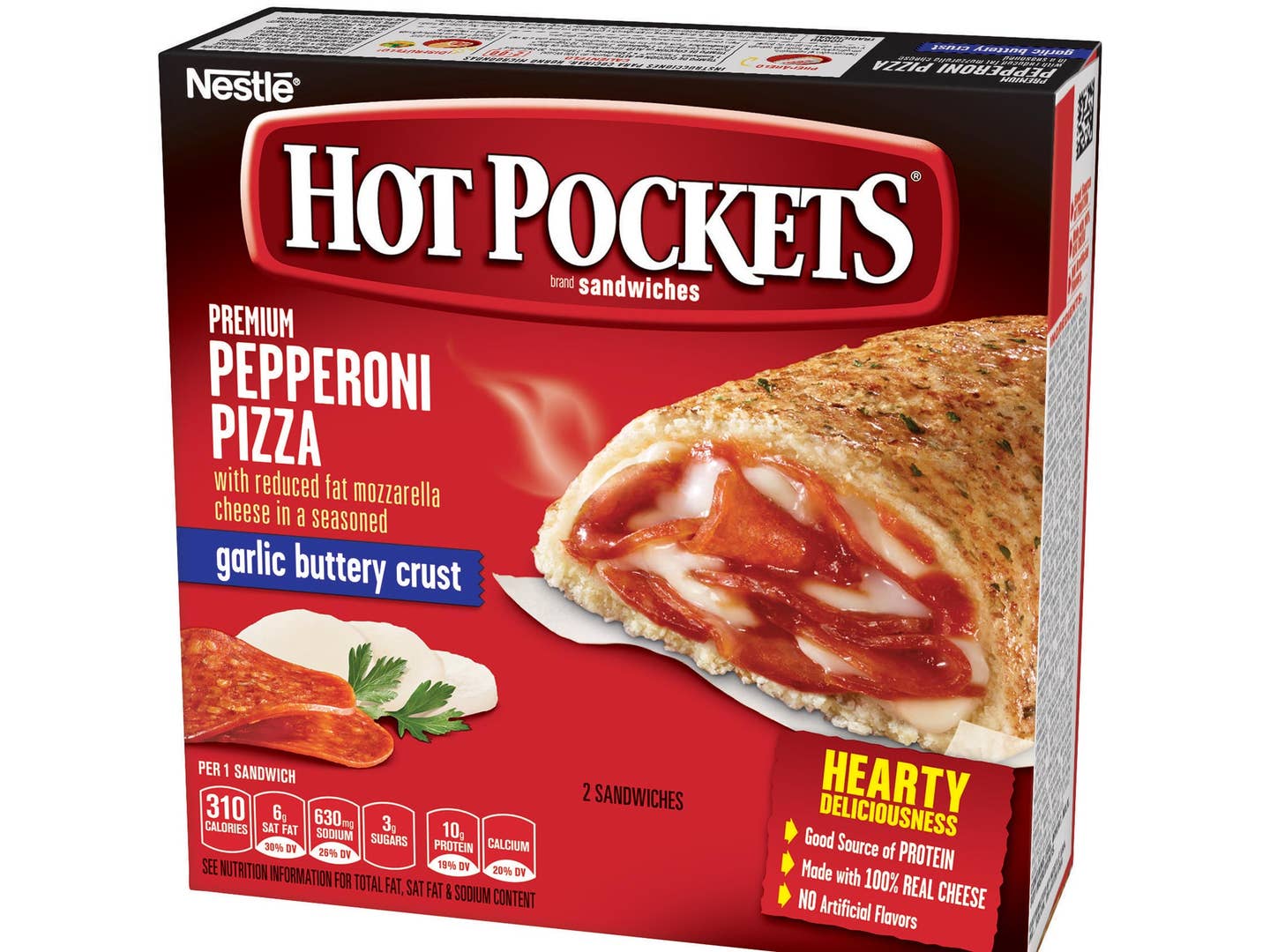 Culture
The Forgotten Immigrant Origins of America's Most Iconic Microwavable Snack
How two Iranian brothers invented the beloved Hot Pocket
Is there any packaged food more quintessentially American than the Hot Pocket? Since 1983, schoolchildren, drunk college students, and overworked parents across the nation have sated their hunger with this microwaveable calzone-like sandwich. Comedian Jim Gaffigan even suggests that the product should have a warning label that says: "'You just bought Hot Pockets! I hope you're drunk or heading home to a trailer.'"
With their iconic American snack status, it may come as a surprise to learn that Hot Pockets were actually invented by Paul and David Merage, two Jewish Iranian brothers who immigrated to the United States from Tehran. Such is the case with so many other quintessentially American foods.
The short version of the story goes like this: In the late '60s, the Merages were attending universities in California. After earning an MBA in business, Paul Merage worked entry-level marketing positions at Maxwell House coffee. But both wanted to start their own company, a dream ingrained by their father, and according to a 2015 profile in Family Business, David believed success would happen in California. (The Merage family did not respond to requests for an interview.)
After a business trip to Europe in the mid-70s, the brothers saw potential demand in the American market for frozen Belgian waffles, according to a 2016 Tedium article, working for months to perfect a recipe. For months, the two worked on a recipe for easy-to-prepare Belgian waffles. In 1977, despite minimal experience in the industry, they founded the food manufacturing company Chef America Inc. in Chatsworth, California. Then, after earning millions marketing their waffles to restaurants and coffee shops, the brothers decided to compete with lunch and dinner-time offerings. The Hot Pocket came soon after.
The Edible American Dream
For decades, the food industry has attracted immigrants hoping to make more money than they could back home. A new report by the National Restaurant Association found that 23 percent of the restaurant industry workforce is foreign-born, compared to 19 percent of the overall workforce, and foreign-born workers are more likely to hold higher-paying jobs, such as business owners, chefs and restaurant managers.
The Merage brothers' story follows a well-documented pattern of immigrant innovation. A 2012 study conducted by the Partnership for a New American Economy, a non-profit group, found that over three-fourths of patents at the top ten research universities included foreign-born authors. Recent research from the Harvard Business Review shows that immigrants, who only account for 15 percent of the American workforce, constitute 25 percent of immigrant entrepreneurs.
According to Ahmed Mobarak, a professor of economics at Yale University, the rationale behind this seeming propensity among immigrants for innovation and entrepreneurship is simple: Unlike American natives, who are familiar with the nation's cultural nuances, business practices, and enjoy the government's financial safety nets, immigrants have almost no choice but to gamble with their overall livelihood. "It's not that foreigners are going to be more innovative than natives," Mobarak said. "But that the set of immigrants who choose to leave [their homeland], they are risk takers, so they are more likely to be entrepreneurs."
The Marvelous, Portable 'Tastywich'
The Merages' move from breakfast classics to an entirely new food group was all about capturing the American zeitgeist. According to a 2002 article in the Wall Street Journal, when formulating their next product, Paul Merage considered new changes in the American lifestyle: a desire for portable meals as well as a need for food products that children could prepare on their own due to the rise of women in the workforce.
Once again, the Merage brothers made sacrifices, dedicating their time and efforts—Paul even took out three mortgages on his home—to create a portable sandwich-like product made of dough that, when microwaved, would maintain a crispy texture. They debuted their initial creation, the Tastywich, in 1980. Three years later, they revamped the recipe, which they renamed "Hot Pocket," and sold it to American restaurants and consumers.
So why do so few Americans know about the inventors of this ubiquitous snack? As Houman Sarshar, editorial advisor at the Encyclopedia Iranica, puts it, "The food itself, it's kind of fast food-ish." And when your goal is mass-market acceptance, highlighting who you are as a culinary inventor is rarely part of the business plan. "It's a kind of frozen food section meal that's not really what anyone would think of as Iranian."
More American Than American
After selling Chef America to Nestlé in 2002, the Merage brothers parted ways to pursue real estate and philanthropic ventures. Nowadays, the brothers usually mention their role in creating the Hot Pocket as a biographical footnote, although the frozen snack's notoriety in the American foodscape has persisted, and even grown in some cases. Chefs like Nicholas Dixon of Boston's Lincoln Tavern, who grew up with Hot Pockets, have upmarketed the treat. Satisfying the contemporary consumer demand by using high-grade fillings like short rib and bone marrow gravy, he plays with a nostalgia shared by Americans who came of age during the Hot Pocket's popularity.
"People can associate themselves with that diet," Dixon said. "They like to remember things from their childhood."
Of course, this haute cuisine spin on the Hot Pocket could not have taken off so strongly if it hadn't been for the Merages embedding the initial frozen snack in the American consciousness. According to sociologist Charles Hirschman, such tradition demonstrates how what we perceive as the classic American culture is itself ingenuity that generational Americans couldn't muster on their own.
"A lot of the classical things we think of American were invented by immigrants," Hirschman said. "But they weren't trying to advertise their immigrant origins. They were looking for ways in which they could capture what they thought as 'American.'"