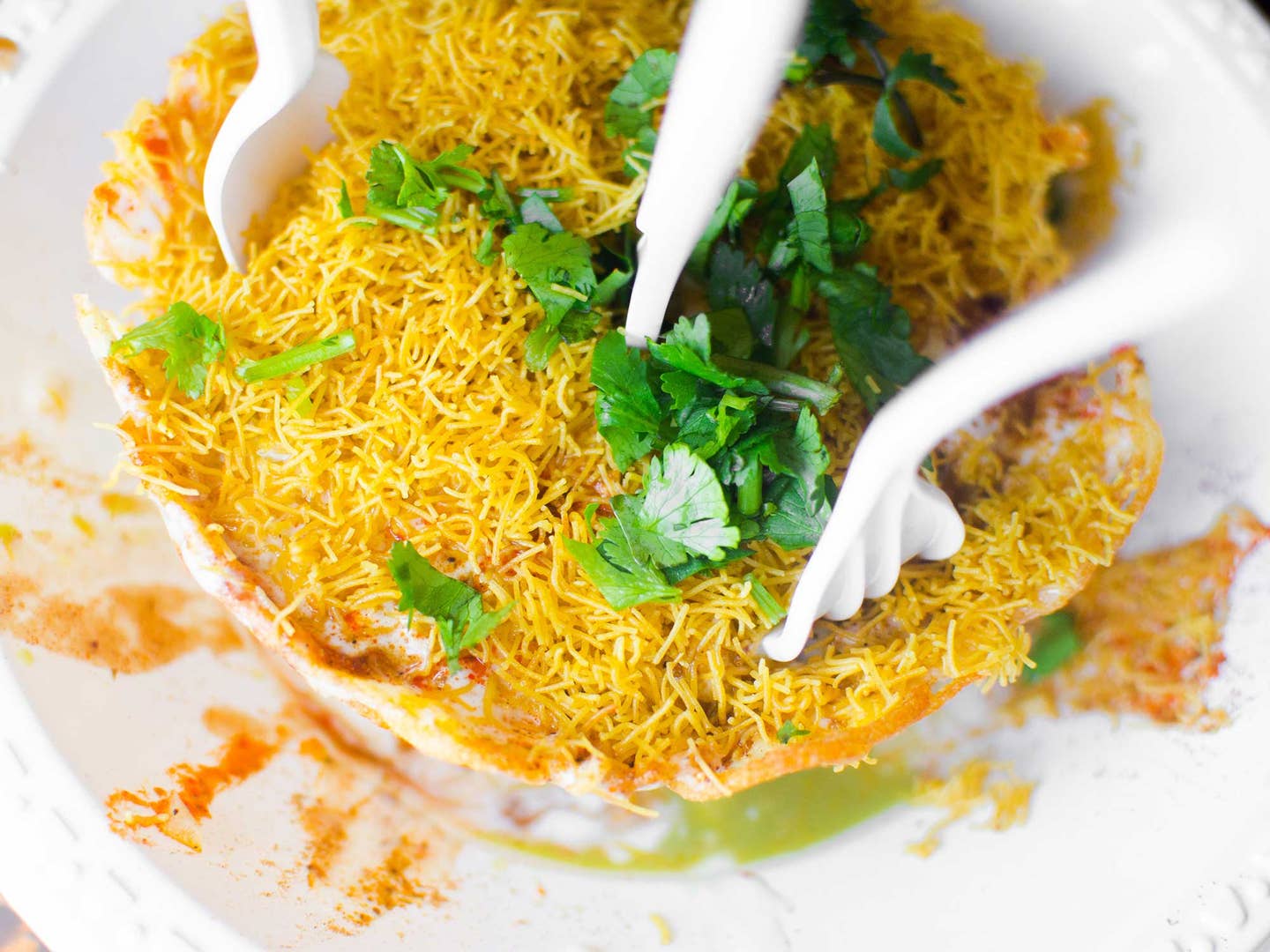 Travel
Houston Gave Me Permission to Be Indian in Public
In the land of football and Southern drawls, America's fourth largest city is a haven for people from elsewhere
Mumbai, 1984: I held my grandfather's hand as we walked along Juhu Beach to the food court, where scents of chopped onions and mint filled the air. Women in colorful saris rode past us on rickshaws as vendors pushed all kinds of chaat: pani-puri, pav bhaji, bhel puri.
We stopped to sample pani-puri, a crisp, hollow shell of semolina filled with potatoes and mung beans, topped with tamarind chutney, and dipped in masala water. You must eat pani-puri immediately, otherwise they fall apart and slip from your fingers. So my grandfather and I dirtied our fingers with chutney, talked with our mouths full, and let masala water trail along our cheeks.
I could never stop at a few of these spicy delights.
"Have one more," my grandfather implored. "There isn't any real chaat in Texas."
Dallas, 1988: He was right. As a child growing up in Dallas, I didn't belong. My hair, tethered together in two tight braids, was different from my classmates', who called my chutney sandwiches strange and pointed at my turmeric-stained fingers.
Through much of my childhood, I had to make my own India. If I wanted chaat, mom would have to make it, and I would have to eat it at home, in secret. I kept my jangling bangles private, too. And when we dyed my palms with mendhi for an Indian wedding, I'd scrub them clean before returning to school.
The dissonance was clear: At home I spoke Gujarati; at school and in public, only English. Bollywood music played in our home, while the car radio jammed Madonna and Michael Jackson. My parents insisted on chai for breakfast, while my sister and I slurped Lucky Charms and milk.
Houston, 2007: Shortly after I moving to Houston in my thirties, I stumbled across a shopping center at the corner of Harwin and Hillcroft. To my unexpected delight I smelled the mint, ginger, and masala water of Juhu Beach, and heard a familiar chime from my youth. As if in a trance, I paused outside the door to Shri Balaji Bhavan. The restaurant stood in the middle of sari boutiques, eyebrow-threading salons, and kulfi parlors.
Inside, I hopscotched from Gujarati to Hindi to Urdu, a mix of chatter that brought me right back to summers with my grandfather. Everyone was here to meet for chaat, and they weren't hiding a thing. I was amazed at how comfortable everyone looked: eating with their hands, strangers smiling at one another, conversations emerging in corners.
I spotted a little girl, her hair greased in traditional herbal oil, licking her fingers. "More pani-puri, mommy, more," she said. Her mom responded with a Mona-Lisa smile. "I am glad you like it. I loved eating these puris as a little girl too." The girl struggled to maneuver the puri into her mouth.
"I can't eat it at once," I used to tell my cousins in Mumbai. "You have to, it's the only way," they insisted.
Now I stood in line scouring the menu with the familiar mile markers of my past: mango lassi, bhel puri, and sugarcane juice. I turned to my husband, "Do you believe they even have Thumbs-Up?" The soft drink of my childhood summers was within my grasp and not 8,967 miles away.
I couldn't believe it—the secret was out. I relaxed my shoulders, spoke to my husband in Gujarati, and allowed my past and present to connect.
An ease percolated through the room, one that I hadn't experienced in the land of football and Southern drawls. This wasn't an accident. Over the last three decades, Houston has emerged as a popular new home for South Asians, especially because of its emphasis on oil and gas, engineering, and medicine. Many of these first generation immigrants left an entire continent and close family behind, like my own father who migrated to Texas in 1969, drawn by promise of a college education, a better life for his family and opportunities for his children. For immigrants who wanted reminders of India, Houston offered a place of refuge like no other. The land was affordable, and the city's large homes could accommodate extended families. As Indian-owned corporations like Vinmar International and Piping Technology Products set up headquarters in the late '70s and early '80s, they set the stage for a ready-made environment where Indians who found themselves in a foreign land could bond. The city became a place where where immigrants didn't need to start from scratch to embrace their heritage in a new land with different customs.
All this groundwork means Houston is a haven for entrepreneurs looking to open chaat restaurants, sari boutiques, and hair salons that advertised eyebrow threading. And once they arrived, Indians needed a place of worship. Bolstered by the local government's generous land permits, many Hindu temples have sprouted in and around the city.
Moving to Houston as a thirty-something gave me permission to accept my Indian identity. Instead of pulling a jacket over my sari, I wore it openly, taking special joy in the glitter of the sequins. It didn't matter whether I walked through a Hindu temple or in the middle of Walmart. When people asked, "What's that dot on your head?" I didn't change the subject; I explained what the symbol of marriage meant.
Houston, September 2017: Earlier this month, I knew the monsoons in Mumbai were thundering as Hurricane Harvey made landfall in Houston. I heard Houstonian-Indians discuss how how to help their family and friends on both continents. With over 150,000 East Indians calling Houston their home, the community found its power.
During Harvey, Indians helped the community that fostered their growth during the last few decades. Curry House gave out food, local doctors readily volunteered medical consults, and the Biryani Pot Restaurant in the now-renamed Mahatma Gandhi District served hot meals for those who needed sustenance. Many Indian businesses opened doors so that those in need of shelter could find refuge from the storm. Indian organizations like the India Culture Centre, the Indo-American Charity Foundation, and Indo-American Political Action Committee kept the dialogue open with the city and pitched in where needed. Places of worship welcomed everyone in need, Indian and otherwise.
And as for me, in the chaat restaurant, with each bite of pani-puri, I savor the feeling that I am no longer alone in embracing my Indian identity, even in a state filled with barbecue joints, chicken-fried steak and sweet tea.
I think my grandfather would have approved.