How to Feed (and Otherwise Support) Hurricane Harvey Relief Efforts in Texas
Donate to local organizations and food banks that have long ties to the community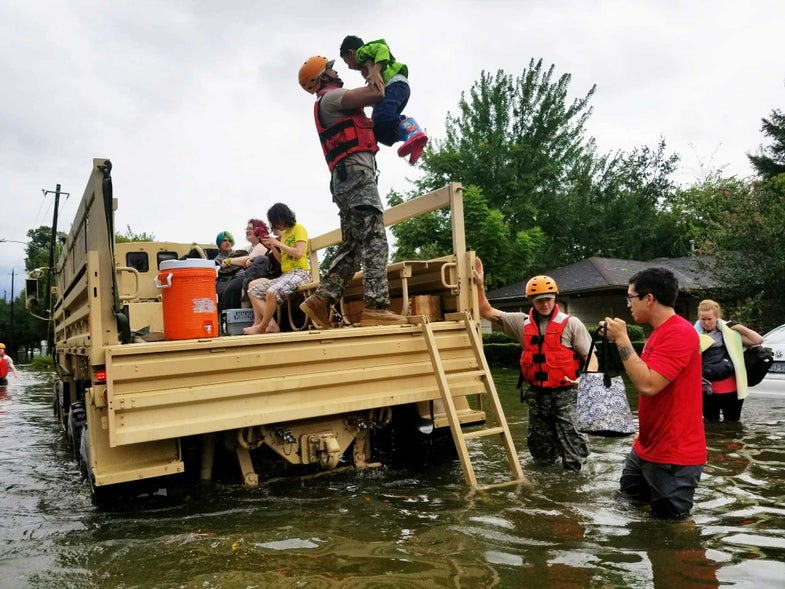 Hurricane Harvey battered the Texas coast this weekend, making landfall Friday night as a Category 4 storm with winds of 130 miles an hour—the most powerful to hit the state since 1961—followed by a record-breaking 50 inches of rain that has caused life-threatening floods from the Gulf Coast to Houston. Now, thousands are stranded, fleeing to higher floors and rooftops to await assistance, as the evacuation zones continue to widen.
As with any major disaster, those who want to provide relief and support should donate directly to or volunteer with known local organizations with boots on the ground and ties to the community. In addition to the general relief fund set up by Houston mayor Sylvester Turner, and Texans defensive end JJ Watt's relief fund, Texas Monthly has compiled a comprehensive list of ways to help, from the children's hospital to Portlight, an organization that deals specifically with folks who have disabilities. Local food banks are an especially effective outlet for cash donations as shelters begin to fill up over the next few days. Here are the major ones in the Gulf Coast region—you can also consult with Feeding Texas to find one closer to you:
If you're in San Antonio, Austin, or Dallas, Airbnb has set up an urgent accommodations page where you can offer your home sans service fees to Hurricane Harvey evacuees between August 23rd and September 1st. You can also donate directly to Houston's Coalition for the Homeless, which has set up emergency shelters for the aftermath.
Lastly, if you're shopping for groceries elsewhere in the state, Texas supermarket H-E-B has deployed emergency responses and mobile kitchens to the Gulf Coast region. They'll also be taking donations for the Red Cross, Salvation Army, and Feeding Texas at checkout registers. As our hearts go out to the Gulf Coast, let's send our dollars there too.