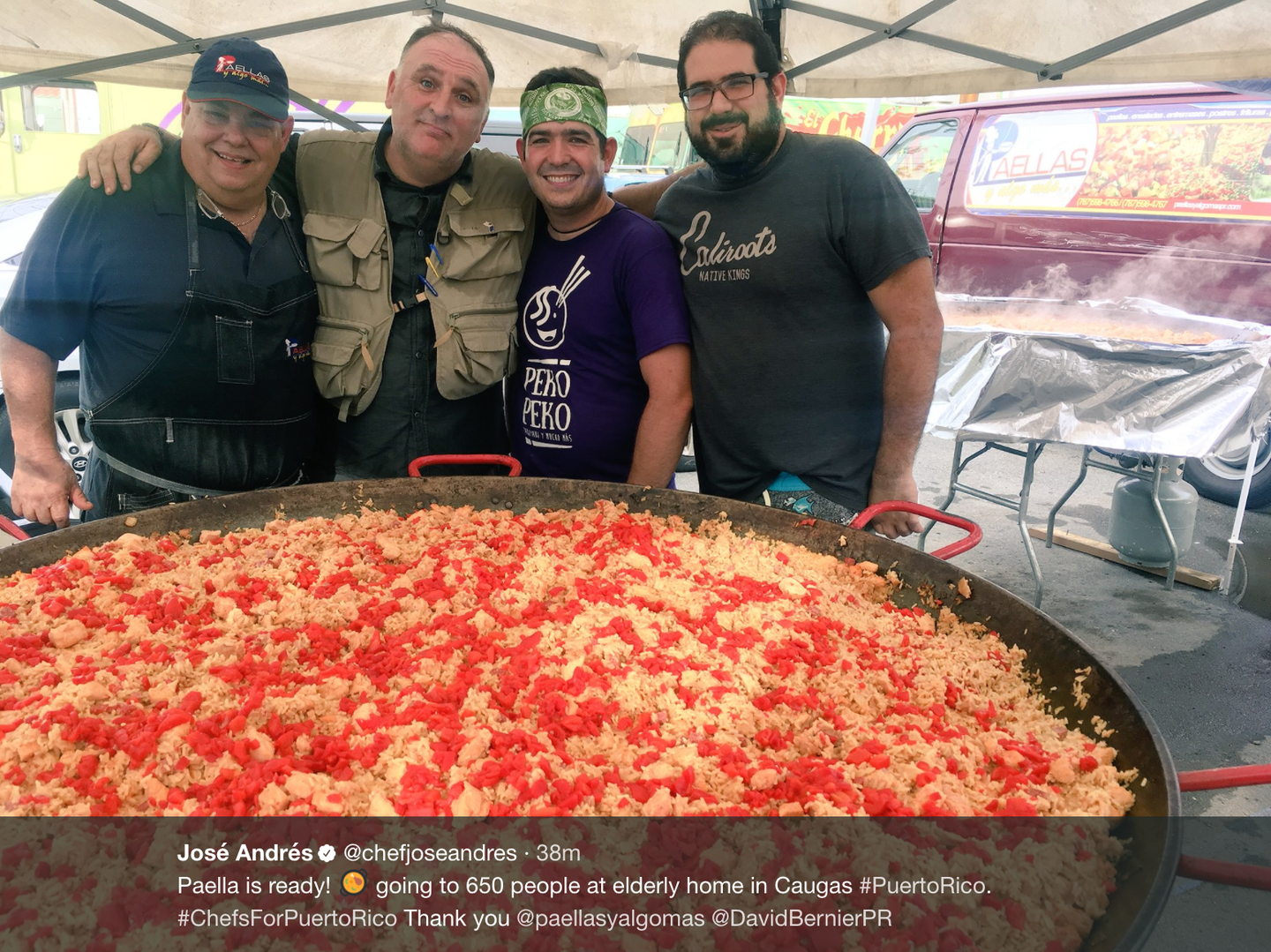 Culture
How to Feed (and Otherwise Support) Hurricane Maria Relief Efforts in Puerto Rico and the Virgin Islands
The fastest and easiest way to support recovery of communities is to donate money to local organizations already on the ground
As of this morning in Puerto Rico, almost 3.4 million Americans still need clean water. They still need food and electricity. They need help.
In the wake of a devastation from Hurricane Maria, the U.S. Federal Emergency Management Team (FEMA) said it has provided over 4 million meals and 6 million liters of water to Puerto Rico and the Virgin Islands, and continuing their operations. But that aid has been slow to arrive, and isn't enough to stopgap the damage.
The food insecurity situation won't be temporary, either. According to New York Times, Hurricane Maria wiped out 80 percent of the crop value in Puerto Rico, making it one of the costliest storms to hit the island's agriculture industry. Plantain, banana, and coffee crops were the hardest hit. Maria also destroyed dairy barns, cattle farms and chicken coops. Rebuilding the island's agriculture—its economic lifeblood and source of daily food for many—will take years.
Chefs are teaming up to help. Jose Enrique has been making free food daily at a local market in his hometown of Santurce. José Andrés, who also cooked for Hurricane Harvey victims in Houston, flew over to help him. Chefs are partnering with food truck owners, and their plan is to prepare food at Enrique's restaurant, and then send the trucks out to the neighborhoods and places like hospitals, where the need is most.
And here's what you can do.
Chefs for Puerto Rico: Lead by Chef Andrés, World Central Kitchen is asking donations to fund food, fuel, chef travel, and logistics. By following hashtag #chefsforpuertorico you can see what is happening with the donations.
Mexico and Puerto Rico Resilience Fund is providing food and relief for those affected of Hurricane Irma and Hurricane Maria. Aid goes to two local organizations that support local farmers and contribute sustainable livelihoods of the poorest communities in both areas.
Go Fund Me has highlighted several campaigns to support people affected by Hurricane Maria. For example, to support small restaurants and other business owners in Puerto Rico, you can donate to #PRSmallBizRecovery.
To make a cash donation directly to the Commonwealth of Puerto Rico, you can donate to United for Puerto Rico, an initiative founded by the First lady of Puerto Rico, Beatriz Rosselló in collaboration with the private sector, big companies like Coca-Cola, Walmart, Burger King and Bacardi.
Puerto Rico Real-Time Recovery Fund is organized by two non-profit organizations, ConPRmetidos and Foundation for Puerto Rico, aiming to focus on long-term structural repairs to the most vulnerable communities, and help people whose damages are not covered by FEMA.
YouCaring: Laura Posada and his husband, a former Yankees catcher Jorge Posada are raising money for families and kids devastated by Hurricane Maria.
New York City is currently collecting diapers, baby food, batteries, first aid supplies and feminine hygiene products. These items will be delivered to families directly affected by the storm. See the drop-off locations here.