Culture
What's the Deal With These Hyper-Realistic Food Christmas Ornaments?
Replace your popcorn strings and candy canes with lifelike deli subs and decorative cabbages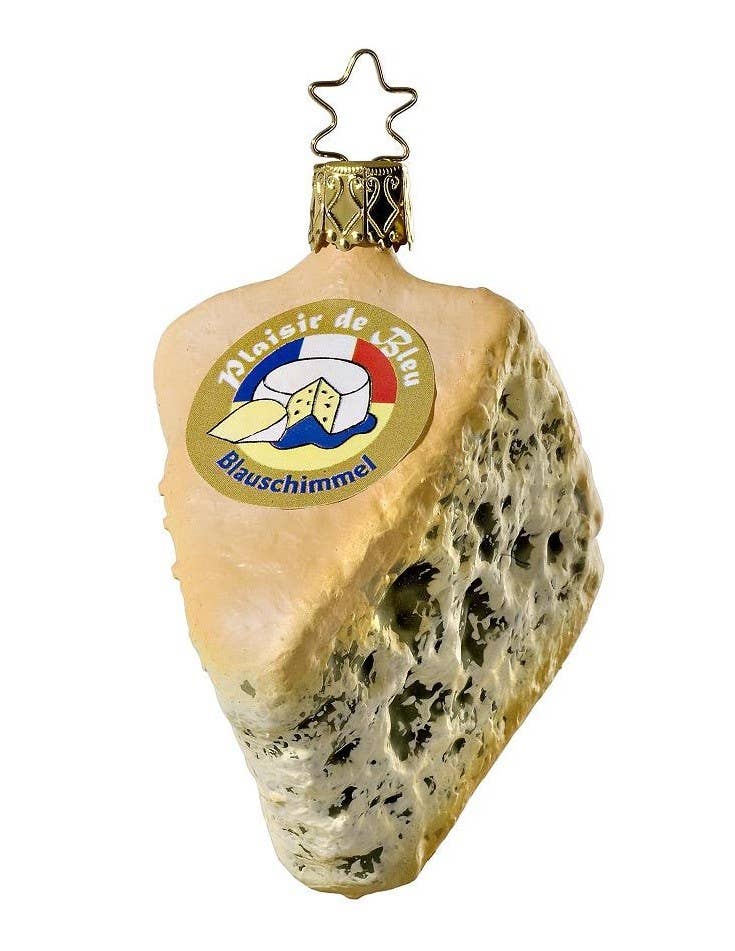 This November, when I took a gander at the fancy ornaments I plan to buy at 70% off in January, the volume and variety of food ornaments astounded me. There was a package of bacon, still apparently in its shrink wrap; an ice cream bar with a bite taken out of it; and even a deviled egg.
On one level, it made sense: for as long as there have been Christmas trees in the US, food has been placed, strung, or hung in various decorative contortions amongst the branches. The modern Christmas tree is rooted in traditions brought over by German immigrants in the eighteenth and nineteenth century. It was decorated with nuts, dates, and, a bit later, candy canes, another German import. But lately, food-themed ornaments have entered a hyperrealism period that feels distinctly 21st century. This blue cheese ornament is practically pungent and these hanging mushrooms appear foraged from the depths of the forest.
Intrigued, I emailed Bob Richter, the author of A Very Vintage Christmas: Holiday Collecting, Decorating and Celebrating to learn more. Richter has an extensive vintage ornament collection and decorates between fourteen and twenty trees in his house annually. "Food ornaments have always been popular, but it seems like that popularity has just increased over the years," he said, confirming my hunch. He also noted that while sweets have long been par for the decorating course, the move to savory is more recent.
As I continued to click around, I began to notice a lot of the savory ornaments (and a good deal of sweet ones) were coming from a single source: OldWorldChristmas.com, which manufactures traditional mouth-blown, hand-painted glass ornaments. Their food category kicked off in 1996 with a humble slice of pizza. "We took a lot of grief from retailers over that one," sales manager Rob Waples told me. "They said, 'nobody is going to put a slice of pizza on their tree!' Meanwhile, it's still around, and it's one of our top hundred sellers."
In-house art director Sooki Carrano explained that food ornaments are amongst the hardest to get right because they have to be instantly recognizable, as opposed to ornaments that simply need to be associative: think "festive red ball thingy" or "snowflake."
The most difficult-to-design food Carrano has encountered? That would be a bowl of mac and cheese. "The challenge was achieving the color of the macaroni shells–giving it its signature gooey, bright yellow color that we have all loved as kids," she said. They went through prototype after prototype, put it on hold when they couldn't get the coloring right; finally, the cheesy meal in an accurately synthetic hue joined the official collection in 2017, becoming an instant-bestseller.
There's something about the specificity of foods rendered that makes them so appealing. During my research, I almost ordered an oyster ornament for someone I know who really likes oyster bars. I reeled myself in before pulling the trigger (I don't know her that well), but I can imagine many an aunt wandering into Urban Outfitters and leaving with this avocado ornament all wrapped up, having read about millennial's obsession with smearing it on toast.
Waples told me Old World Christmas's all-time best seller is their pickle ornament. I felt briefly triumphant in my predictive skills, picturing a not too distant future where food ornaments completely eclipse angels and snowflakes as the go-to holiday décor. But as it turns out, hiding a gherkin amongst the boughs is a tradition that dates back to the 19th century and hails from Germany. Surprise, surprise. So we've gone from real food decorating a tree to hyper-realistic albeit fake food ornaments working overtime to seem real. It's the weirdest, most wonderful weird time of the year.