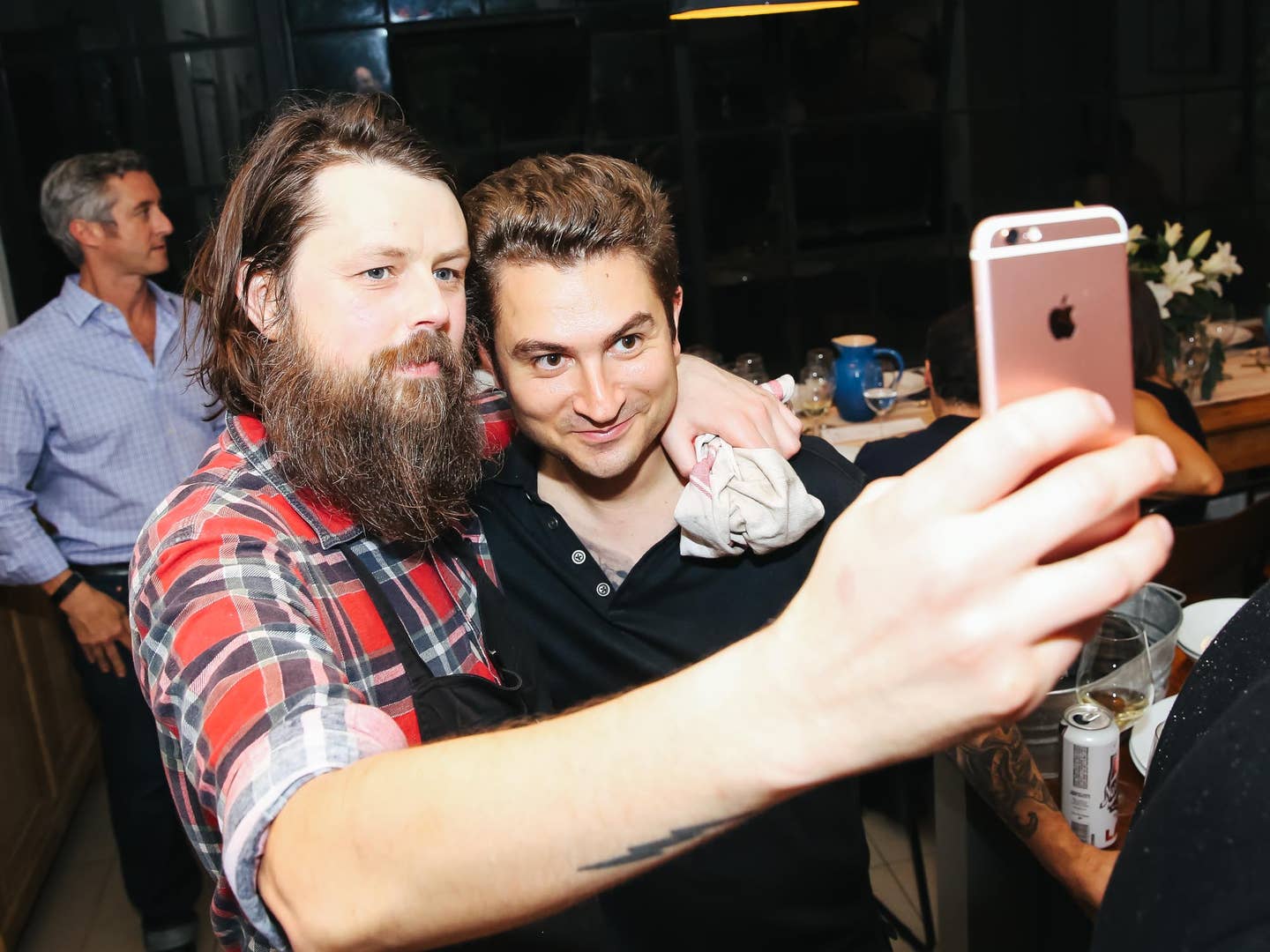 Culture
Chef Aaron Turner Surprised Us With an Ambitious Menu of Flame-Seared Hits
Hosted at Editor-in-Chief Adam Sachs' home in Brooklyn, New York, the dinner brought together a crowd of food and media personalities to celebrate the launch of Turner's debut cookbook
Fire, smoke, meat. True to the ethos of his critically-acclaimed Geelong, Australia restaurant IGNI, chef Aaron Turner delighted and surprised us with an ambitious menu of flame-seared hits at last night's SAVEUR Suppers. Hosted at Editor-in-Chief Adam Sachs' home in Brooklyn, New York, the dinner brought together a crowd of food and media personalities to celebrate the launch of Turner's debut cookbook—and his rise as one of the best and brightest names in Australia's food scene.
Dinner, sponsored by Tourism Australia and Wine Australia, started with pickled mussels wrapped in zucchini blossoms and fired on Sachs' home grill. Guests also munched on raw vegetables dipped in caviar-laced yogurt, before moving onto oysters slicked with Turner's house fermented chili. Next were raw scallops and a jerky-like dried beef, all washed down with a superb Tasmanian bubbly.
For main courses, Turner unveiled an Australian specialty of lobster with pickles—his version seasoned the crustacean with butter and finger lime. Squab was likewise given a burst of acidity from plum, thrown on the fire next to the bird, which had been prepped outdoors on a wood-fire cauldron. A final meat entree was revealed to be suckling pig—including shoulder, legs, saddle, and head—flame-roasted and served with an apple sauce and grilled greens. To cap off the night, an assortment of berries and pineapple were splashed with warm honey.
Attendees left full of food and booze, to say the least. And now that we have your attention, snag your copy of Igni: A Restaurant's First Year for a no-holds-barred diary of Turner's challenges and successes in opening a high-end restaurant in the backstreets of Geelong.