The Insomniac's Guide to a Night Out in London
A Peckham local's tour of the yet-to-be-gentrified neighborhood where Italian pasta restaurants share a block with African gospel choirs, nightclubs, and cocktail bars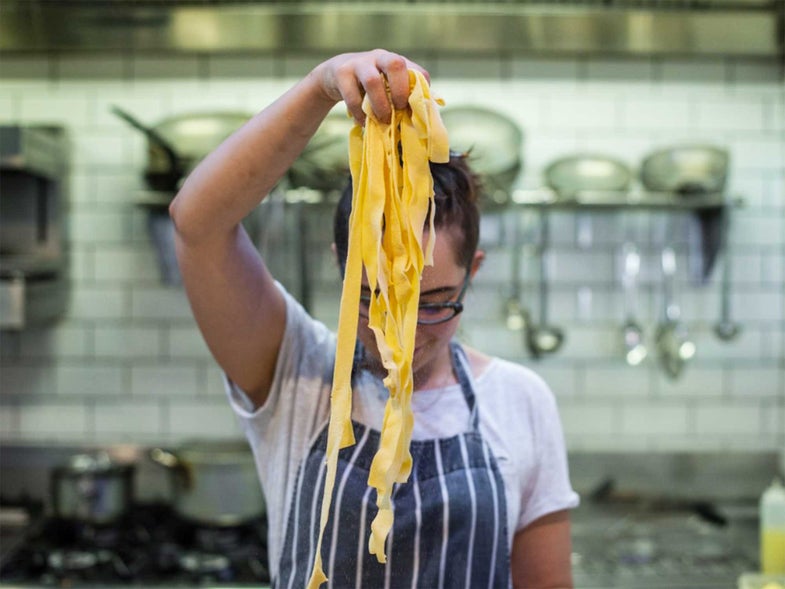 Traveling from New York City to London, it's easy to draw comparisons between the two, from the dining destinations to the art meccas and fashion hubs. There are also some clear neighborhood parallels: Midtown and The City of London, Union Square and Covent Garden, Williamsburg and Shoreditch. In my quest for an across-the-pond equivalent of Bushwick—Brooklyn's up-and-coming food, drink, and nightlife capital—, I asked London natives living in both cities, many of whom pointed to Peckham Rye, located south of river and generally considered to be off the beaten path.
Like Bushwick, Peckham's longtime grit and relatively low cost of living has inevitably come under siege by the money-hungry forces of gentrification in a tale that's been well told on both sides of the pond. To really understand the neighborhood's identity and its emergence as a cultural and food destination, I linked up with born-and-bred Peckham resident An Nguyen who, along with her five siblings, mother, aunts, and cousins, own and operate Bánh Bánh, a modern Vietnamese restaurant located on Peckham Rye.
On a recent Thursday night, the restaurant was packed to the seams with Londoners looking for an alternative to Shoreditch's formidable "pho mile," a bustling stretch of home-style Vietnamese restaurants near the Hoxton station. Nguyen, who works in media by day, says she's optimistic about the culinary evolution of the neighborhood that's made that possible: "I've lived in Peckham my whole life, so I've seen quite a lot of change in the past 32 years. It's really become a destination for lots of upcoming chefs, restaurants, and a breadth of cuisines."
It's easy to see why. After slurping down a bowl, we headed down Rye Lane, the main shopping street, grabbing fruits from an open-air African market before crossing the street into an arcade dive bar complete with a second floor for old-school video games. Then there was the multi-purpose Bussey Building—a former sporting goods factory that's become a central piece in the fight against further encroachment—which housed a dizzying mix of mostly creative tenants: nightclub-concert space, café-meets-record store, African gospel church, pottery studio, co-working spaces, and crossfit gym. A developers' buzzword-friendly gold mine of "edginess" and "culture," the neighborhood also boasts a very real sense of energy and down-to-earthness worth loving and preserving.
As a Peckham native, Nguyen thinks the neighborhood speaks for itself, but she welcomes visitors to come and see for themselves. "Peckham's always been a melting pot of cultures," she explains. "There's lots of hidden gems here—and it's definitely worth a visit." From arcade bars to Italian restaurants, here's a quick look at some of those gems. There's plenty more we couldn't get to, but I'd like to think this was a good start for one evening.
Nguyen's family restaurant, opened in April of 2016, is fast becoming a critical darling in town. While most of London's Vietnamese restaurants found in Shoreditch's immigrant enclave more closely resemble the no-frills, fluorescent-light mainstays of American Chinatowns, the Nguyens' establishment opts for a more polished approach, offering a craft cocktail menu and small-plates selection in a dimly lit space filled with lush greenery. The food, however, is traditional: the main-attraction bowl of pho soaks fresh flat rice noodles in a piping hot, spice-forward broth with a fan of tender, thinly-sliced beef. The menu also includes hard-to-come-by regional staples like bun bo Hue, a spicy noodle soup, and banh khot, savory turmeric-coconut cups with tiger prawns.
Bánh Bánh
46 Peckham Rye, London, SE15 4JR, UK
+44 20 7207 2935
A few doors down from Bánh Bánh lies Pedler, a gastropub that checks off all the boxes for a day-to-night standby: lively brunches, cozy dinners, and a bustling bar slinging cocktails into the night. Run by a duo of Peckham residents, it was one of the first restaurants in the neighborhood to offer a more upmarket setting to drink and dine. One of Nguyen's go-tos when she's not on the floor, the bar menu anchored around the Peckham-produced, grapefruit-accented Little Bird Gin. And as it turns out, the house's totally non-traditional but totally delicious Peck'em Martini—playing up the gin's citrus notes with swirls of Aperol and fresh grapefruit—is the perfect thing to sip while listening to a through-the-decades rock playlist.
Pedler
58 Peckham Rye, London, SE15 4JR, UK
+44 20 3030 5015
Four Quarters serves as reminder that a night playing video games is never a bad time, and especially not when alcohol's involved. At the bi-level arcade bar, you've got The Invaders, Pac-Man, Tron, and Street Fighter II—all perfect activities for consuming beer, cocktails, and you betcha, American bar food. And though the original is a Peckham icon, a new location, Four Quarters East, will open in Hackney this month.
Four Quarters
187 Rye Ln, London, SE15 4TP, UK
+44 20 3754 7622
It's a little tough to nail down exactly what Rye Wax is. Housed in the basement of the Bussey Building, the self-described vinyl-and-comic book emporium could also qualify as a café, bar, and lounge. It seemed to be functioning as all of the above when Nguyen and I stopped by—a bartender was pouring out some brews while a DJ set up his equipment nearby. Hungry? The space is now also host to Taco Queen, a pop-up taqueria serving globe-trotting tortillas filled with everything from gochujang-sauced chicken to cornflake-battered avocado. And it's perhaps a testament to London's advanced cocktail culture that you can order some serious drinks—think a sarasaparilla-hinted old-fashioned or kaffir-laced pisco sour—at cafe-bar-record store, but hey, we're not complaining.
Rye Wax
133 Rye Ln, London, SE15 4ST, UK
+44 20 7732 3176
Nguyen tells me that Il Giardino is one of the oldest restaurants in the 'hood, one that she can actually recall from her childhood. Open since 1987, the wood-paneled charmer spotlights home-style Sardinian cooking with Peruvian flair, thanks to the South American heritage of the current owner. Nestled on an unassuming side street near the Peckham Rye Station, the restaurant is a reliably cozy spot for the standards: meatballs, whole-fish entrees, pasta, and pizza.
Il Giardino Restaurant
7 Blenheim Grove, London, SE15 4QS, UK
+44 20 7358 9962
An early arrival on the scene, this laidback South Asian spot opened in 2010, bringing Indian cuisine—specifically that of the Southwestern state of Kerala—into the spotlight. With boho-chic design and a non-Indian chef to match, the restaurant surprises with authentic preparations of dosas, parathas, and curries, inspired by the chef-owner's trip to India.
Ganapati Restaurant
38 Holly Grove, London, SE15 5DF, UK
+44 20 7277 2928
When this Thai spot opened in 2012, it helped pioneer the new culinary landscape for Peckham, offering then lesser-known Thai street food snacks. These days, it's still a favorite on Bellenden Road—considered the "posh-er" bit of Peckham (am I using that right?)—for its small plates and endless rice bowls. The straightforward menu reads like a street-market greatest hits, with laab tod minced pork, crispy squid, and nahm prik pork belly all making appearances. To cap off a savory, spice-forward feast, we suggest their famed banana fritters with turmeric custard.
The Begging Bowl
168 Bellenden Rd, London, SE15 4BW, UK
+44 20 7635 2627
One of my personal favorites was Artusi. The brightly lit but otherwise unassuming Italian spot serves up a simple, seasonally-rotating menu of pastas, meaty mains, and olive oil cake or ice cream for dessert. But what really brought it all together was the quality of service—friendly, enthusiastic, and not at all stuffy.
Artusi
161 Bellenden Rd, London, SE15 4DH, UK
+44 20 3302 8200