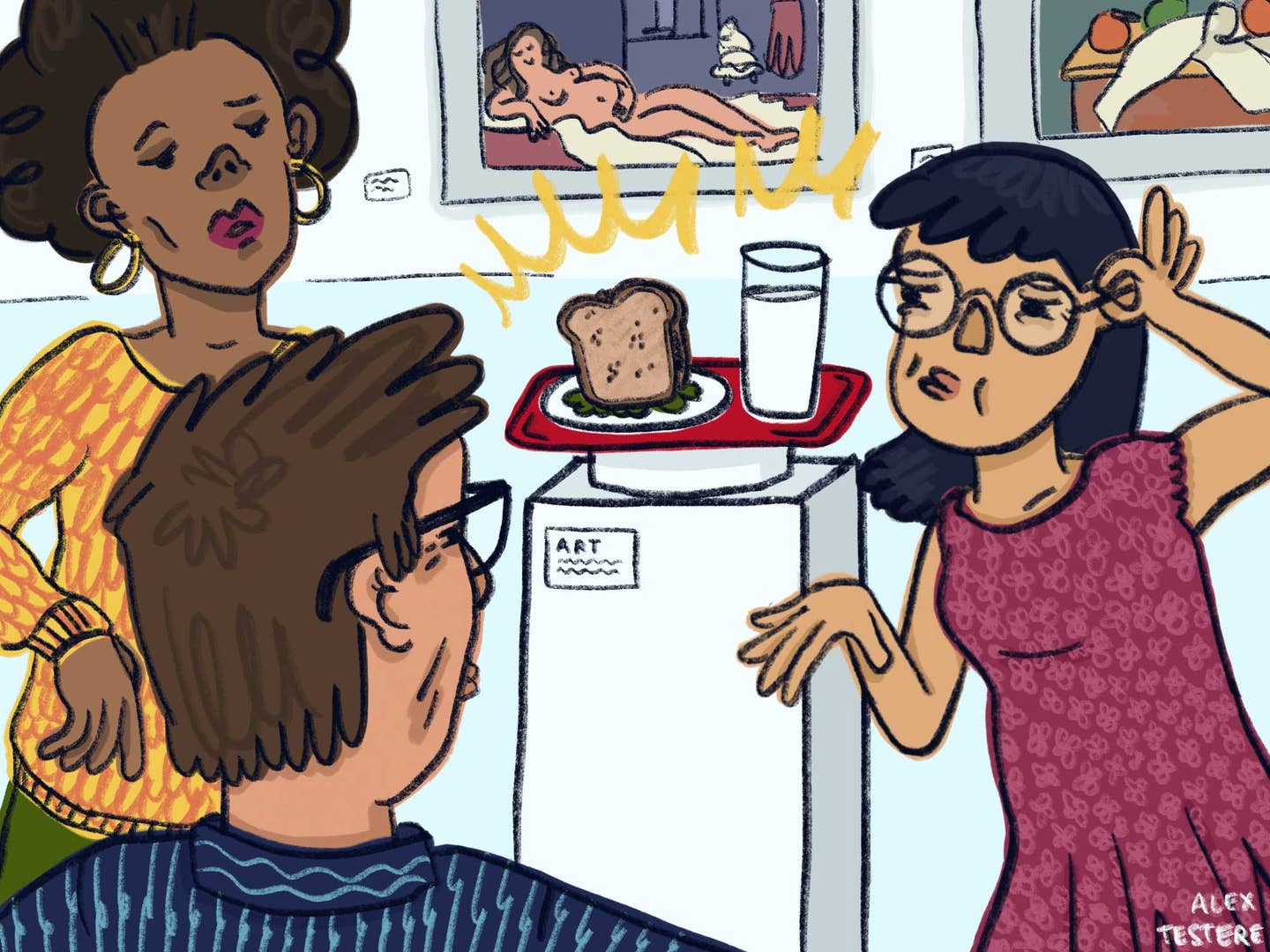 Culture
When a Tuna Fish Sandwich Becomes A Work of Art
An interview with "The Identical Lunch" artist Alison Knowles about tuna sandwiches, performance art, and how our daily rituals can be vehicles for inspiration.
"A tunafish sandwich on wheat toast, with lettuce and butter (no mayo), and a large glass of buttermilk." That was the start of the score for The Identical Lunch, one of Alison Knowles' most well known pieces of performance art. Adding in the option for a cup of soup, it goes on: "is eaten many days of each week at the same place and at about the same time." It has been enacted in various non-identical forms, all over the world, since its original inception in 1969. (As recently as 2012, MOMA hosted the artist for a series of "identical lunches" with visitors to the museum.) It is a uniquely enduring expression of the value inherent in thoughtful reflection of the everyday, the overlooked, and the routine. It is a story of how a tuna fish sandwich became a work of art.
Knowles was a founding member of the Fluxus art movement, which emerged in the late 1950s as a reaction to the elitism and exclusivity of the art world. A loosely banded group of artists rejected the notion that art couldn't be ephemeral, and that it could only live in museums. For Knowles, everyday life became art. She cited the variety and intensity of her daily experience as artistic inspiration. Food, in particular, was rife with potential; eating rituals, cooking techniques, and dining habits were all tiny and wonderfully significant daily performances.
The Identical Lunch was born at Riss Diner in Manhattan. Knowles' friend and fellow artist, Phillip Corner, noticed she seemed to have the exact same thing everyday, and allegedly pointed out: "You have an identical lunch." She agreed, and began to formalize it into a series, both in art spaces and with collaborators in the real world. She often invited others to join her, and to document their own lunches. She sees it also as a unique type of performance that doesn't require an audience—every time we eat that sandwich to this day, it is part of Knowles' work.
In addition to The Identical Lunch, Knowles is also known for Proposition #2 Make a Salad, another Fluxus "event score," which originated at the London ICA in 1962 and functioned a bit like a scaled-up recipe. The score itself simply reads: "Make a Salad." The performance at the Tate in London in 2008 and on New York's High Line in 2012 involved the artist emptying giant bags of lettuce, vegetables, and salad dressing onto a 30-by-30 foot tarp. The salad was then "tossed," with the assistance of shovels and rakes. A team distributed the massive salad into individual bowls, and the audience, of course, then shared a salad with Ms. Knowles.
As our food voyeurism escalates on Instagram and social media, the thought of bracketing our daily meals for aesthetic consideration feels resonate—appropriate, even. While the components of the Identical Lunch now sound a bit peculiar (a large glass of buttermilk every day?), the act of capturing and considering our lunch is perhaps more familiar now than it was in 1962. I reached out to Ms. Knowles, now 84, to talk a bit about her work, and what we can learn from it now, almost 50 years later.
Allie Wist: I'm so thrilled to speak with you about the famous sandwich—the one that has been in the MOMA.
Alison Knowles: The Identical Lunch is probably my best-known piece, if not Make a Salad. I think I should be attributed as one of the early people that brought food into art-making.
AW: Absolutely. Was that something you thought about at the time?
AK: [The Identical Lunch] goes back to the fact that I was from a poor family, and during the war years, there were very finite selections of food we had to eat. Among them were cans of tuna fish. Another was wheat bread—that was also available. Another food we ate a lot of were black beans. For a poor family, the war years were quite a strain. But we made it through very well. We had our own garden later, and I don't think we suffered very much during the wartime. So definitely, the tuna fish and the black beans nourished me through my life.
[Alison Knowles also has several pieces about beans, including Bean Rolls Collection (1962), Bean Garden (1971/2016), and Red Beans All Day (1962/2015).]
AW: And tuna turned up in the daily lunch that eventually became the performance. Why lunch, in particular?
AK: I had an assistant who would work through the afternoon, and he'd have a break for an hour to go have his lunch and I'd go have mine. I would always go to Riss Foods, which was on the corner of Spring and Broadway. I'd always just raise my hand when I came in, and they would make The Identical Lunch for me. So they constantly performed for me. It was really one of the best foods they put together. Eventually they put a sign in the window that read: "Home of The Identical Lunch."
AW: So others could be performers in the piece as well?
AK: If I was at a school or university, I would definitely propose that my audience have The Identical Lunch with me when I was through with my talk. And sometimes they could do that—they'd make us 50 identical lunches. Of course I couldn't always get a kitchen to make it, and I didn't enjoy eating it in front of my audience and not having them have any.
AW: Much of your audience was able to realize through this piece what art and performance art could really be—how their own daily lives could be considered differently. But what would you say that piece is about for you?
AK: The Identical Lunch was my opportunity to offer a work that exemplified breakthroughs in intermedia, chance, relational art, and living which emerged from my generation's expanded awareness of the impact of everyday life. The act of making the same sandwich each day, often seen as insignificant, could lead to changes in our daily perceptions once conceived as a personal performance. Ordering and eating the The Identical Lunch allowed art to take place without calling for an audience. You could make a sandwich, sit down, eat it, and art was occurring whether or not you knew it or if anyone else was there.
AW: I certainly don't think these pieces have lost their relevance today, as we seek more communal and engaging food experiences. What about those original concepts do you think still resonates?
AK: It's not really a food piece. My idea [at the time] was to bring work out of the kitchen and show what what was going on there, as something that was relevant to everybody, which it still is. I think now it has changed in some ways, but the poetry of The Identical Lunch is that something as banal as a tuna fish sandwich is never the same, whenever it is made.
AW: It still seems radical to look at daily acts in your life as part of a ritual and a performance. Being able to self-reflect in that way.
AK: If I'm to be credited with anything in performance art, it's to bring attention to the daily events that we do without thinking, and to recognize them as we're doing a performance. (This went against concepts of theater, and of theater as the only performance art.)
AW: Truly, so much of our daily life (especially in the kitchen) is still theatrical and nuanced and ritualized in interesting ways.
AK: And is important. It's a hidden performance, but a very individual one.
** This interview has been edited and condensed for clarity.