Meet the Iranian Immigrant Selling Yogurt out of a Meat-and-Three in Georgia
Fred Razzaghi recreates a taste of home at his Atlanta restaurant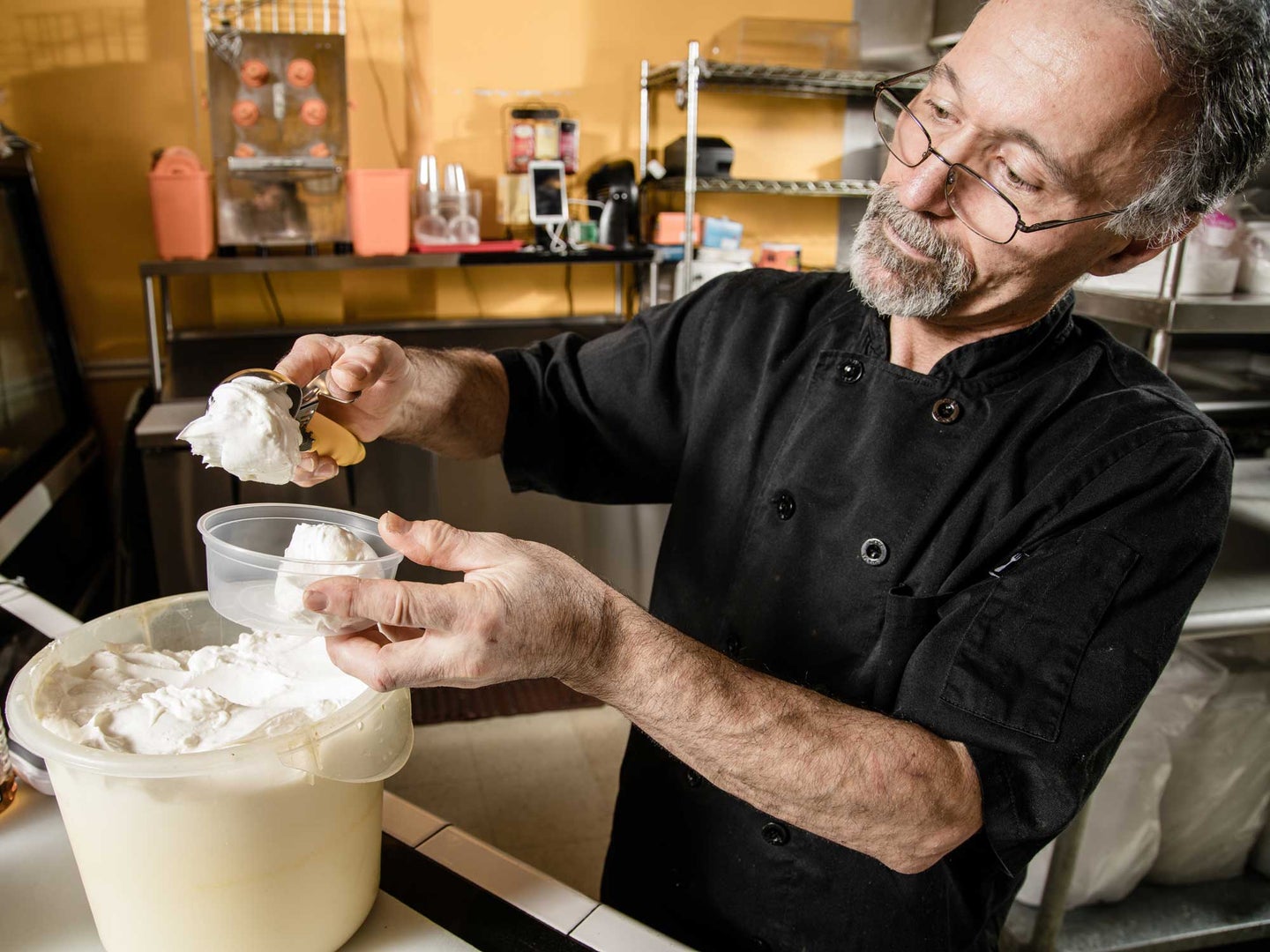 "Ten years ago, I didn't know what a collard green was," says Fred Razzaghi from behind the counter at Fred's Country Kitchen in downtown Atlanta. Construction workers and courthouse lawyers are eating elbow to elbow, their lunch platters loaded up with fried chicken and collards, smoked wings and hoecakes. It's a local's place, where a meat-and-three plate will run you less than six bucks. But there is another item on Fred's menu that his most discerning customers are sure not to miss: a bowl of his homemade yogurt.
Topped with honey, ginger, chopped strawberries, and crushed walnuts, Fred's yogurt is tangy and rich, but it isn't Greek. It was born in Mianeh, an ancient, rural town in northeastern Iran where Farhad Razzaghi—Fred's given name—is from. Growing up in the 1960s, his family lived near a market where craftsmen plied the old trades, blacksmiths and shoe cobblers working among the grocers. Farhad's first job was working for a neighbor named Khalil, who would make yogurt from sheep's milk purchased from farmers in the nearby hills.
"His thermometer was his hand," Fred says. Khalil taught him to make yogurt by the feel of the pot: how long to boil, how long to rest, when to insulate the pots by wrapping them with thick blankets. In winter, it would only take a couple of hours before the milk was cool enough to stir in the cultures. In summer, it could take as many as six. Fred studied Khalil's gestures, committing the practice to memory. Even when he went on to become a physical therapist in Tehran, he continued to make the dish that most reminded him of his childhood.
Fearing that his children wouldn't have the right opportunities in Iran following the revolution, Fred followed his brother-in-law who had fled to Atlanta. With a wife, two kids, a green card, and very little English, Fred's transition to America was tough. His brother-in-law gave him a job at the Italian restaurant he'd opened. "And so, at age 43, I became busboy Fred," he says, recalling the strangeness of starting over with a new life, a new name.
A decade later, he had saved up enough money to buy a tiny sandwich shop on an unpolished block downtown. The restaurant struggled and almost closed. Arlena Barber, a cashier he'd hired who had worked in the neighborhood for more than two decades, suggested he try serving Southern food.
"Miss Arlena told me to get collard greens and turkey wings and turn this place around," Fred says. Learning the ways of the meat-and-three was a group effort, involving everyone from Arlena to a cook hired off the sidewalk, but eventually Fred mastered the finer points of collards and potlikker, how to slow smoke pork ribs for hours.
Fred never planned to put his yogurt on the menu. He'd been making it in the back for himself for years before a friend suggested he try selling it. If you ask to see how he makes it, Fred will reply, "You cannot see. You can only wait."
In the still quiet of the restaurant in the early morning, with his hand to the pot, you may catch a glimpse of the lengths Fred has traveled. He says it doesn't quite taste as it did back in Iran, when the milk came fresh from sheep grazing on the distant hills, but even so, it still tastes of home. The milk finally cool, he'll gently stir in the cultures and remind you, "Yogurt cannot be made in a day."