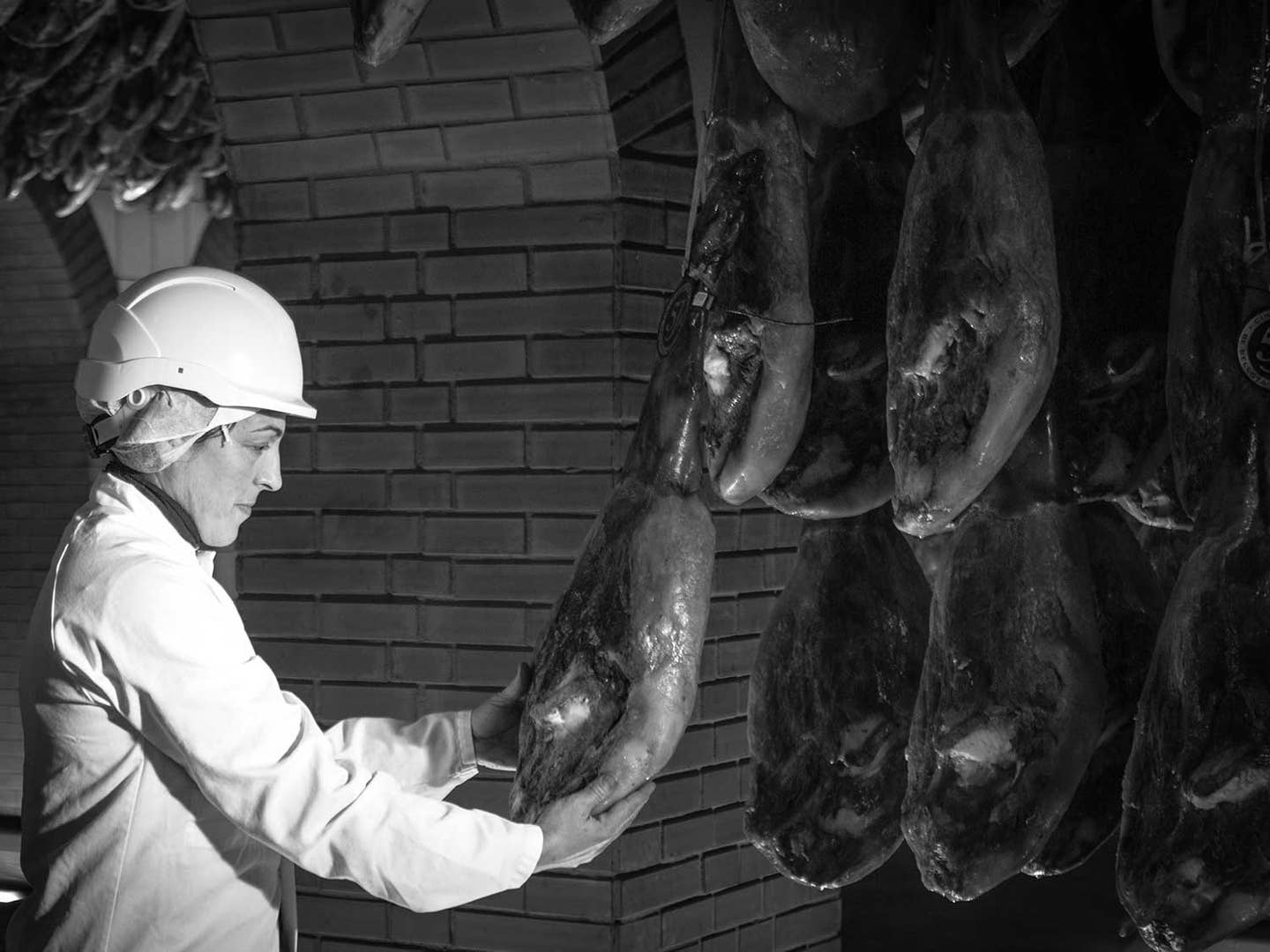 Culture
Meet the Pioneering Female Cellar Master Who Makes Some of Spain's Greatest Jamón Ibérico
Cristina Sánchez is the first woman to direct the cellars at Cinco Jotas, one of Spain's most-respected producers
Jamón ibérico de bellota is arguably Spain's greatest contribution to the world of food. It's a melt-in-your-mouth treasure and priced to match, with packages in the United States fetching more than $200 a pound. Famously, it's made from free-range Iberian pigs, who forage and feast on the acorns that allow them to pack on flavorful fat.
But a plump pig leg doesn't just become a prized ham. The transformation occurs thanks to a slow-curing process as traditional and hands-on as blacksmithing. At Cinco Jotas, one of the oldest and most prestigious producers, much of the process is directed by Cristina Sánchez, the responsable de bodega, or cellar master.
She is a native of Jabugo—where Cinco Jotas is based and where nearly all of the town's 2,400 residents work in the industry. As teenagers, Sánchez and a group of friends began butchering and curing their own hams for the holidays. At 24, she joined Cinco Jotas as a fourth-generation employee. And only five years later, she became its first female responsable de bodega.
"I already knew everyone," Sánchez says, but that's not to say her entry into an old-fashioned trade as a young woman was seamless. Sánchez manages the dozens of men who keep the cellars in equilibrium using methods that are downright 19th century: opening windows to regulate the temperature, sprinkling the dirt floor with water to alter the humidity. "For a young woman to come in and tell all these men how to do their jobs, something they'd been doing all their lives? It was complicated," she says.
Still, Sánchez knew her way around a ham, so it didn't take long for her to be accepted. "The oldest guys, the 60-year-olds, took me under their wing." A decade later, there are only four other women in the cellar, but Sánchez chalks this up to the physical nature of the work—and she hopes that her 7- and 10-year-old daughters might one day boost the female ranks. "It would be nice," she says, "to have another generation in the business."