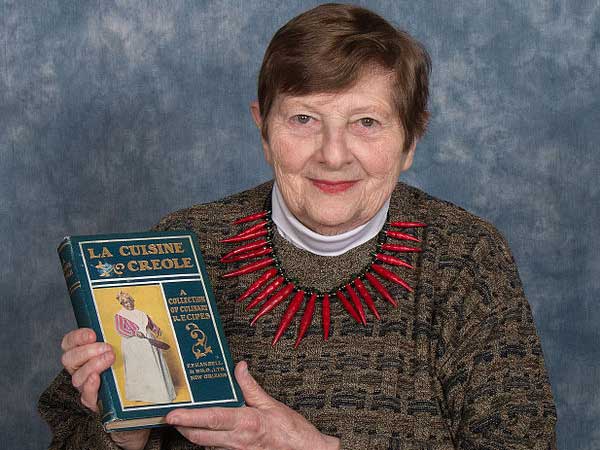 Culture
Meet the Cookbook Collector Who's Been Saving American Culinary History for 50 Years
When you're one of America's leading food authorities and need to consult an expert, call Jan Longone
"It's not quite clear how all of this happened to me, but it did."
Jan Longone and I are sitting in a fortress-like building in Ann Arbor, a few blocks away from Michigan Stadium, and I'm even more confused than she is. Not that Jan doesn't look up to the task—she's diminutive in stature but mesmerizing when she talks, with an excited voice that she seems to recharge constantly by massaging her fingers into the tabletop. But becoming the go-to archivist of America's culinary history is a tall order, particularly for someone who began as an amateur enthusiast. How does someone go from watching The French Chef to appraising Julia Child's cookbook collection?
Officially, Jan is the Culinary Curator for the University of Michigan, overseeing the vast culinary archives which are, appropriately, now named after her. But beyond titles, she is one of the lesser-known icons of American gastronomy, someone who has, more than anyone else, spent her life preserving and studying the annals of American food. A de facto expert on American food texts, she's become the go-to resource for chefs and writers, including Jeremiah Tower, Julia Child, and Rick Bayless.
Long after we digest our meals, they live on through words or pictures. For a half-century, Jan has collected these memories of meals past: cookbooks, menus, manuals, and posters, most of which, suffice to say, cannot be found with a Google search. In his syndicated column for March of 1984, upon viewing a catalogue of Jan's material, James Beard called it "an unequaled feat of culinary scholarship."
The Jan Longone whose name is inked on innumerable acknowledgements was born Janice Bluestein in 1933 to a Jewish immigrant family in Dorchester, Massachusetts. You can still hear the neighborhood in Jan's voice, when she waxes about "Fannie Fah-mah." With her husband Dan Longone, a chemist, she attended graduate school at Cornell, intent on studying Chinese history and rural sociology. She made friends with a group of international students who would cook dinner together, but when it was her turn to prepare dinner, Jan was at a loss.
"They'd always ask me to cook them a typical American meal," she says, tilting her head forward as if to parenthesize her next statement. "And I thought, 'Well, what the heck is a typical American meal?'"
It's a question she's spent 50 years trying to answer. She began by simply buying cookbooks in used bookstores around the world. By 1971, she had amassed such a large collection that she opened a mail-order bookstore in her basement. It quickly gained a devoted following among chefs and food lovers, including a young linguistics graduate student named Rick Bayless. Although not a chef yet, and not even well-acquainted with the cuisine of Mexico, Bayless began frequenting Jan's home to browse her book selections and chat. He didn't have much money, but she never made him buy anything—although occasionally she'd kick him out if she had to start making dinner.
"She was so fundamental in setting me on my path," Bayless told me over the phone recently. "She taught me how to enhance my cooking with stories to make each bite more complete."
Starting in 1980, those stories were made more widely available when Jan began donating her collections to the University library, and curating exhibitions. Those exhibits caught the eye of Alan Davidson, the founder of the Oxford Symposium of Food and Cookery, who invited her to give a lecture on the history of American gastronomy at his next symposium. She declined at first, claiming that she had no special knowledge of American food, but Davidson insisted that she synthesize all the information in her books into a single lecture. After a year of research, she delivered that lecture in Oxford, to a crowd which had previously considered American food ahistorical and uninteresting.
If the progression from book-browsing to distilling American gastronomy seems impossibly smooth, one has to remember that interest in American food is a relatively recent phenomenon, and food history even more so. Even James Beard, a kingpin of American food obsession, was primarily a cookbook author. Jan was one of the first to realize that without preserving past cookbooks, future ones would suffer.
It'd take a thick tome to list all the works that Jan has collected, but a here's a highlight reel of the heavyweights: The 1765 printed edition of John Locke's Treatise on Wine; the only remaining copy of the first cookbook by a black woman, Malinda Russell's Domestic Cook Book, from 1866; the entire menu archive from Jeremiah Tower's days at Chez Panisse.
Tower first met Jan in 1974, when he was planning an esoteric dinner themed around 19th century Floridian Cuisine, and she was the only person around who actually had menus from the time of the Louisiana Purchase.
"Menus document history," Tower told me over the phone. "They're a teaching tool."
About 20 years ago, Tower, evidently aware that his own menus would become part of history, wanted to donate them.
"I thought of Jan immediately," he said. "And it's a good thing I did—they would have been destroyed in Hurricane Katrina."
Jan still works five days a week, commanding a group of volunteers against an ever-growing pile of books. Her e-mail inbox is barraged with requests from chefs and food bloggers, hoping to locate some forgotten recipe or track the genealogy of a dish. In a field with an ever-growing pile of second and third and fourth-hand sources, she remains the primary source for primary sources.