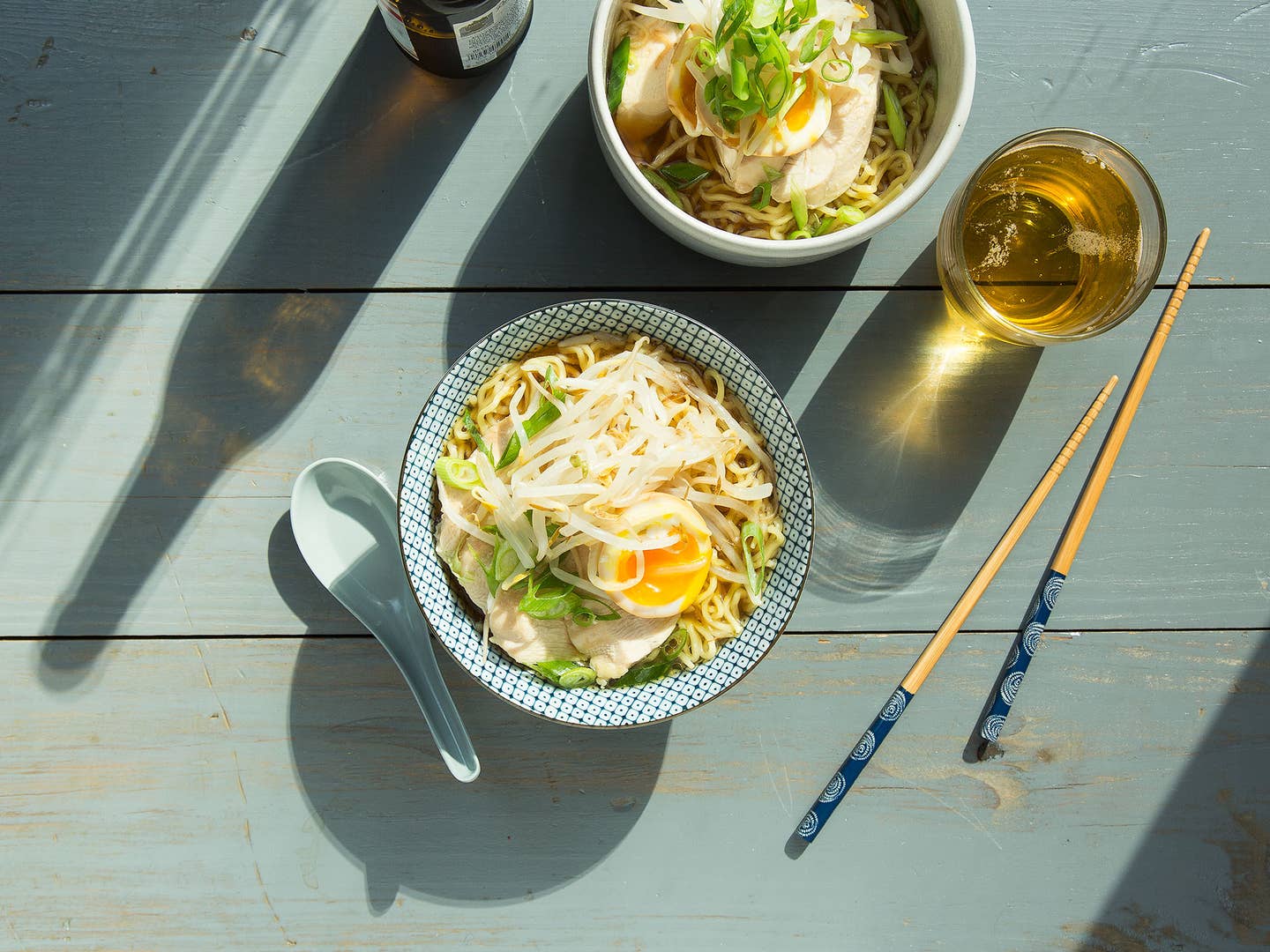 Travel
Behind Japan's (And America's) Ramen Obsession
In a food culture all about tradition, ramen stands out big time—because this modern marvel adapted from China is designed to break the rules
Welcome to Asian Food Adventures, where Dan Holzman, chef-owner of The Meatball Shop, and Matt Rodbard, author of Koreatown: A Cookbook, dive into the foods they love so much in search of higher meaning, expert advice, and a great bowl of noodles. Or all three.
When your friend is opening a new Oakland ramen restaurant and needs to visit Japan for some last-minute noodle inspiration, you drop what you're doing and hop on a plane to join him. That's how Dan found himself on a week-long ramen binge with our friend, chef Kyle Itani, across the country.
While no trip to Japan is complete without the requisite visit to Tokyo, the biggest city in the world, Dan—a lifelong New Yorker—prefers getting to the small towns where the people are excited by visitors interested in learning about their traditions. After stops in Akita for kiritanpo (cylindrical grilled rice skewers) and amazing yakitori, and Hakodate for ikura (pristine cured salmon roe) and live squid, the bullet train dropped Dan, Kyle, and their band of uni-obsessed hooligans in the city of Sapporo.
Americans most commonly associate Sapporo with the light lager they drink at two-for-one sushi happy hour, but this city in Japan's northernmost prefecture of Hokkaido is best known locally for ramen. Creamy, nutty miso ramen, specifically. To many it's the home of the best ramen you'll get in Japan.
Traditional miso ramen is served piping hot (over 200 degrees Fahrenheit) and is made with a base of white and red miso, scorched garlic, sake, honey, and lard. Chef Ivan Orkin, who runs the wildly successful Ivan Ramen in Tokyo and New York, has described it, at its worst, as a glorified bowl of miso soup. "That is the fucking worst," he says. But when done right—rich and earthy and packed with Japan's favorite five-letter word, umami—it's magic.
It doesn't take long to understand why the soup is served so hot. It's cold in Sapporo, the kind of bone-chilling cold that makes you stop and wonder what all of these people are doing here. The city is so cold there's an extensive underground tunnel system that lets you get pretty much anywhere without seeing the light of day. And on a bitter cold day, there is no better to salve than a bowl of piping hot miso ramen.
But it's kind of weird to talk about ramen in terms of "tradition." Ramen is a new food group, as traditional as the salad bar or McFlurry. It was only after World War II that Chinese wheat noodle soup (shina soba, or Chinese soba) found its way across the Sea of Japan to the islands. Flash-fried instant ramen noodle soup entered the Japanese market in 1958, invented by Momofuku Ando and initially sold as a luxury item retailing for nearly six times the cost of fresh noodles. Eventually the production price would drop and the noodles would be packaged with just-add-water soup mix in a Styrofoam cup. By the 1970s, both instant and counter ramen were a huge hit in Japan, eventually finding their way into the American food consciousness.
Kyle, speaking about the inspiration for his Oakland ramen, argues that there is very little room for personal expression in Japanese cooking. It's a cuisine whose recipes were developed long ago and are in many ways locked in time by a culture set in tradition. But ramen is different. Ramen isn't traditionally Japanese, so it allows chefs to play and grow. And there's a whole lot to play with; Japan is a long and mountainous longitudinally oriented country, with an extremely diverse system of microclimates supporting extremely diverse growing seasons. The food growing in the snow-covered north is very different from that found in the sun-drenched south.
Today, ramen remains one of the most discussed and Instagrammed foods around. And while Dan and I looked at his Japanese holiday photos and talked more about Sapporo ramen, we started to unpack the reasons why everybody loves ramen in America. America is obsessed with what it knows of ramen, a narrow example of a rich and disparate offering ranging from the heart-stopping pork tonkatsu of the south to the most delicate bowls of seafood and chicken based broths garnished with delicate seasonal vegetables and lightly cooked seafood. Diners love eating it, writers love listicle-ing it, chefs love making it—both fulltime and as late-night pop-ups. And if we were going to figure out why, we needed to indulge. Thankfully, one of Brooklyn's best ramen bars, Yuji, was located just down the street.
By day, the 12 seats in the storefront on the quietest stretch of Ainslie Street in Williamsburg operates as Okonomi, a restaurant evoking the spirit of mottainai—a Buddhist term that in Japan translates roughly to "what a waste!" (that is, at Yuji they try to avoid wasting things). The breakfast is a traditional Japanese set of pickles, vegetables lacquered in mirin and sesame oil, and a choice of fish. By night, chef-owner Yuji Haraguchi focuses on ramen—both with and without broth (the latter's called mazemen, pronounced mah-zuh-men)—and a small selection of sides like pickles or sashimi.
We order four bowls, which at most places would be way too much to handle. At Yuji, it's the smart bet to experience Haraguchi's range. The bowls are very different, each sharing only one similarity: they are all inventive and absolutely delicious. There's an Aka Aka bowl built around a unique crawfish dashi (very in-season during our early spring visit), which, topped with torched sea cucumbers, mizuna, and scallions,had more in common with a velouté that you could find at Le Bernardin than anything served in most ramen shops.
Dan's favorites are a miso mazemen uni bowl, and what the chefs calls tunakotsu—roast tuna belly with charred scallions and yuzo kosho, a citrus-fortified chile paste. But the night's highlight is the most ingenious ramen, which isn't like any ramen we'd ever tried: a ramen / shabu shabu mashup where a light shio broth and wavy noodles are accompanied by a plate of raw ocean trout that we drop into the bowl of piping broth to poach along as we slurp.
As we wrap up the last of our bowls, we get to talking about our initial question: Why is ramen so popular with basically everybody? Okay, the obvious answer is that it's fucking good. Yes, ramen is delicious. But so are enchiladas. Enchiladas are a gift from the food gods. But nobody is all about #enchiladas these days. (Okay, maybe one guy.)
"Each bowl we make is a blank canvas," says Yuji cook Dave Potes, a couple days after our visit. I've called up Potes and manager George Padilla to attempt to answer this question of why ramen stands apart as such an obsession. Padilla says that the whole point of Yuji is not just serve delicious ramen, but to educate customers about all that ramen can be, particularly in America where any rules are thrown out the window.
Potes calls Yuji "truly American ramen," and that the recipes are influenced by Haraguchi's obsession with sourcing and utilizing amazing fish. "Yuji spent a lot of time at the fish markets in Boston and New York," he says of his boss. Take for example the tunakotsu, one of the restaurant's trademark bowls, which Potes said was created after the chef saw the massive tuna backbones and belly skin being discarded at the market. Yuji threw the scraps in a massive pot and started to boil away. The rest is ramen history.
But what we fully realized in our dive into ramen realization is that a bowl of ramen is pure interpretation—with any number of variables being tweaked (stock, toppings, proteins, spice), by the creator. Kind of like the knobs on the soundboard at a recording studio. Or the swirling of paint on a freshly stretched canvas. Making ramen is a form of pure expression for a chef. And it is us, the diners, who are the biggest winners.