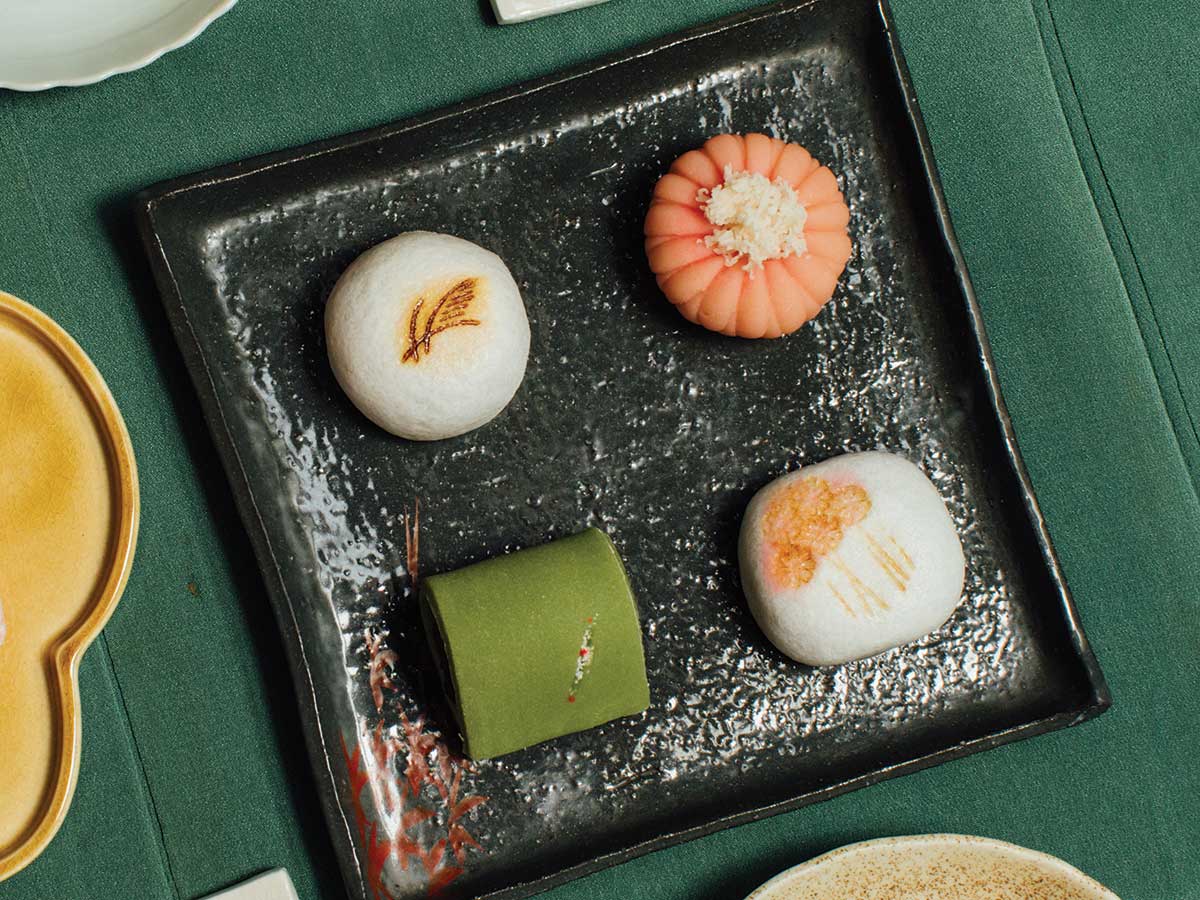 Culture
Meet One of America's Only Japanese Wagashi Artists
In Seattle, chef Chika Tokara shares the Japanese art of tiny, hand-sculpted confections
As curious as the tiny cake Alice ate during her adventures in Wonderland, wagashi seems to beckon: Eat me. Look closely at the bite-size Japanese confections' intricately sculpted exteriors, and you'll see more than 400 years of history painted into the delicate folds of a chrysanthemum petal or the dimple of a peach so lifelike, you expect juice to drip down your chin upon biting in.
Wagashi—intricate, miniature, Japanese sweets traditionally served with tea—are thought to have been developed during the Edo era (1603–1867), after sugar had been introduced by the Portuguese but was no longer confined to the upper class. Created to complement tea ceremonies, which draw inspiration from the seasons, wagashi commonly have names and designs that reflect the ephemeral qualities of nature. In the West, you'd be hard-pressed to find a donut crafted to resemble the gentle bend in a stream or the delicate burst of pink in a cherry blossom. But at Tokara confectionery in Seattle, you'll see this reverence exhibited in chef Chika Tokara's Spring Under Snow kinton, a walnut-size tumble of white-bean-paste threads made to resemble a mound of snow melting as the sun ushers in a new season. Her Uzu—an ocean-blue sphere covered in a fondant-like bean paste, with a pearl-size pink flower and swirls etched across the top—is meant to evoke a lotus petal floating serenely on the water.
Tokara, who studied wagashi and pastry-making in Kyoto, Sendai, and Tokyo for more than seven years, is one of the few wagashi artisans in the U.S. To follow a traditional approach requires sharp attention to detail, a commitment to seasonal ingredients, and crafting sweets that also tell a story. She uses wooden molds and tools rather than machines to shape her designs, which sometimes require several hours for a single recipe. She also makes wagashi's foundational ingredient—­anko, a sweetened paste of boiled and mashed red beans—by hand, a process that takes 10 to 12 hours per batch.
Though there are dozens of wagashi varieties, Tokara offers a smaller collection to the local restaurants and shops to which she sells wholesale, as well as those who visit her studio during tohryanse (which means "come in") on the third Sunday of each month—the only day her shop is open to the public. Though her offerings change monthly, based on nature's cues, her lineup often includes the gelatin-like yōkan; the cookie-like manjū; the marzipan-like konashi; and the light-as-air sponge cake ukishima. The most familiar by name are mochi, but hers are petite rice-flour parcels of anko—nothing like the ice-cream-filled mochi most Westerners know.
Tokara says that in Japan, wagashi artisans study or apprentice for at least five years, and most start out washing dishes before they are allowed to touch a single sweet. Though some of that rigor might be relaxing now that technology is making trade secrets more accessible, she is doing her best to keep the tradition of meticulous design alive in her corner of the world.
She has no online store and doesn't advertise, and visitors must make a reservation for tohryanse by phone. Arriving at her door, with people lined up in the courtyard of the 540-square-foot culinary studio, you immediately become part of the community her efforts attract. In Japan, community is built around a cup of tea. In Seattle, it's built around a tiny confectionery run by a woman who has the tools and know-how to keep us awestruck.