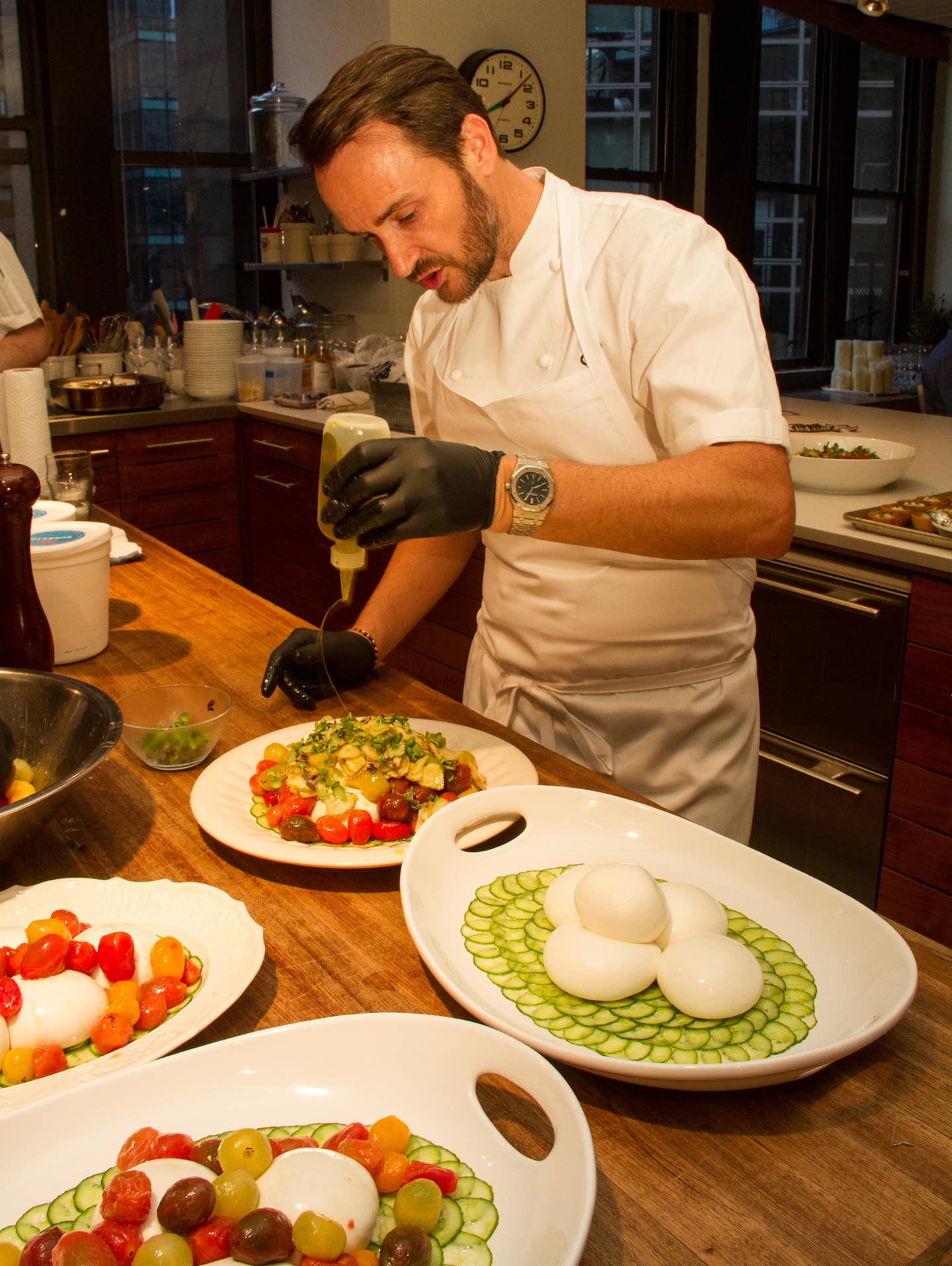 Culture
Scenes From Our SAVEUR Supper with Jason Atherton
Chef Jason Atherton brings his love of cooking to our kitchen for a night of seafood towers and seriously good vegetables
Chef Jason Atherton has 17 restaurants in seven cities around the world, including New York, Dubai, Hong Kong, and London. He has written three books. But for someone with so much going on, he's remarkably down to earth. "Being a chef is, to me, one of the greatest things you can ever be. It's being in the kitchen and making sure your guests are happy," he tells the crowded table.
And the guests certainly came away very very happy. Atherton's menu was a cross between Britain and New York, and he made a point of avoiding fancy techniques in favor of simple, butter-and-garlic heavy plates. "My style has become a lot simpler as I get older," he explains.
He started the night with a beautiful seafood tower, where prawn heads doubled as plates for crab meat and caviar. There were also oysters and king crab chunks on skewers topped, topped with a dollop of wasabi. As guests took their seats, Atherton sent out plates piled high with burrata, tomato, and green strawberries. Everything was served family-style, the table stuffed with main course options. There was a whole roasted spring lamb with Lancashire hotpot and mint sauce, a giant Atlantic turbot, and vegetables coated in butter. For dessert, guests dug into two huge trifles and mini bowls of olive oil cake topped with strawberries.
And while Atherton doesn't show any signs of slowing down, he stays cognizant of what's important to him. As he puts it, "I love being a chef, I love being in my restaurant, I love making people happy through food."