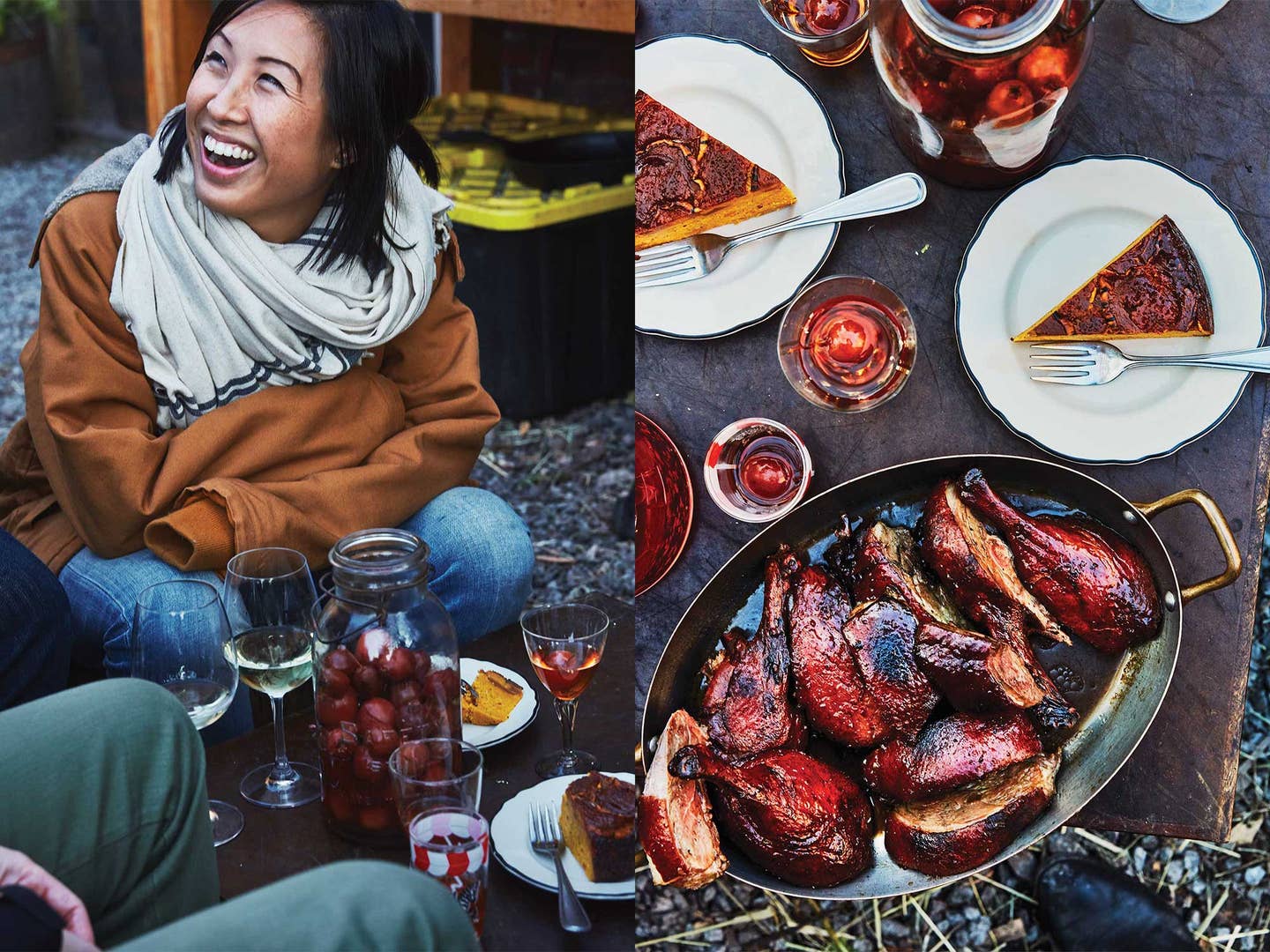 Culture
The Joe Beef Guide to Open-Fire Feasting
On the virtues of wood-roasted duck and cooking with friends in the cold
In the Little Burgundy neighborhood of Montreal, there is a sequestered no-name street just off Rue Charlevoix that happens to be one of my favorite places in the world. It's a narrow conduit behind restaurants and shops where deliveries are made and cooks tread busily between kitchens. There is an outdoor smoker, a woodburning oven, and a huge grill with a spit, some boxed gardens, multiple terraces, a trout pond, a tool shed, and across the street, Parc Vinet, where you can see kids whizzing by on the ice rink in winter, or hitting line drives under the lights of the baseball diamond on long summer evenings.
Eleven years ago, Frédéric Morin and David McMillan opened Joe Beef, a French market-fare restaurant with a back door out onto that no-name street. I was there the first night as a server and still feel a deep sense of belonging at the restaurant, even though years have now passed. I think this is the allure of Joe Beef, really, that diners who will spend only a few evening hours there over dinner also feel that sense of belonging, or at least discovery of a certain Secret Garden utopia that has no affectation (and a whole, whole lot of rib steak).
People rave about the brief glory that is summer in Montreal—packed terraces, pretty girls on bikes, the European feel of the old port, the abundance of the Jean Talon market, with its piles of berries and flowers and smoked fish—but for me, it's in the deep freeze when the magic happens. You can cross-country ski over Mont-Royal and descend for a glass of Alsatian white and eggs for brunch. It's the time of year when restaurant windows are fogged over and you find yourself perched upon a banquette during a snowstorm, eating quail and drinking Cornas. And at Joe Beef, in the depths of winter, that magic is equally apparent indoors—where the cozy rooms are packed and it feels like all the diners are part of the same wedding—as it is outside.
"At a certain point in the winter, minus 30 degrees Celsius, you get pushed inside, which is a shame because there is an outdoor element to everything we do," Fred tells me one night as he's scoring the skin of a piglet shoulder in preparation for a winter feast.
Tending the red coals of the fire—above which numerous pheasants and ducks spin on hanging wire hooks—Dave chimes in, "Cooking over fire is the oldest job in the world. It's not prostitution." He pauses, using a pocketknife to slice sunchokes destined to be a bed for drippings, then says, "And with fire, there is an important yet simple preparation: You must gaze into the coals, touch the heat, get lost in the time, heat, question yourself, overanalyze the fire. Mastering coals is a window into the beginning of it all, and is always time well spent."
Melanie Terziyan, a cook at Le Vin Papillon, Dave and Fred's wine bar, walks by as we're stuffing fat leeks with an anchovy-blue cheese mix, to be set on glowing embers to char and crisp. She helms the outdoor grill from 3 p.m. to midnight five nights a week and is always preoccupied, yet happy and utterly in her element, cooking up tender chicken legs and charcoaled eggplant. Most restaurant cooks only see the outdoors when they're lugging garbage out the back door, so there's a certain good fortune in spending the entirety of service cooking in the open air, surrounded by trees with the cool sky overhead.
"We would like to think people want to work for us given our gentlemanly reputations or the quality of our food," Dave says with a smirk, turning his attention to a puréed squash batter, which will be poured into a cast-iron pan and hung over the open fire. The result: an airy, sweet pudding-cake hybrid. "But I'm sure a lot of that has to do with allowing people the space to occasionally work alone in the outdoors."
The meal comes together before the sun has set, and we bring everything over to the benches by the trout pond. In between sips of crisp white wine and a cocktail made from homemade crab apple liqueur, we pull the steaming hot, tender meat from a duck with our fingers, each piece burnished with a sweet currant glaze. Nearby, the crackling of the waning fire keeps us company.
"Mastering coals is a window into the beginning of it all, and always time well spent—whether it be summer or winter."
This notion of fire and feral cooking is very much Montreal, a place where the city meets the hills, both geographically and metaphorically. We can be in an off-grid cabin in less than 30 minutes. Ten minutes from Joe Beef is a First Nations reserve.
We rub our hands together, taking our final sips of wine, as Dave muses, "We've worked in kitchens for 20 years plus. Hot confined rooms with white tiles, fluorescent lights, and stainless steel—it's a little bit like being an inmate. Any opportunity to not work in that environment, even if it's a frigid 30 degrees below zero? That's a success."