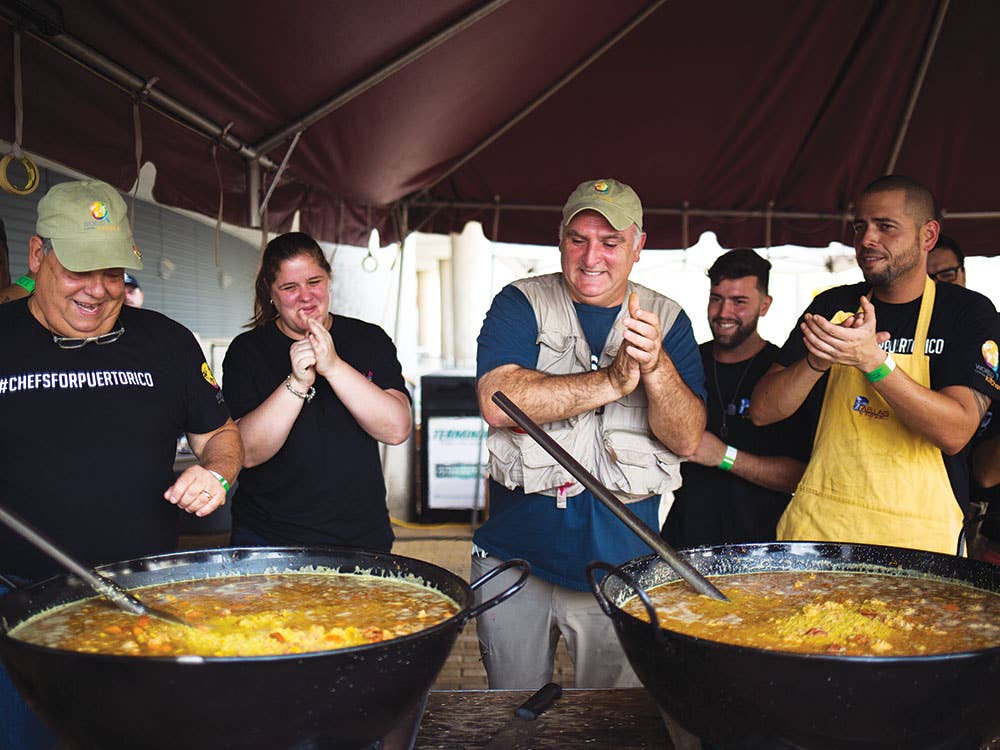 Travel
José Andrés on feeding Puerto Rico after Hurricane Maria
The chef's nonprofit has prepared millions of free meals on the storm-ravaged island
By Monday, five days after Hurricane Maria made landfall in Puerto Rico, a crew of volunteer chefs and I were gathered in the generator-powered kitchen at José Enrique's restaurant in San Juan. By the end of the day, we'd prepared 1,000 meals—some people had traveled three hours from towns across the island for a chance at getting something to eat. My nonprofit, World Central Kitchen, went to Houston after Hurricane Harvey, and we'd been in Haiti before that, helping where we could by making food. The conditions in Puerto Rico were grave. People were in desperate need—if we didn't do something immediately, no one on the island would eat.
In a short time, we'd gone from 20 volunteers in one kitchen to more than 16,000 volunteers in kitchens all over the island. We had three in San Juan, then we opened one in Ponce, and on the smaller island of Vieques, and then in Guaynabo, Aguadilla, and Manatí—22 kitchens to date, producing over 3 million meals. With the power of local chefs like Manolo Martínez, Enrique Piñeiro, and Ventura Vivoni, as well as those deployed from World Central Kitchen's chef network and Think Food Group, we were cooking a diverse menu all across the island: giant vats of arroz con pollo, sometimes with as many as 20 pots going at once; pastel de carne, a kind of meatloaf; and pastelón, sort of like a Puerto Rican shepherd's pie with layers of beef and mashed plantains. And ham and cheese sandwiches where we didn't have stoves. The diversity of items helped ensure that we didn't run out of one type of produce.
The whole operation wouldn't have been possible without the dedication from friends and volunteers in the food industry. The effort is still going strong, and in those initial weeks we showed that anyone can be part of a solution in a moment of need. You never know when you're going to be called in for service. I was only able to gather this amazing group because they were willing to help. If there is a place where hungry people need to eat, I will be there.