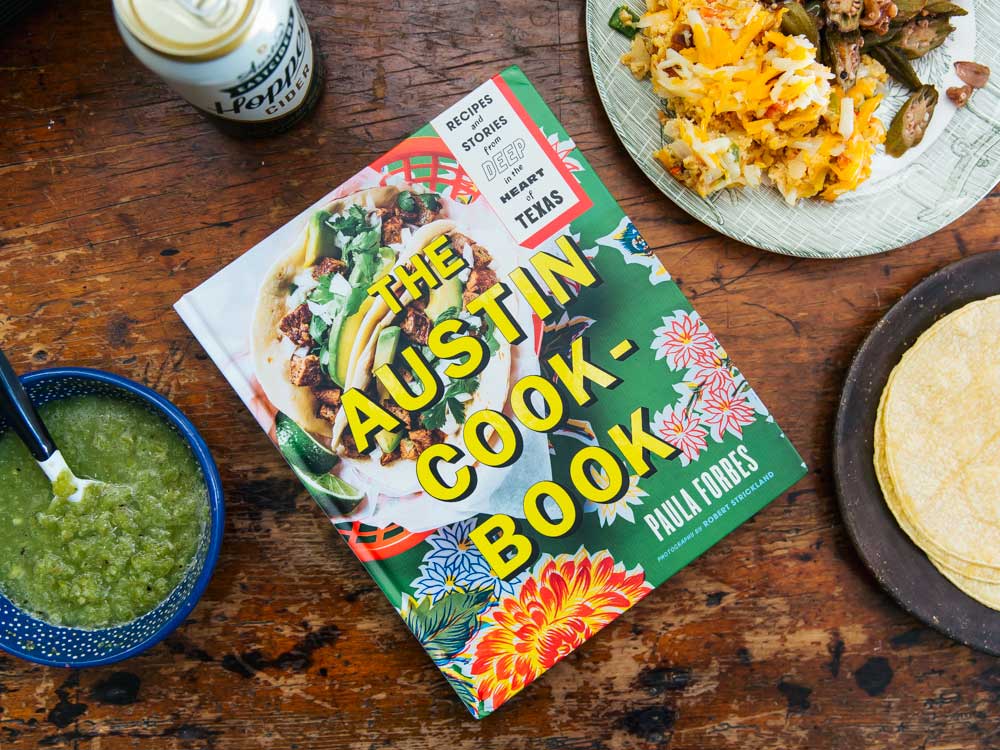 Culture
We're Cooking Through The Austin Cookbook with a Native Austinite
There's a lot to love about this city's food
When I tell people I'm from Austin, sometimes they think I mean I lived there for a bit in my 20's and then moved to New York, because why would someone from there leave such a great place? But I was actually born and raised there, so I completely get the pull Austin has over you. My first year in New York was rough. I had extreme fits of homesickness. I missed the slower pace, the backyards and porches, cheap beer, friendly people who say "excuse me" and not "get out of the way" when they bump into you, but I especially missed the food.
I've come to love a good bagel, but it just doesn't give the same kind of satisfaction—especially when hung over—as a good greasy breakfast taco does. "You mean a breakfast burrito?" You might be asking. No, California, I do not mean a breakfast burrito. Breakfast tacos are the lifeline for Austin, and are eaten at all times of the day. In Paula Forbes's great new The Austin Cookbook, she says "Austin takes breakfast tacos to the next level. They are both the building blocks of this city and one of its highest art forms." Truth.
Of course, the food scene in Austin isn't just breakfast tacos. There's great Tex-Mex, unbelievable barbecue, and good ol' southern cooking.
But there is even more than the obvious Texan staples like queso and jalapeno cheese grits. Austin has been hip and on the "best places to move" lists for as long as I can remember. It also has a giant university (Hook 'em). Those things combined bring in folks from all over the world, and with them their food. Austin might not be on par with New York on the range of diversity in food, but it's pretty darn close.
I know lots of people visit Austin for a long weekend or come stand in line during SXSW, but they probably don't get to experience the full range of culinary delights that are available in Austin. That's why I'm so happy that Paula's book has come out. It's a great collection of recipes that showcase the best of Austin. You have all the staples, like breakfast tacos and enchiladas with chile con carne, smoked brisket, and a recipe for Frito pie (my middle school lunch go-to). Then there are recipes that show how Austin and its growing population have influenced chefs around town, like a chorizo potato pizza, sweet potato nachos, banh mi tacos, and grilled quail with green mole. Paula also shares bits of Austin food history and breaks down what Tex-Mex is, writes about how to heat up non-fresh tortillas, (don't ever use a microwave), and even includes a helpful pantry list.
Austin might be the live music capital of the world and a little weird, but its food scene is quickly taking over as the reason to visit. And please, only visit; do not move there. Traffic is terrible. I've lived long enough in New York now that I no longer get upset when people are rude on the subway. But whenever I get a chance to cook migas for someone, I'm instantly chilled and laid back and happy to be from such a great town. Do not move there.