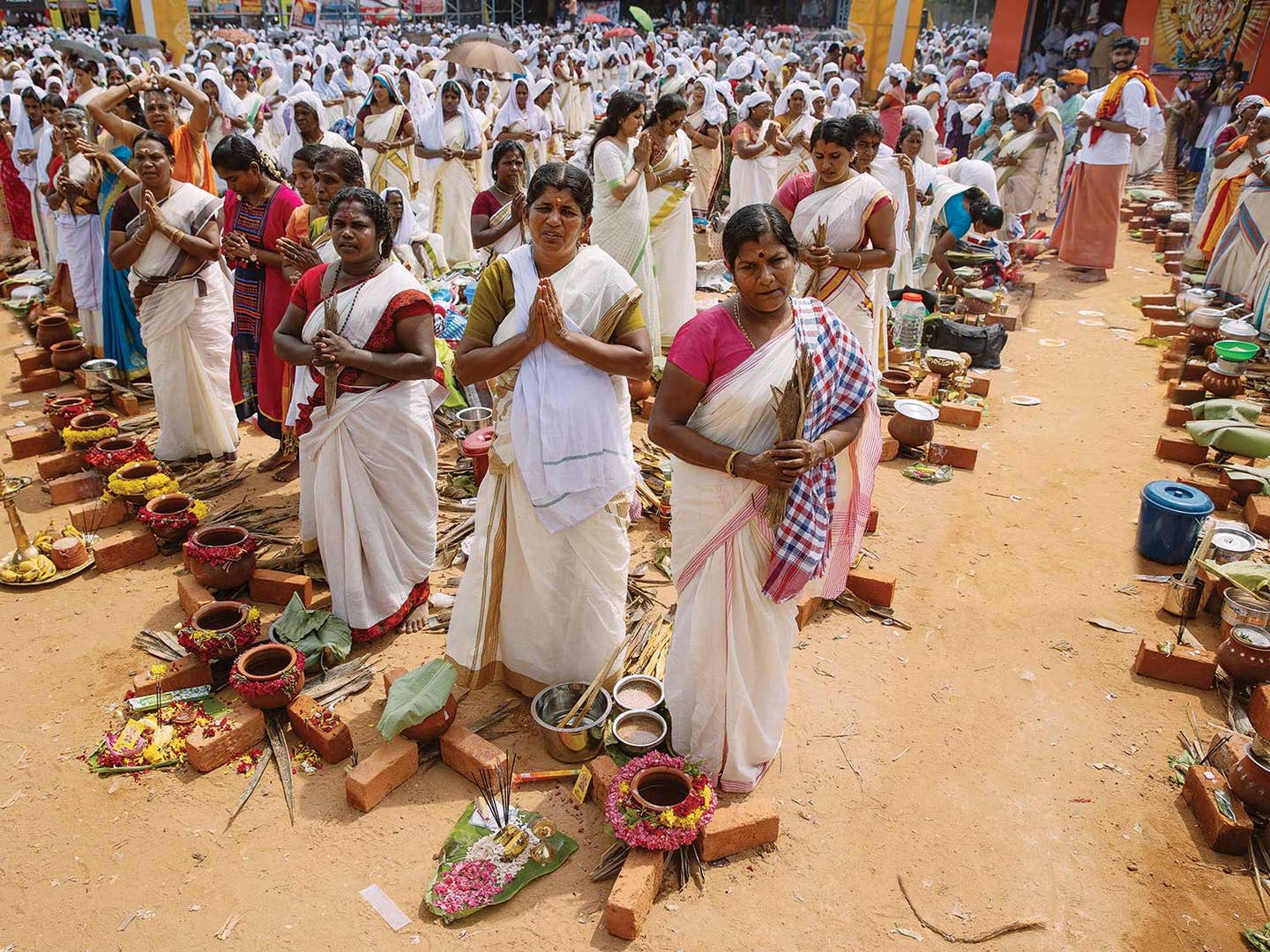 Travel
The Sacred Journey of Four Million Indian Women to Cook for Their Goddess
Once a year, millions of women leave their homes around Kerala to give a sweet offering of rice for their goddess, Attukal Amma
4:30 A.M. East Fort Neighborhood, Thiruvananthapuram
A railway platform, filling. Men at a fluorescent- lit window, yelling for coffee. A chai wallah dashing toward an idle train, his silver pail a tin moon floating across the tracks. Sleeping bodies lined up, linens swaddling heads, tiffins stacked next to shoes. A woman's voice, lilting and constant, announcing arrivals and departures in Malayalam, Hindi, and English.
The air is dense, a tropical film slicked across faces and windshields. The banyan trees are heavy with chatty birds.
Down the platform, the women gather. First in twos, then fours, and soon by the dozens. The bags piled by their feet are stuffed with weathered coconut tree bark, banana leaves, rice, and lumps of jaggery, every ingredient neatly wrapped in sheets of Hindi newspaper.
More women. More bags. More coconut bark. A sea of saris, purple, blue, green, and yellow bunching and overlapping against the darkness of early morning.
From down the tracks, a wailing horn, announcing the arrival of the 5:20 train to Trivandrum. The women shuffle toward the platform's edge, hovering so closely that the train brushes their garments as it slides into the station. Now a crush through the narrow door, a puzzle of bodies slipping past one another and into seats. Faces gaze out of second-class car windows, still and patient, some nodding with sleep. A straggler hurries across the cement, hitching up the hem of her skirt, and hops aboard. As the train lurches forward, another woman stretches an arm out a car door to receive a handful of coins from a man who skips alongside.
The train pulls out into the twilight, carrying the women closer to their goddess.
One day each summer, millions of women from all over Kerala pile into trains, cars, and buses and make their way to Thiruvananthapuram (or Trivandrum, as it was previously named by the British and is still commonly known) near the southern tip of India. They travel for Attukal Pongala, a 10-day festival devoted to the goddess Attukal Amma. On the pen­ultimate day, these women—at the very same moment—place millions of clay pots over millions of makeshift hearths, light millions of fires, and cook pongala, a sweet coconut rice porridge. This dish is a prasadam—an offering of food to the gods, consumed by the devout after worship—and it's one of the most ancient alms in Hinduism. Pongala, here, is sacred, and made only once a year.
It's said that Hinduism is a religion of 330 million gods, many of whom are worshipped regionally or called upon for specific needs. Bhadrakali (as Amma is also known) is a ferocious incarnation of Devi, a supreme goddess with many names and forms. Amma's followers, particular to Kerala, are so devout that they annually travel to offer their prayers and pongala in a massive ceremony that requires a wealth of resources, a city of organizers, and an implicit agreement among millions to maintain order. Though men follow her too, Amma's pilgrims are almost exclusively women, their daily duties and routines blissfully abandoned, ritually shed.
The result is a crowd with a population as large as Los Angeles, unspooled across the city, patiently awaiting the auspicious moment when each member will take up her matches, light a fire, and cook.
Kerala is called the Land of Parasurama—its existence mythically attributed to an avatar of Vishnu who cast his ax into the sea, from which fertile land rose. Since global sea travel has existed, Kerala has been an agriculturally vibrant port between the Arabian Sea and the Western Ghats, situated just along the spice route. For centuries, Babylonians, Egyptians, Romans, and Chinese all came through Kerala, followed in turn by the Portuguese, Dutch, and English. Over time, this little strip of Malabar Coast has absorbed far-reaching influences, keeping what it desired and discarding what it didn't.
Thus, Kerala has always been different. The language is different (Malayalam); the government is different (socialist, though Congress, a nationalist party, is currently in power); the food is different (spicier, lots of coconut). For centuries, the region's social structure was different: Until the early 20th century, many families—including the ruling class—practiced matrilineage, meaning heritage and bloodlines were passed through women. Until the British arrived, taboos of polyandry, divorce, and widowhood, effectively, did not exist. Today, women retain a level of visibility (though not equality) uncommon in most of India. Attukal Pongala is an annual manifestation of the unusual power they wield.
9 A.M. National Highway 66, Heading South Toward Thiruvananthapuram
A tea shack on the side of a two-lane highway. Dusty plastic tables. Black, black crows pecking crumbs. A blue tarp stretched across corrugated metal. An old man with ravaged toes selling lottery tickets. Another, reading the paper, smoking, glancing up at the dense passing traffic. Morning prayers drift from speakers, verses curve-pitched to the gods, trilling through the golden countryside.
Behind a row of steel pots, a man mixes chai, spindly arms moving in arcs, pouring long streams from pitcher to pitcher. He dumps the steaming tea into a row of glasses and hands them across, 10 rupees apiece. On the highway, cars weave around trundling tuk-tuks; a dozen horns mix with the prayers and the birds and the lottery-ticket-hawking men. Every bit of land that isn't colonized with a temple, a chai lean-to, or a fruit stand is lined with low brick walls hand-painted with advertisements and the Communist Party scythe and hammer. (Kerala was the first place in the world to freely embrace communism, in 1957.) Thousands of bananas—green and red and bruised mustard—hang like surrealist wind chimes from the eaves of every open-air shop.
A line of boxy vans and white Ambassadors—Indian cars that resemble 1950s-era American sedans—parades by the chai stand. They're filled with women. Coconut bark and crumpled newspapers are crushed against the hatch glass.
A man reclining beneath the café's sagging roof raises a finger to point. "Pongala," he says.
Farther up the highway, in front of a roadside shop, a flatbed truck is piled high with hundreds of unglazed clay pots resembling earthen fruits nestled in straw. A mound of hundreds more is spread across the road's dusty shoulder. A man in a purple shirt, head wrapped in white linen, hooks the pots up with his fingers, six at a time. His lined face perspires in the raw morning sun.
These pots, ready for market, are omnipresent and necessary at Attukal Pongala. Each woman will purchase a new one and give the bottom a flick, listening for a clear, solid chime that indicates sound structure and good rice to come. Made in Tamil Nadu, a state to the east where much of South India's agricultural production is based, the pots are a mainstay in every kitchen—a new one added to the stack every year. Some women will carry them along with their rice and jaggery to the festival; others will purchase one upon arrival in Trivandrum.
At a bus station farther south, braceleted arms, slender fingers, and gauzy scarves wave from each window of every bus—a fleet of many-armed creatures. More women pile into the pastel blue vehicles whose grilles are hung with chrysanthemums, flowers beloved by Vishnu, the protector god.
A woman hops off her son's scooter in the station lot carrying a shopping bag. She opens it to reveal small newspaper packages filled with rice and coconut bark, then slings it over her shoulder and boards a waiting bus.
4 P.M. East Fort Neighborhood, Thiruvananthapuram
The hardship these women endure is not a little," says M.S. Hema, looking out over her porch on the eve of the Pongala ceremony. "But they do it happily because they know it's for the goddess." A former English literature professor at the Maha­raja's Government College for Women, Hema—like most citizens here—sometimes hosts upwards of 30 pilgrims.
In 1997, 1.5 million women came. In 2009, 2.5 million came, and a Guinness record was awarded for the world's largest gathering of women. This year, the Attukal Bhagavathy Trust anticipates 4 million. According to Dianne Jenett, a teacher and researcher in Palo Alto, California, who came to study the phenomenon in 1995 and has been back almost every year since as a participant, Attukal Pongala is a tradition that spontaneously arose during an era when lower-caste citizens were not permitted to worship in or near temples. In rural areas, these "untouchable" or "unseeable" women, as they were called in Kerala, would perform ritual prayer—often culminating with pongala—in kavus, sacred places dedicated to local protector goddesses. Eventually, lower castes began to offer pongala for the higher castes, but today Keralan women of all social and economic backgrounds make the same offering to Amma in the same dusty streets, side by side.
The sun is setting over a neighborhood temple lake, and a dozen or so women gather beneath Hema's portico, quietly setting up individual hearths, which consist of three red bricks, ends pointed toward one another like campfire logs, ready to cradle a pot. Hema's guests travel from Mavelikara, a municipality 75 miles north. Christian churches and mosques also welcome the devotees, often providing water, bathrooms, and free lodging.
Some women arrive days before the ceremony to claim highly coveted spaces near or at the Attukal Bhagavathy Temple, but most arrive 24 hours or so before, colonizing whatever public space is available—in streets, over rail-station platforms, in parking lots. They cover the entirety of Trivandrum, dressed in crisp new outfits, calmly organizing their temporary altars. And then they wait. Finally, at 10:30 a.m. on the festival's ninth morning, a voice from the temple—broadcast over speakers spread across the city—will signal the auspicious moment. And all at once, millions of women will light their hearths and cook pongala for Amma.
They'll have carried with them a single bag filled to the top with all they need to make the offering. Dried coconut bark, red rice (rice whose husk is only partially removed, giving it a reddish hue), jaggery (unrefined coconut palm sugar, deeply sweet and the color of rich, wet dirt), grated coconut, banana leaves, and spices—cardamom, ginger, cinnamon.
And despite the camplike atmosphere, unrelenting heat, tired eyes, hungry bodies (fasting is common in the week leading up to Pongala), and massive clouds of smoke that will eventually billow from millions of small fires, the devout arrive year after year.
At Hema's house, one woman, herding a bright-eyed little girl, says she's been coming for 15 years. Renu Henry, a Christian from the Western Ghats, has attended for at least 18 years, evidence of Pongala as a phenomenon more complex than a religious ceremony. It's a celebration of "secular and human values," as Lekshmy Rajeev says in her book Āttukāl Amma. (Attendance is forbidden only to those women who are menstruating or who have had a close family member die in the past year.) In many south­ern districts of Kerala, the occasion has been declared a national holiday. Train fares are suspended for pilgrims. Men recede into the background, either remaining at home with the boys or quietly cooking for and chauffeuring their wives, mothers, and sisters. It's understood that everyone aids participants with whatever they might need—water, transportation, shelter—and that in providing it, they'll also be providing for the goddess.
5 P.M. Chalai Neighborhood, Thiruvananthapuram
A city overtaken. Stacks of orange bricks, a sea of clay pots, carts doing swift business selling red rice, jaggery, camphor tablets for fuel, banana leaves, and cardamom. A remix of "Beat It" glides above a snarl of tuk-tuks. Everywhere, everywhere the eye rests, women are summoning order to the streets. Hearths emerge along a pattern of sidewalks, courtyards, medians—a ghost camp unfurling.
Each trio of bricks has become its own small universe. Some are unattended, chalked with a name; others are orbited by burbling children tiptoeing over sleeping bodies, placid and dreaming amid the din of traffic. On one street corner, a blue-skinned Vishnu reclines. On another, a ferocious, iridescent Bhadrakali fans her arms. Technicolor spices and fruits are laid out at their feet, and speakers boom above with bhajan, devotional Hindu songs.
Along a commercial lane, a thin man in an orange mundu stirs a brass pot the size of a kiddie pool, his sinewy brown muscles straining with the effort. Inside, a small mountain of semolina rice—upma—steams, punctuated with carrots and green chiles. The thin man stops, smiles, and hands a palmful over on a banana leaf. In a plaza near the train station, more men sit cross-legged on straw mats peeling and seeding peppers, shelling beans, stirring pots. Their energy is distinct, slightly raucous against the throngs of solemn women.
All night, these men will cook, anticipating the moment when—pongala offered—women will break fast and line up for their first full meal in days, a provision given free of charge in temporary canteens all over the city. It's a simple reversal of roles, a submission to the millions of women who feed them daily.
7:30 P.M. Attukal Bhagavathy Temple
A line of thousands of women snakes across a grassy plain and up a dusty road, a human thread winding toward the temple. Hundreds of dusty, forlorn shoes are piled near a turnstile packed with thousands more bodies. Humidity clings to warm skin made warmer by anticipation and nerves.
Nearly 2.5 million pilgrims have waited for hours in the climbing and descending sun to enter the temple. Some cool themselves with makeshift fans; others shoulder drowsy little girls. None, though, appear impatient or disquieted. They simply wait to be in the presence of Amma.
At the temple doors a frenetic tingle ripples forward. As the women advance to the entrance—perhaps a hundred at once—hearts leap into throats and eyes become alert. Ushered through a massive set of doors flanked by pastel-colored deities carved into columns, their bodies become knitted together in one big wave of soft flesh, warm breath, and low, urgent murmuring. Guards gently guide the tide. The crowd pushes through the doors, into the inner sanctum, suddenly releasing into a loose delta. A cloud of cool air licks a hundred faces. A wave of inertia pushes forward toward the shrine.
And there, finally, in the candlelit dark is the goddess. Her hair is golden, filled with serpents. Her four arms are raised and clutching a trident, sword, shield, and chalice. She is nearly veiled with a curtain of flowers.
There's a sharp collective intake of breath. Her name passes from tongue to tongue. A jostle forward, and she is gone. The women amble out, dazed and ecstatic, smoothing hair and whispering to one another. Some purchase small paper bags of unniyappam, a prasadam of fried, sweet rice dough cakes, from temple vendors, and nibble dazedly.
The legend of the Attukal Bhagavathy Temple is told in various permutations, sometimes twisted up and conflated with other myths. The most common tale centers on a man bathing in the Killi River. One morning at dawn, during his regular puja (prayers), he sees a little girl alone on the bank. Concerned she's been abandoned, he takes her home to feed her, but she disappears. When he tells his family and neighbors about this mysterious apparition, they refuse to believe him. In a dream, Bhagavathy (a name that can refer to any number of goddesses in Kerala) reveals to him that she and the little girl were one and the same. In thanks for his devotion, she grants him a sacred piece of land on which to build her a temple. It's said that this is where the first shrine to Amma was erected.
From a simple wooden shelter, the temple has grown into an elaborate city-block-size complex of structures, one wrapped around another like a set of nesting dolls. It's here, every year, that the ceremony starts: A flame is lit, and the entire city becomes a sanctified kitchen.
March 11, 10:30 A.M. Attukal Bhagavathy Temple
The sun moves over the temple. A drum beats steadily. The crowd chants in unison, hands to hearts, eyes closed. The air is thick with humidity, and breath comes slow and shallow. The chanting—a prostration mantra—grows more urgent, quickening. Stories of Bhadrakali's vengeance are recited over loudspeakers across Trivandrum. The drums continue, steady and building. Firecrackers pop like a dozen Ambassadors backfiring.
Ululations rise in a single, pulsing thrum. Goose bumps spread over arms. One woman's face is streaked with tears, her arms pushing against the sky. A small girl hides in the folds of her mother's sari. Eyes turn upward toward a few puffy clouds. And then a shift.
Inside the temple, the flame has been lit.
The women stop chanting. They bend within their square foot of space and light crackling coconut bark. Men dodge between bricks to bring nearby devotees the flame. Matches spark, camphor melts, and the kindling catches. Smoke drifts in a silky sheet across the city. The women hover over their individual pots, watching for the water to boil. Once it does, a handful of rice is scattered carefully over top; care is taken not to let a grain touch the ground. Three more handfuls are added quickly in succession. Eyes watch pots, and when they boil, they boil over, a white, creamy foam creeping down clay walls, across dirt, cobblestones, crabgrass, and asphalt. Four million pots boiling at once. As soon as a woman's vessel bubbles over—a gesture necessary to satisfy the goddess—she stands, trills an ululation to the sky, and crouches back down to keep watch.
It's said that on this day Amma physically manifests and performs her own pongala in the streets among the others. She could be any one of these women praying, stirring, waving smoke from her face. And behind every pot, every gaze is met with a warm, placid smile. In this way, Amma is everywhere.
Up and down neighborhood streets, in the shade of porches, spilling over curbsides, women stir. Ash-scented haze has settled, and still the women stir. Somehow, a breeze snakes its way through the tangled maze of humans.
On one sun-dappled lane, a woman has set up 101 pots (an auspicious number) and dashes between them. "I wanted to thank the goddess for everything she's given me this year," she says. Beneath the awning of an optical shop, another worshipper has set up an additional hearth to cook unniyappam in dimpled trays bubbling over with ghee. The batter forms into small cakes almost as soon as it touches the spitting oil. Other women steam therali, soft green cinnamon-scented leaves filled with pats of gingery rice flour and jaggery, flecked with cinnamon and cardamom.
This moment, this hour of prayer, this blissful expression of devotion is awaited all year. "It's a loss of identity," says Hema, who completes her pongala under the portico of her home along with her dozen guests. "We come together, so many of us, and we lose ourselves together."
2:30 P.M. East Fort Neighborhood, Thiruvananthapuram
The afternoon dips into a sleepy lull. The streets are still, speakers finally unplugged and quiet. Stray dogs doze in ditches and sun puddles. After crowding around the open-air canteens, women slump on one another's shoulders, catching sleep after hours standing vigil. Four million clay pots, hot and burnished, have been covered with 4 million banana leaves. Crushed flower petals, pink and marigold and violet, flick along in the breeze. Ashes smolder. The city smells like an extinguished flame.
People appear from behind walls and peek out from front doors. The priest is coming to bless their pongala.
Like a troop of sentries, the women station themselves behind their hearths once more. Quickly, they straighten altars, shuck leaves from their pots. A procession of men parades by, led by a bare-chested priest in a shimmering gold mundu and scarlet flower garland. He sweeps along the street. As he passes, he dips a whip of butter-colored flowers, the size and shape of a pale jellyfish, into a bucket of rosewater and splashes it across the open pots. Pink musk and sandalwood incense swirl through the corridor.
When they disappear around the corner, the afternoon's hushed membrane is whisked away. Voices rise above a murmur and men appear in doorways. Hema offers her guests a taste of pongala from her fingertips. In turn, one of the women feeds her from a wooden spoon. Another unwraps a therali leaf, breaks off a piece of the steamy cake inside, and pops it into her neighbor's mouth. Each pongala has its own quality—some thick with creamy bananas and milky coconut, others electrified with nubs of ginger and wild cardamom.
But just as soon as palmfuls of the sweet, sacred rice are tasted, the warm clay pots are quickly wrapped with banana leaves and stowed deep in bags padded with newspaper. And like that, Attukal Pongala is over. The women sail out of courtyards and lanes, into the streets, bags atop heads. A peaceful army marching toward home.
By car and train and pastel blue buses, they trek back toward cities and villages, back to families they will feed from these millions of sanctified clay pots. The lighting of fire, the scattering of rice, the return of the devout—this will sustain Amma and her people for the next 364 days.
Special thanks to Dilip Vasudevan of Evergreen Holidays in Kerala, India and Leica for providing the Leica SL for shooting video footage and photography.