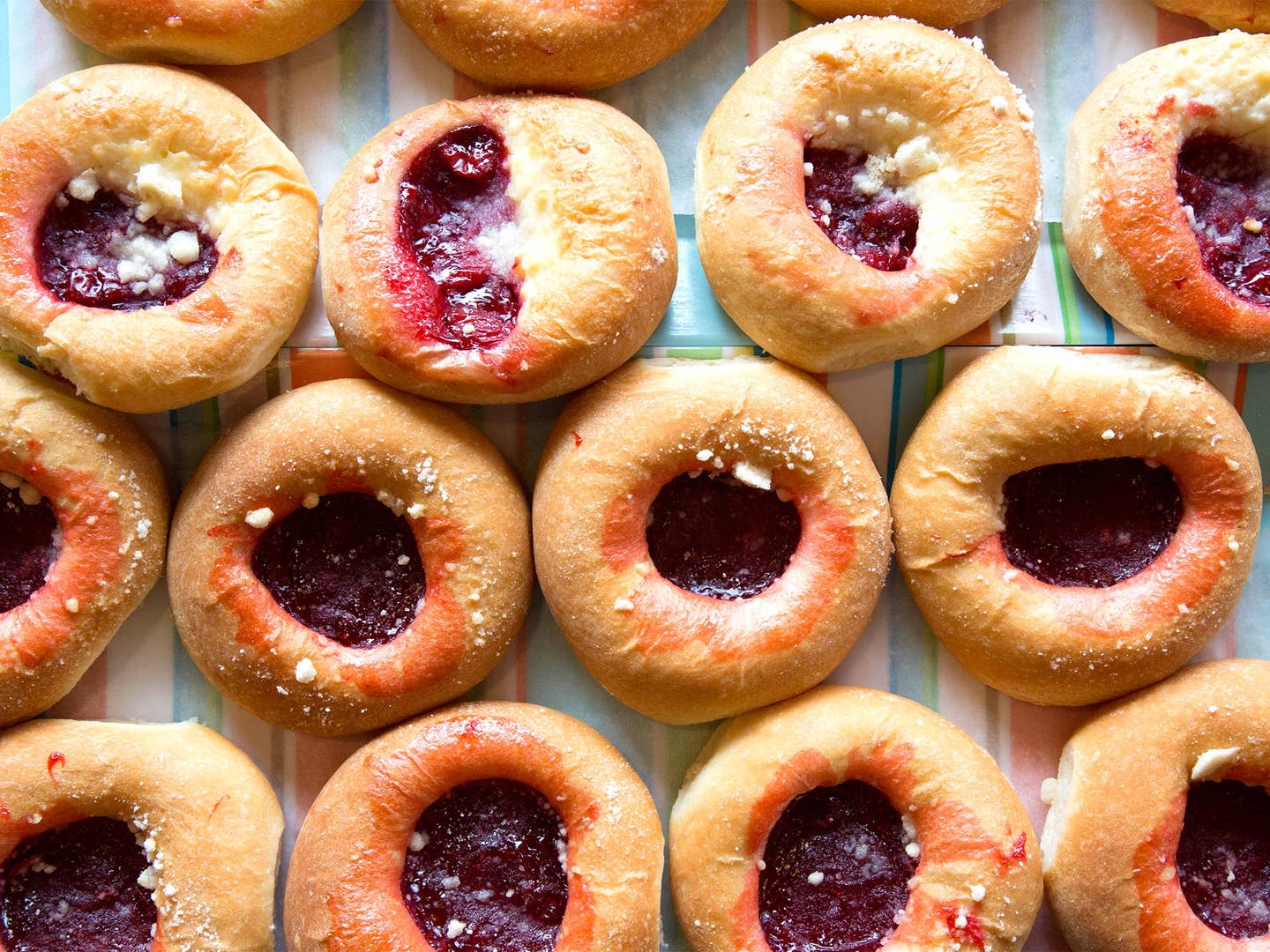 Travel
Kolaches Are the Texas Breakfast Staple Worth a Trip to the Lone Star State
How the traditional Czech pastry became as quintessentially Texan as smoked brisket and pecan pie
On my second day living in New York City, I woke up hungover and hankering for something doughy and delicious. Naturally, I asked my then-roommate, a native San Diegan, if he knew where I might find a simple kolache in Manhattan. "A who?" he asked, bemused. "No really, I'm super hungry. Where are the kolaches around here?" I persisted. It didn't seem to register.
If I ever had a we're-not-in-Kansas-anymore moment after moving from Houston to NYC seven years ago, this was definitely it: realizing that the kolache (pronounced koh-la-chee) of my childhood—with its pillowy, yeasted dough encasing fillings both sweet, like fruit jams, and savory, like sausage, cheese, and jalapeños—would no longer be a morning tradition. I resigned, reluctantly, to a too-stiff-to-chew bagel layered with toothpaste-textured cream cheese and a weird sashimi-like fish I'd never before encountered. (For the record, I've since warmed up to the whole lox-and-schmear thing.)
But seven years later, for every cold brew I chug and Cronut I wait on (not in) line for, my early-morning palate remains 100% Texan. I yearn for breakfast tacos with scrambled eggs and chorizo, and the kolaches that could be found at every school fair or football game. In their absence, I began to dig into where kolaches come from and why it's so difficult to find them outside of the Lone Star State. The answer, as with much of Texan cuisine, begins with the arrival of immigrants and their traditional foodways.
Brought to Central Texas and areas of the Midwest by Czech families in the late 19th century, kolaches seamlessly entered the food culture of rural communities, perhaps the most famous being the small town of West, Texas, in what is today known as the Czech Belt. At first, the pastries stayed true to those of their homeland, then Bohemia and Moravia: circular rounds of sweet dough nestling fillings of preserved fruit and even cabbage zipped with sugar, salt, and pepper.
Over the next century, a new Tex-Czech hybrid category evolved, making use of local ingredients like dewberries and prickly pear, yielding riffs that are still made by the Czech-American community today. I was surprised to learn that it was only in more recent years, however, through the rise of doughnut-bakery franchises like Shipley's Donuts, Southern Maid, and the Kolache Factory, that savory versions with spicy sausage, ham, or chorizo begin to emerge under the umbrella of "kolaches," when in reality, you'd never find a meat-filled kolache in the Czech Republic.
For Dawn Orsak, Austin-based kolache authority and blogger behind the Tex-Czech food blog Svacina Project, classic kolaches are a window to her family's rich Czech heritage. "Baking kolaches, writing about kolaches, and promoting their traditional way of being made is about identity," says Orsak. "It connects me with my ancestors and a community that my parents, grandparents, and great-grandparents grew up with."
She emphasizes that while she's pleased kolaches have gained such notoriety, it's important to remember their history and celebrate the authentic methods of preparation. "Chorizo kolaches are fun, but ultimately if that's all a non-Texas-Czech audience is presented with, it's ultimately just going to dilute the traditions," she explains, adding that kolache shops hawking newfangled versions should also consider offering staples such as prune and poppy seed.
The savory, pig-in-a-blanket–style renditions, which I'm admittedly partial to, more closely resemble klobasneks, Czech pastries with meat wrapped in flakier, more buttery dough than the one used to make kolaches. Whether the savory kolaches of today are a hybrid of the two, or a wholly Texan creation is unclear even to Orsak. "I had a relative who says she started wrapping individual sausages in dough to feed the people who were working on her farm, but Village Bakery out in West, Texas also lays claim to the Texan klobasnek."
Morgan Weber, co-owner of Agricole Hospitality (Revival Market, Coltivare, Eight Row Flint), says he grew up eating both with his grandmother. "Being from a central Texas Czech-German family, they were always around," explains Weber. "Until the 60's, my grandmother baked her kolaches and klobasneks in a wood-burning oven. They are still the best I've ever had."
Today, you'll more often than not find both the tried-and-true Czech kolachs offered side-by-side with the klobasnek-esque hybrids—usually under the same name. Often served as breakfast, their grab-and-go quality has also earned them popularity as road-trip fare, with Czech and German bakeries dotting the highways that link Dallas, Austin, San Antonio, and Houston.
"Kolaches are a shining light in the great state of Texas," Underbelly chef-owner Chris Shepherd says. "Whether they come with link, patty, boudin, or fruit, they are all delicious." We couldn't agree more. Yet, despite food media's waxing poetic about them—the Today Show even heralded them as a "food we'll be craving in 2015"—, kolaches remain largely confined to the South and Midwest.
"They're a regional state food, so it seems unfair to expect them to go viral nationwide," explains Orsak. "Still the fact that some place like NYC has Czech restaurants but no kolache bakeries, while Texas has kolache bakeries but no Czech restaurants, is interesting." On a much smaller scale, Orsak says she is ecstatic to see that the food revolution of the past two decades has inspired the next generation of Czech-Americans to learn how to make them, whether at the many kolache festivals in Texas or through community bakes at local churches.
Weber, on the other hand, is more optimistic. "If there are made right, they are immediately lovable," he says. "I'm seriously convinced that kolaches will have their day outside of Texas and the Midwest. It will just take some time." For the sake of my mornings, I certainly hope so. But till then, I'll be cherishing every chance to take a drive back home and get my fill of kolaches on the open road.