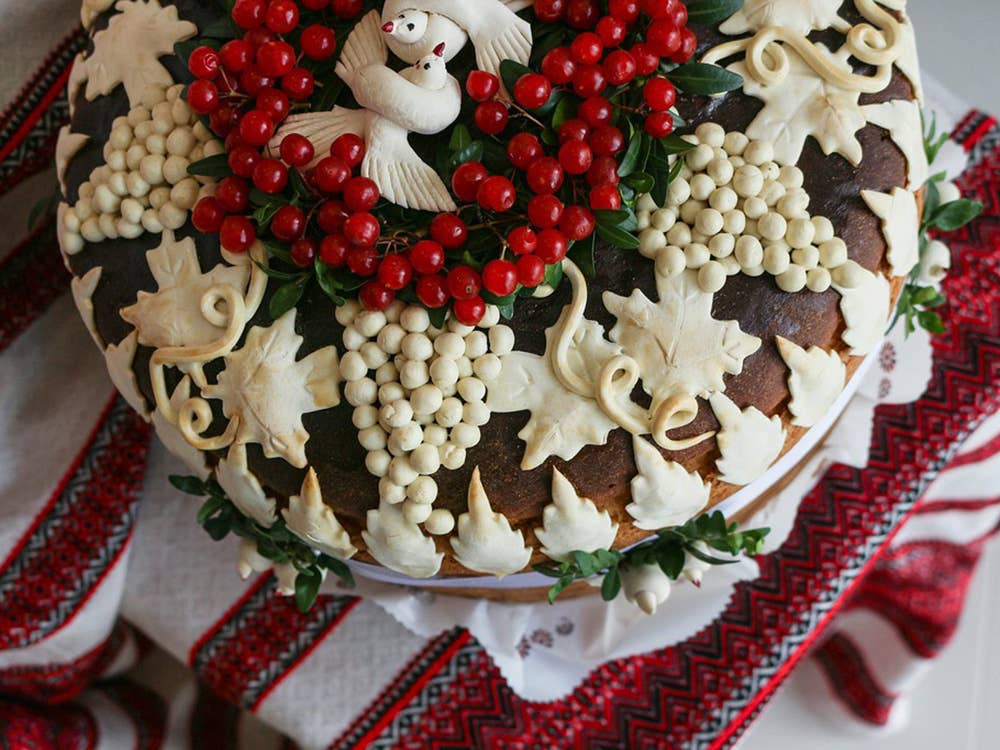 Travel
This Elaborate Ukrainian Bread Is the Wedding Dessert We Didn't Know We Wanted
In Ukraine, a traditional bread called korovai, not cake, is the talk of the wedding
In a warm, well-lit corner of the Kyivkhlib factory in Ukraine's capital, Oksana's fingers move rapidly, piecing together bits of dough to form a perfectly shaped flower. Along with ornate branches and birds also made from dough, the flower will be used to decorate a korovai, a traditional Ukrainian wedding bread.
Hours of meticulous labor, all done by hand by bakers like Oksana, go into crafting a single loaf. Each decoration is steeped in symbolism: the pair of birds typically found on top represents the couple; braids celebrate the intertwining of their families; and flowers, pine cones, grapes, and periwinkle vines are harbingers of beauty, fertility, wealth, and eternal love, respectively.
Dating back to pagan times, korovais can be found across Eastern Europe, but there is a deep reverence for them—and for bread in general—in Ukraine, especially because of the Holodomor, the mass famine that occurred under Soviet rule in the early 1930s. While it's trendy for couples to also have a wedding cake these days, it doesn't hold the same significance as a korovai. On the day of a wedding, the starosty (elders), who are usually close friends or family members, carry the korovai into church and hold the loaf during the ceremony. The bread then serves as a centerpiece at the wedding reception and is divided among guests at the end of the evening.
"Cakes are pretty, but people have also started to want Ukrainian traditions more," says Yuliya Duchenko, the factory director at Kyivkhlib. Founded in 1930, the bakery is Ukraine's largest producer of sweet breads and holds the record for the tallest korovai in the country at 1.8 meters (nearly six feet).
Over the last seven years, Duchenko has witnessed a resurgence in demand for korovai, and not just at weddings. Ukrainians are ordering them to celebrate birthdays, anniversaries, and children's first day of school. "Tastes are changing, and for us it's very pleasant because weddings don't take place every day," she says. Last year Kyivkhlib received 3,000 orders for one of its simpler designs.
With the uptick in orders, Ukraininans are embracing the historic tradition while allowing the breads room for modernization, with one exception. An old-school superstition persists that korovai makers pass on the fate of their own marriages through the sweet loaves. According to Duchenko, clients call to ensure that only married women with children will be baking and assembling their korovai. Divorced women and widows traditionally didn't participate, explains Iryna Muryn, a korovai maker in the western Ukrainian city of Lviv who bakes and sells close to 150 loaves a year.
Muryn learned about korovai traditions long before she began baking them herself: as a student in the 1980s, she traveled to different villages in Ukraine, interviewing older women about their versions of the wedding bread. "It's so varied," she says, recalling how the bread's designs and customs are unique from region to region and family to family. "For me, it's very important that the korovai be well baked, be special. And when you know the people [personally], it's much easier," says Muryn. "I always have a thought that if I bake it badly, it could hurt the couple."
It's an experience shared by Olya Nalyvaiko, a korovai maker in Lviv who has been baking for decades and has even seen her breads displayed at Ivan Honchar Museum, a culture and folk art museum in Kyiv. Nalyvaiko prefers not to accept money for her korovai and instead only bakes them for friends and family. "A korovai is happiness for the couple," she says, which is why she takes the intimate task so seriously. Her process for making each loaf, which includes using holy water in the dough and singing traditional songs as she works, takes up to three days from start to finish. "There isn't anything harder to bake than a korovai," she adds.
While newfangled korovais shaped like hearts or decorated with fondant have dominated social media in years past, classic designs are beginning to make a comeback. "People globally are ordering more traditional korovais with beads, birds, grapes—exactly what my great-grandmother was making," says Nazarii Napora, a rare male korovai maker who owns a bakery with his wife Mariya in Lviv.
Napora acknowledges that it's "very unique that a man and his wife make korovais together," but is proud of their success. Last year, the couple produced 352 two-tier korovai, 130 single-tier, and 190 other breads for blessing, with customers ordering from as far away as Italy and Portugal. Orders are spiking this year for the summer wedding season, and some have already been called in for October. Before baking each loaf, they start by saying a prayer in the warm kitchen that Napora jokingly refers to as their "free sauna." "We honor bread; we have to teach our children this, too," he says. His young son is already learning how to bake.