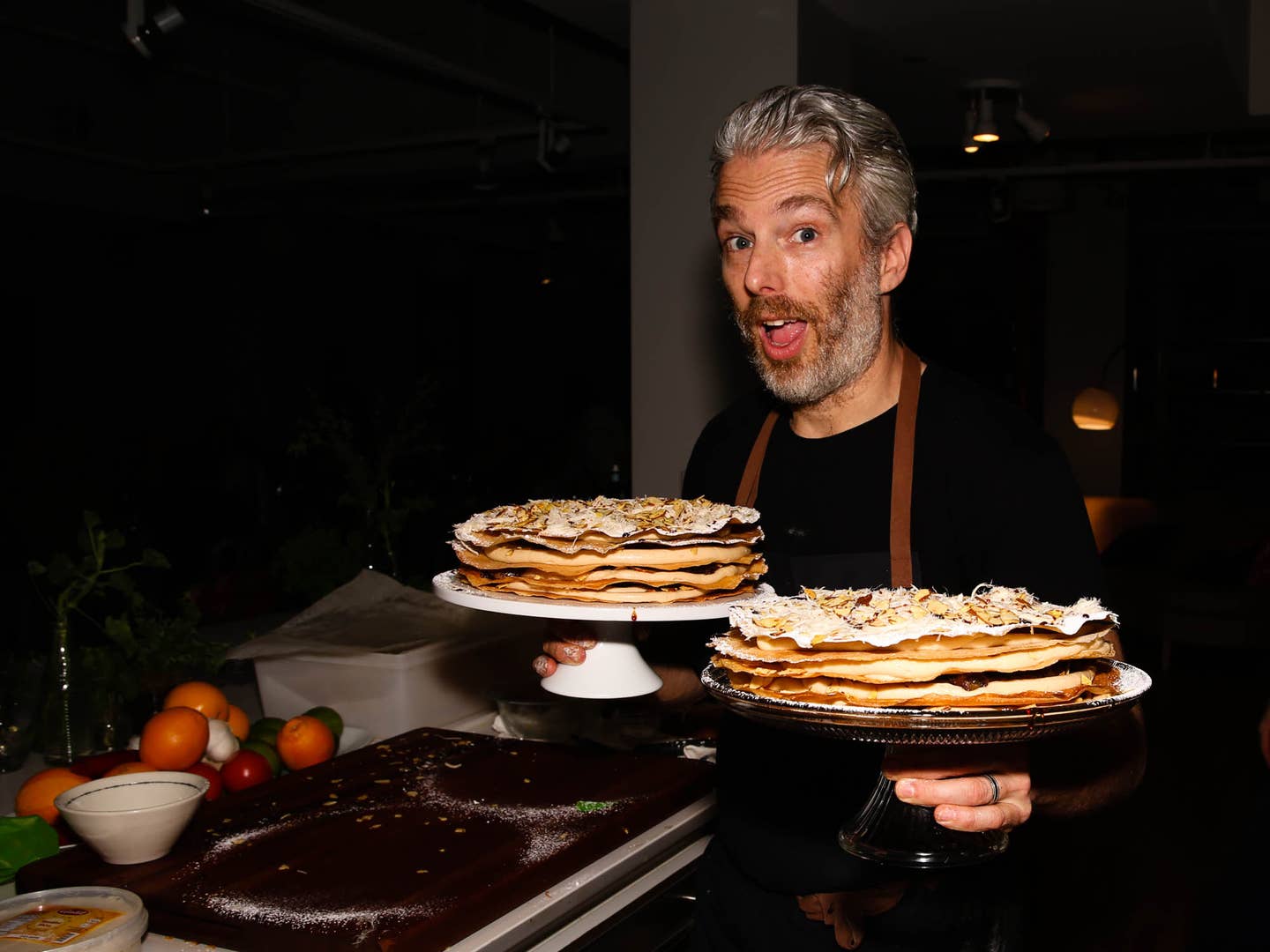 Culture
Chef Lior Lev Sercarz Says You Should Pair Beer With Your Food
The spicemaster took over our test kitchen at our latest Saveur Supper to delight our tastebuds with spices inspired by Goose Island beers
La Boîte chef Lior Lev Sercarz's takeover of our test kitchen was basically one big experiment into the world of pairing beer with food. "Beer is not reserved for happy hour," Sercarz said to the room. Sercarz, who quickly gained fame for creating spice blends that are now used in restaurants across the nation, said Goose Island first approached him to collaborate on an idea that would bridge the gap between beer and food.
"Somebody said, 'hey, there's beer,' and I was in," Sercarz said.
We started the night with light bites like lamb koubeh and pizza-flavored popcorn, and Goose Island's sour beers that had been aged in wine barrels with different flavors like strawberry and peach. Then we moved onto the first course, which included a turnip and chickpea salad and a nigella challah. "Don't you dare put a knife into that challah," Sercarz said before everyone dug in. "It's an insult to the world of bread. By all means, rip it." All the dishes in this course included a spice inspired by the Goose IPA, which we sipped alongside our plates. For the second course, along with our IPA, Sercarz whipped up a cilantro seafood stew, complete with tomatillos, pickled jalapenos, and artichokes.
Sercarz said he instantly discovered that spices and beer work well together because of the acidity, but he said the point was never to cook with the beer. Instead, he tasted popular Goose Island Beers, like the reserve Bourbon County Stout, and brainstormed flavor ideas. His natural inclination from the stout was to create a spice for mole, but instead, he kept marinating on the idea and came up with a cocoa powder, sesame seeds, all-spice and chile blend inspired by that he used to braise short ribs surrounded by grilled oranges.
The spices Sercarz created are now used in all Goose Island pubs worldwide, and they come with no instructions for chefs on how to use them or what to make with them. Because of that, chefs in each of the pubs have created vastly different dishes, all that pair well with different Goose Island beers and are inspired by the brews themselves.
"The way I see spices is the way I see a spoon," Sercarz said. "It's a tool, and my goal in life for the last seven years has been to give that message."
Throughout the meal, Sercarz encouraged guests to taste different beers with food from other courses, and to give him feedback on what worked and didn't, and even tried the pairings out for himself. He explained that he never plans out a menu in advance, but instead uses the spice to create a dish based on how he's feeling that day.
"Well I'm glad you were feeling good today," a guest from the table chimed in.
The spice for the dessert, Sercarz explained, was the easiest to create because it already had natural citrus, sweet undertones. We ended the evening with a dish inspired by the Sofie Belgian Style Farmhouse Ale: slow-roasted pears and Sercarz' adaptation of a mille-feuille, made with brick dough, and topped with cinnamon sugar and halva.
By creating unexpected flavors drawn from innovative beers, Sercarz is hoping to change the game by encouraging more people to cook with spices and pair food with beer, and he certainly left that impression on our table.