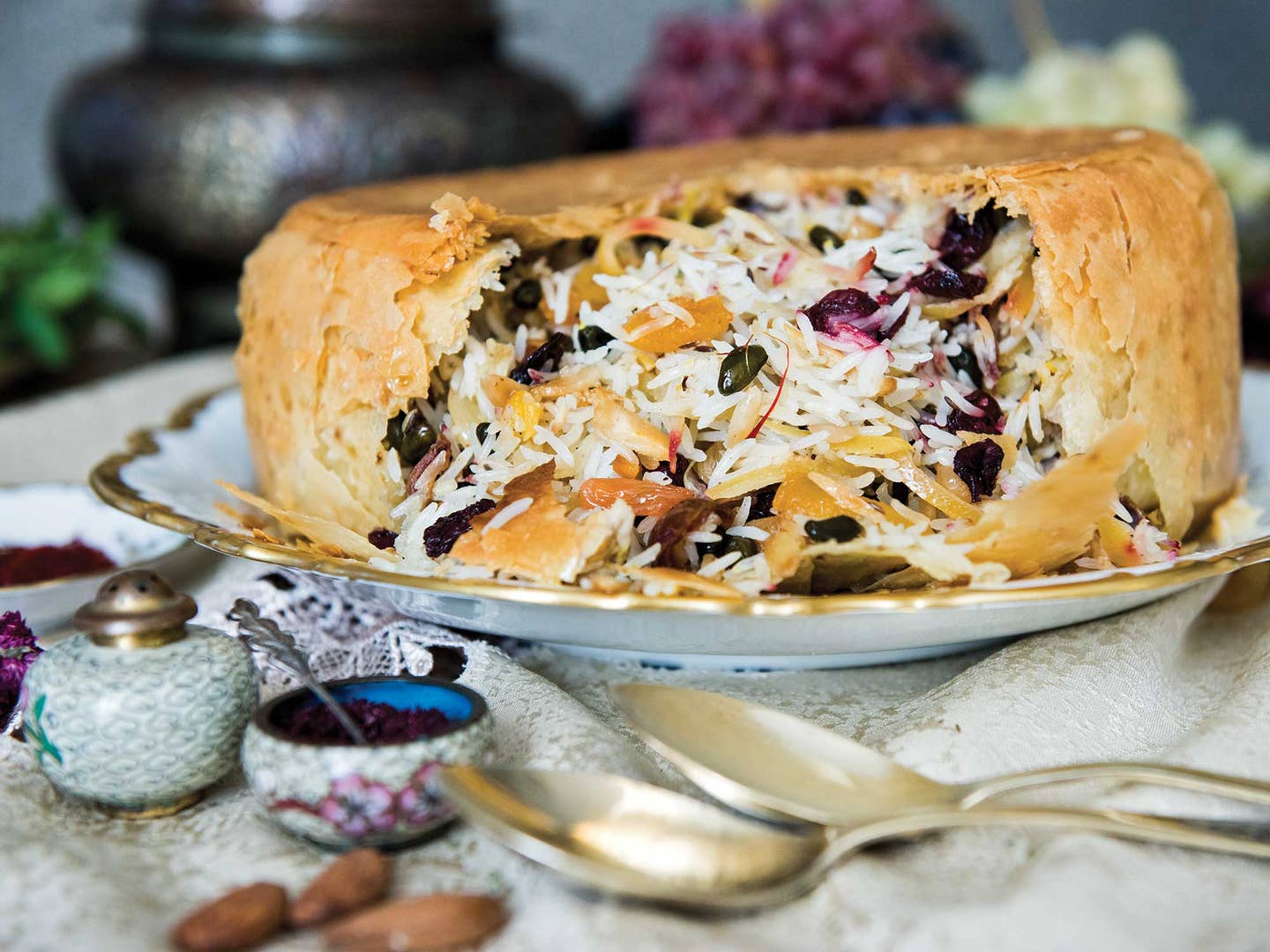 Culture
A 6-Ton Pot of Rice in Uzbekistan is About to Enter the Guinness Record Books
On September 8th, over 150 cooks in Tashkent will team up to make the world's largest pot of plov—and they've already done a practice round
If you've never had a nice plate a plov, now's a good time to check out the last-minute airfare to Tashkent, Uzbekistan, where the good people of Olmaliq probably have some leftovers. Uzbekistan Today reports that a group of 150 people, including 50 nationally-renowned plov chefs, gathered to serve a six-ton pile of the rice dish to 22,000 people. And that's just the practice round for a similarly epic attempt slated for September 8th, wherein the Olmaliq Mining and Metallurgical Combine will go down in the Guinness Book of World Records as the site of the world's largest plov ever made.
What's plov? I'm so glad you asked. The national dish of Uzbekistan, plov (also spelled 'palov,' and yes it's culino-linguistically similar to 'pulao' and 'pilaf' and lots of other spiced rice dishes) is a fabulist feast of rice seasoned with any or all of the following: assorted mammal chunks (beef, sheep, horse if you have it on hand), onions and carrots, sweet dried fruit such as raisins and barberries, legumes like chickpeas, whole quail eggs, and a fistful of spices including wild cumin and, often, saffron. Traditionally cooked in a curved cast iron pot called a kazan over an open fire and lubricated with sheep tail fat, it's a hearty edible heartthrob that's a source of great pride among Uzbeki cooks. For more, I refer you to this Russian blogger's recipe, which I say with no hesitation is the greatest blog post to ever grace the internet.
Anyway, back to Olmaliq. A three-ton furnace was assembled to heat the one-meter-deep, four-meter-wide, pot used to cook the plov, Uzbekistan Today notes. In it the team of cooks mixed 1,650 kilograms of rice with 826 kilograms of lamb, another 826 kilograms of lamb fat, 480 kilograms of salt, and 4.5 kilograms of cumin, among other ingredients. It took a full day and night to make the practice dish—not bad for something that feeds 20,000 people.
If you're having trouble scaling down those amounts for a plov of your own, well, the SAVEUR test kitchen has yet to work out an Uzbeki plov of its own, but do take a peek at this versions from Afghanistan, Iran, and Azerbaijan. The spices and add-ins may change, but they're also probably delicious cooked in a 7,000-kilo pot and stirred with shovels.
Tune into Milliy TV on September 8th for the broadcast of the record-breaking plov, which is scheduled to happen during O'zbegim, a festival of traditional Uzbeki culture.