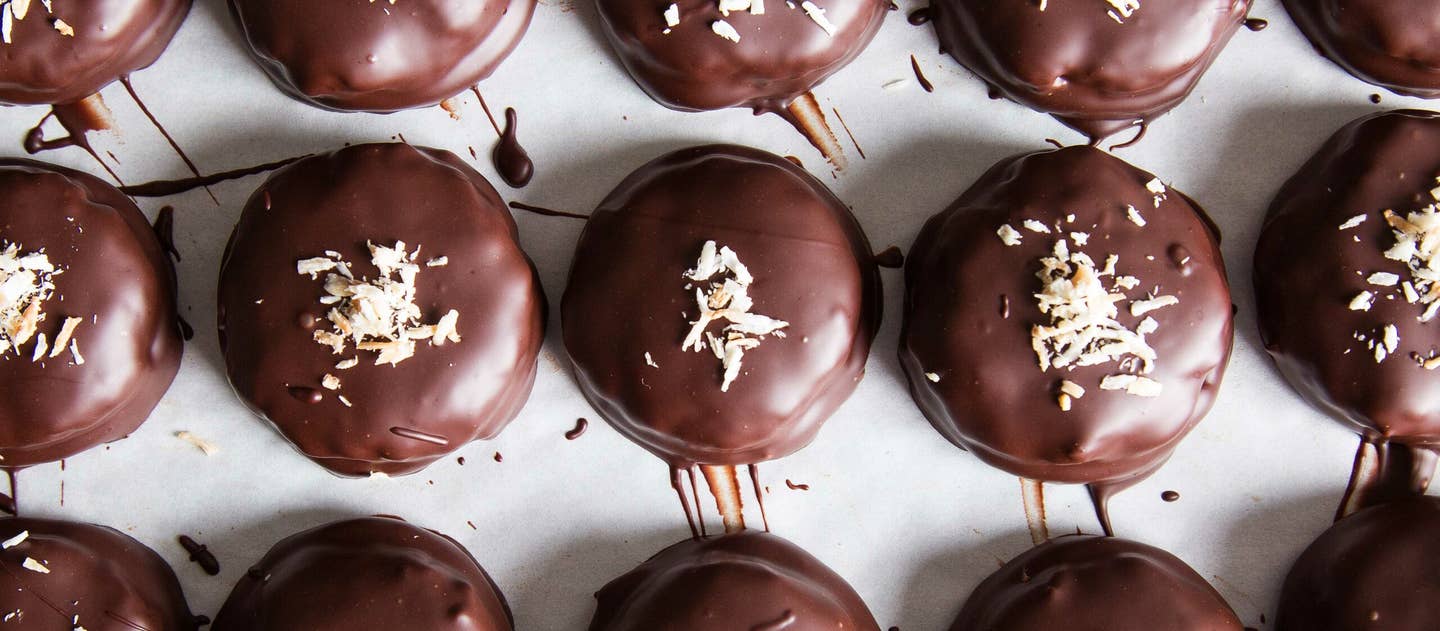 Culture
The Willy Wonkettes of Industry City
New York's Liddabit Sweets pushes the limit of the craft candy bar
"We wanted to be a different chocolate shop," says Jen King, who co-founded Liddabit Sweets with Liz Gutman in 2009. "The U.S. has a lot of interesting American candies, and we wanted to focus on that."
Liddabit's founders are classically French-trained chefs, and they pay the same attention to ingredients as the most stringent craft chocolate-makers, but they've applied that focus to something far more approachable. "From the beginning," Gutman notes, "candy bars were the cornerstone of the business." For most chocolate companies, bonbons and truffles are the safe bet, King and Gutman didn't want to stick to safe.
"We want Liddabit to be an American candy company," King says. "We want to have fun. Candy is fun, but so many chocolate companies take themselves really seriously. We take our work and our business seriously, but we don't take ourselves too seriously."
King and Gutman make the familiar candies of the former five-cent era: marshmallows, popcorn, honeycomb, peanut butter cups, and caramels. But their company was built on the Snack'R, a candy bar with roasted peanuts, caramel, and chocolate nougat all coated in dark chocolate. (Think a Snickers, but less sweet and with way more going on.) "I'm from Ann Arbor," King says. "So I have Zingerman's Deli, and they had been doing candy bars since I was a kid. I remember nothing made my day brighter than a candy bar," King recalls. "So I thought, 'Why don't we try to recreate a Snickers?'" It took six weeks to perfect the nougat alone, but when you crack through the thin chocolate coating, your teeth find what can only be described as a chocolate cloud. The nougat is rich and soft—but light—and not overly sweet. A single bite is all the proof you need that candy can be fun and delicious, and that Liddabit Sweets has it all figured out.
Liddabit has a storefront in Chelsea Market, but their home (and production facility) is in Industry City, a six-million square-foot manufacturing district housed in a 120-year-old building in Brooklyn. On a recent visit, a hot air popcorn maker popped puffed corn kernels into a bowl in one room while a radio (somewhere) played Motown. In another, a stream of thick chocolate cycled through a yellow Gami Pro Bake machine that, I later found out, lights up like an arcade game. And in a third, a squat orange machine with more parts than a rocket ship was threaded with wax paper. The machine (named George) was off, but the flip of a switch sets it to work mechanically wrapping caramels, which leaves King and Gutman more time to "get back into the wading pool of creativity," as King says.
"We swore up and down that if we started a business it wouldn't be for many years," says Gutman. She and King wanted to travel after school, and take that opportunity to learn under different chefs. "Even if we did start a business after a number of years," Gutman remembers thinking, "it would never be in food. And even it was in food it would never be in New York City. Because what kind of dumb-dumb does that?"
"When we first started we had all these ideas for candy bars," King says. "But when you start to run a business you start to realize there's more to it than just coming up with products all the time. You have to sell them."
The Snack'R and Liddabit's other candy bars, sell for $9 apiece. For those that don't want to make the commitment (either to the price or a whole bar), King and Gutman have introduced Lidda-bites, a two-bite candy bar. "We want to bring the candy bar experience into a small format," says Gutman, "but still convey the same amount of care that went into every single piece."
The discipline from a French-lead culinary program was apparent when King measured and cut one-inch Snacker squares (with a ruler) and lined them up on a full sheet pan with machine-like precision. From there they were dropped into a bowlful of tempered chocolate and, with a practiced flick of the wrist, spun around with miniature pitchforks until they were perfectly coated. Michelle Miller, an employee at Liddabit and fellow French Culinary Institute alumni, stood opposite from King—mirroring her—and, together, the two completed a few dozen Snacker Lidda-bites in a matter of minutes. But not before one half of a hand-split peanut was placed onto the top of each Lidda-bite as the finishing touch. It felt like a culinary school demonstration. But Jackson Five was playing, the room was yellow, and laughing was encouraged.
"Lidda-bites will allow people to try smaller bites and different flavor combinations without having to invest $40 on four different candy bars." Lidda-bites, $22, come eight to a box. "It sounds super cheesy," Gutman says, "but our whole thing is bringing joy to people, and to be able to do that for more people is a win win for us."