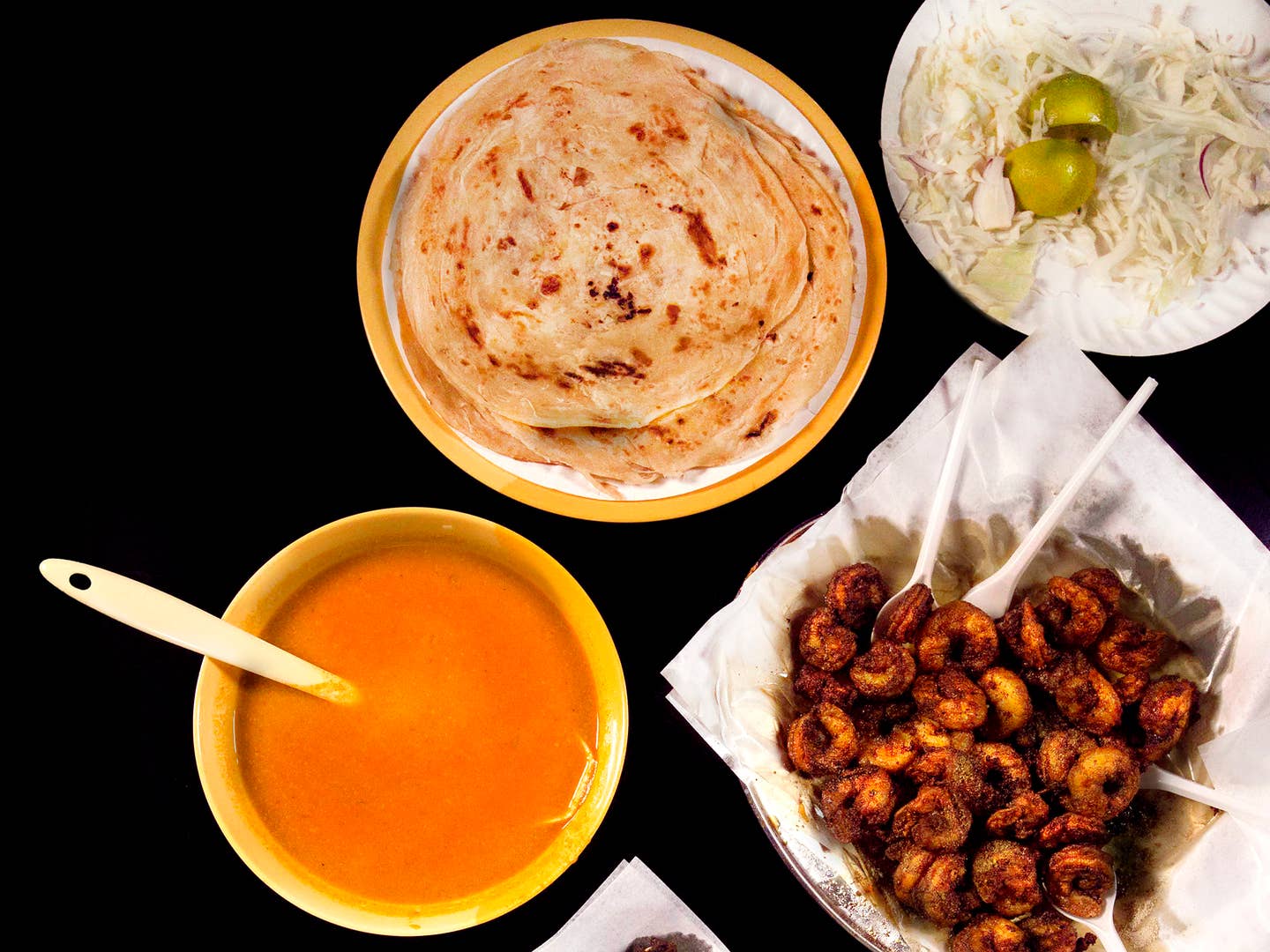 Travel
Lunch in the Shadow of the Burj Al Arab
Bu Qtair, a restaurant on Jumeirah beach, serves fresh seafood to eager diners
On Jumeirah beach, across the bay from the Burj Al Arab, the so-called 'world's first 7-star hotel', sat an unassuming double-wide trailer. Under a small hand-scrawled plywood sign that read "Bu Qtair," queues wove through the door, snaking up to a small window where a burley man stood in front of a pile of fish slathered in yellow-tinged marinade. There was no menu, just a hand-scrawled list of the two fresh fish available that day and the price per kilo. Eager diners would point and order their fish and some prawns before turning back to find an empty seat at one of the few plastic tables squeezed in the space.
Within 15 minutes, a plate of flash-fried fish and prawns slathered in a mustard-oil marinade would be delivered along with a plate of chopped vegetables, two small dishes of curry sauce, one vegetable, one fish, and a 
plate of steamed rice or pieces of thin chapatti bread (depending on the day and the mood of the cooks). The addictive dry heat of the South Indian mustard oil played perfectly off of the sweet flesh of just-caught seafood, justifying the long queue and lack of ambiance.
Recently, after more than two decades, the trailer was shuttered. Loyalists mourned and when a shiny new location across the street was unveiled, 
the food lovers of Dubai collectively groaned, wondering if the
place had been sanitized and gentrified beyond recognition.
The queue returned, winding from the parking lot through the mirrored door, under the branded, well-lit sign, between the proper tables that had replaced the mismatched plastic ones, all the way to the back of the cavernous space, where the gruff old fish slinger took orders from another small window, the morning's catch scrawled on a sheet of paper tacked to the wall beside him.
Workers, tourists, and locals who longed for the mellow burn of the crisp prawns and the spicy tang of the malabari curry filled the communal tables set with plastic cups and water pitchers. Grease-stained plates came and went.
Bu Qtair (Near Burj Al Arab, Opposite Fishermans Accommodation) Street 4D, Umm Suqeim, +971 5570 52130