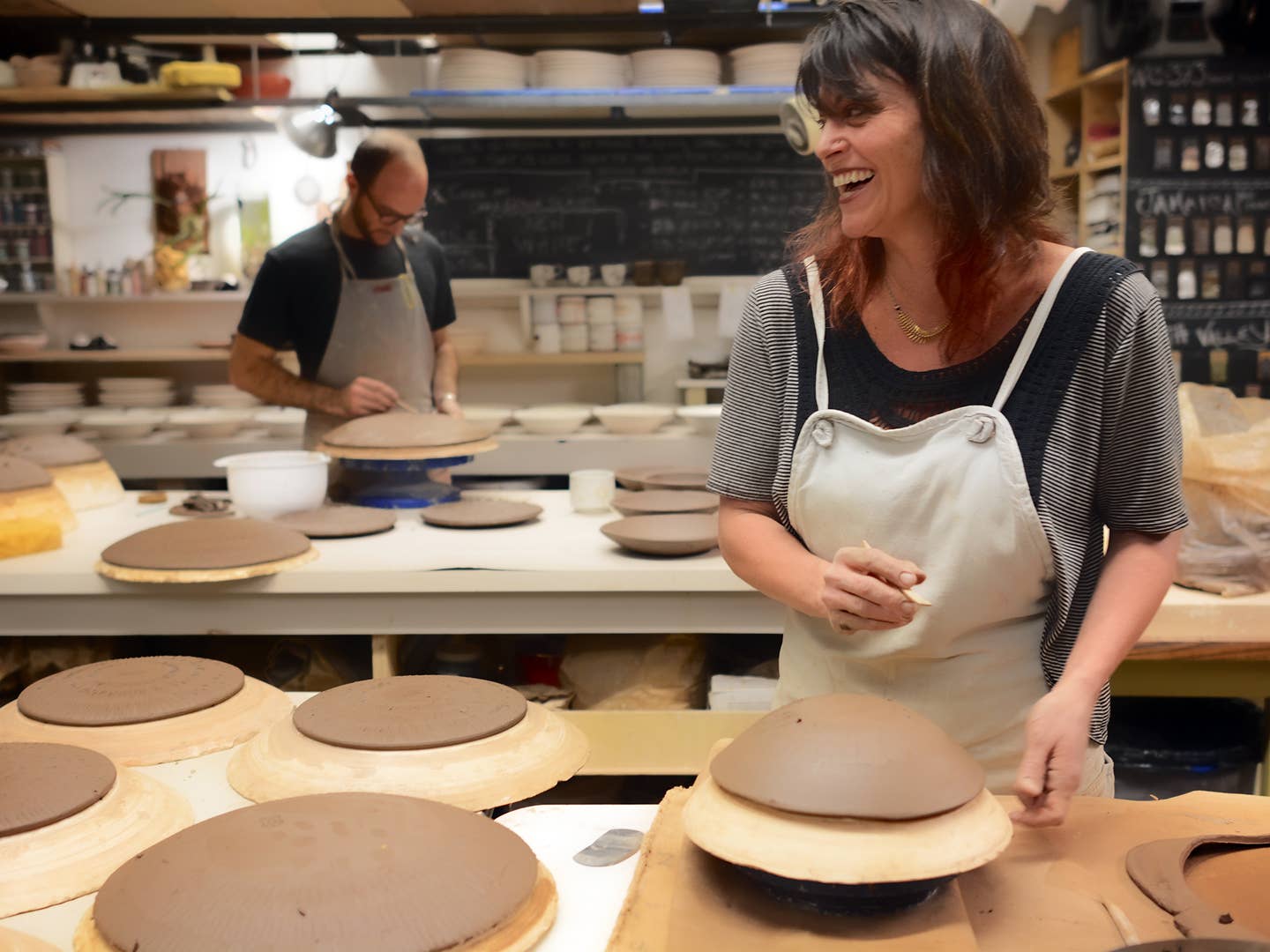 Culture
The Woman Behind Some of the Most Beautiful Tableware in San Francisco Restaurants
Ceramicist Mary Mar Keenan keeps food at the center of her pottery
When ceramicist Mary Mar Keenan makes a piece, she goes through the basics: She throws it on a wheel or free-forms it, coats it in a glaze, and fires it. Lately she's also been having fun with texture, adding grooves and indentations into the backs of plates and bowls, and maybe adding a different glaze to the underside—she's inspired by everything from "moss growing on a cement wall to the beautiful verdigris that's found on copper." But Keenan never considers a piece finished until there's food on it.
"My whole way of thinking about pottery is not so much about making the pot itself," she says, "but about making the pot for the food."
Keenan has been working with clay for the past 20 or so years, but for the past seven, she's been running her ceramics business MMClay out of a little studio in the back of Blue Bottle Coffee's storefront in Hayes Valley, San Francisco ("You actually have to walk through Blue Bottle to access it"), where she focuses on tableware like platters, bowls for rice, various sizes and shapes of cups and plates. But it wasn't until just about five years ago that she became an in-demand ceramicist for some of San Francisco's most highly lauded chefs and restaurateurs.
"Chefs are more and more interested in pottery, and [serving is] becoming more about having collaborations with local potters to really embellish your whole eating situation," she says. "I like to say that beautiful food really makes my work sing. That is when my pots find their voice."
It all started with Stuart Brioza. Now the James Beard Award-winning chef of State Bird Provisions and The Progress, five years ago, he was just someone opening his first restaurant who liked making ceramics. After spending time in Keenan's studio, where they became friends, he asked her if she'd want to make all the dishware for what would become his second restaurant, The Progress. He needed more than 2,000 pieces, and Keenen needed to change her clay, glazes, and firing process to fit the aesthetic upon which she and Brioza had decided. In just two years, she finished the collection, which is now used in the restaurant, as well as available for purchase online.
And her collaborations didn't end with Brioza. With earthy-colored glazes on pieces that are durable but not too heavy, Keenan has received more and more requests from chefs asking her to design their tableware. "I love working with chefs and coming up with custom designs for them," Keenan says, as she's excited to see chefs' attention to food presentation extending to the very plate itself. "It's not just the food or drink that is enjoyed, but also the vessel that's used to provide it. I'm sort of hopelessly romantic about this."
Wildhawk, the just-opened cocktail bar in the Mission District, uses her small plates for bar food, and you'll find her plates around San Francisco at A16, SPQR, and the upcoming Bellota and Night Bird restaurants; soon, her ceramics will travel across the country. She's currently working on an 1,000-piece collection for the upcoming restaurant Bear Cat in New Orleans, and with a deadline of July, she's pretty busy. This is no part-time job for her—she works five days a week, six to eight hours a day, after which she goes home to her other full-time job of being a mother to two small children—but she says she enjoys being on the wheel more than anything.
"I have 200 or so people eating off my ware every night," she says. "It's like a live gallery. Plus, everything tastes better [on a handmade piece of pottery]."
To view or purchase Keenan's work, visit her website MMClay.com